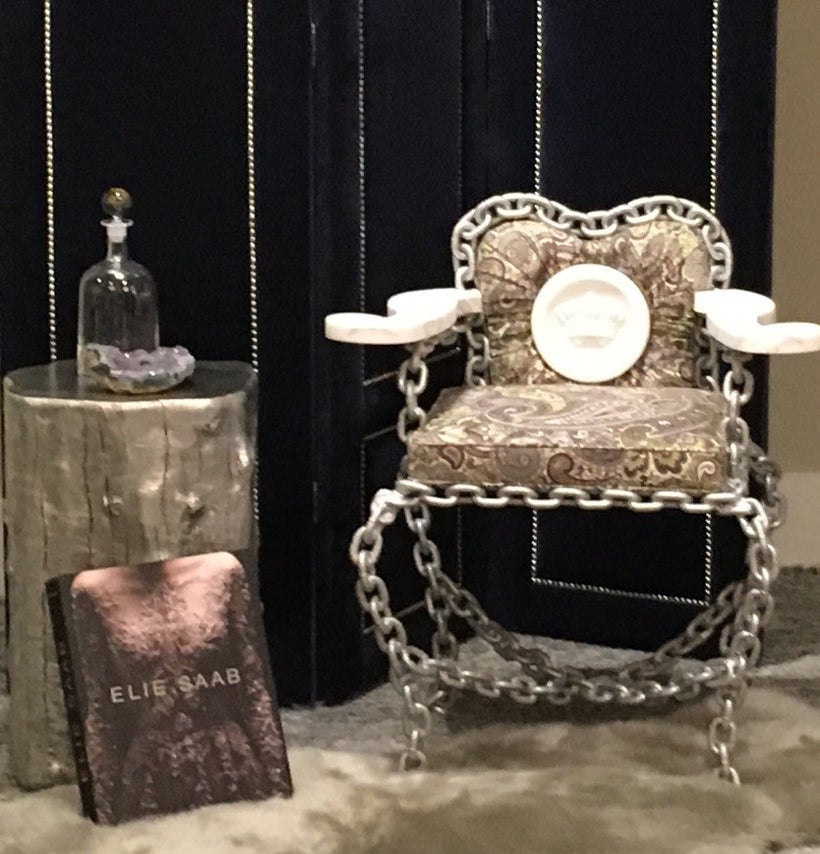 I could say that we discovered it, this heap of rusty links brimming with character and loaded with nostalgia. But I think the chain would argue that it found us. This powerful link had more than likely played a starring role in the construction of one of Massachusetts' new bridges or skyscrapers. Trapped and forgotten in this massive hazardous factory that whistled and whispered frightful sounds, this chain demanded our attention. As I stood there with my friend Chris Santini, an iron worker in Boston, I wondered why Steven King had not authored one of his terrifying movies in this fascinating place as I picked at the chain. Chris laughed as he exclaimed, "Kid, this place is a mentoring factory- it protects and gives new life. Look over here, if that coating wasn't applied to that hunk of steel it would disintegrate and people would die."
He knew he could hook me in with a great mentoring story. A carefully crafted mentor-centric story that would escort his wild ideas right to the doors of a steel factory and seal a deal.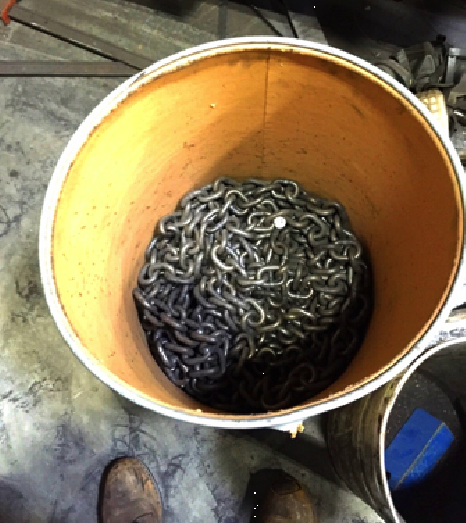 Any reservations I might have had about a joint venture could be extinguished with skillful story telling especially this one. He continued, "KID…untreated, steel would corrode without this state-of-the-art…. hot-dipped-galvanized coating for high-performance architectural finishes." Amused, I burst out laughing at this seductive and romance novel like description.
So, there we were, standing in the middle of a building void of humans, surrounded by large growling tubs with hissing steam and potions bubbling around us. The massive chain pulsed in the corner begging for a second chance. Fine, I told Chris- we are bringing it back to life. My interest amused the steal worker, "we are manifesting" he said with a grin as he prepared to send the chain to my studio.
I view this day as the galvanizing moment when our professional worlds fused together. I'm usually wary of unstable ventures, not always being flexible or willing to make the adjustments needed getting to know a new person, and I was trying to limit my involvement in new projects to preserve energy. Chris knew this and rolling his eyes, he dismissed it, labeling it as selfish. He had the ability to tickle the heart of those who were not ticklish and I caved in.
On the surface, Chris and I had little in common. He was young. I was middle aged. He liked to explore and I had seen enough. He loved all things loud and crazy. I craved a silent meditative retreat. My 'groove' was safe like an old person, while his was a "young" spirit. Chris alleviated my apprehension by showing me the business plan he had created. He then landed on bended knee, exclaiming "My lady, I know you want to do this, you know together we can do this- lets take over the design industry!"
I was taken back by the phrase "my lady." Thinking, 'where does a macho union worker, who was young enough to be my son, discover, or channel, old English politeness used to address royal women of bygone days?!?'
Chris was unlike any other. After a grueling day welding together skyscrapers, he'd been up all night creating art in his family's shop, Santini Brothers Iron Works. He stayed up all night taking my ideas and carving them out of molten metal- desks, chairs, side tables etc. He persevered while most of the world was asleep dreaming about the things they did not have then energy to pursue.
His visits to my office often occurred at the end of the day, when I was exhausted and eager to get home to have quiet dinner with my boyfriend under the stars. Chris would enter with a gust of energy. Most times he arrived with a few of his disciples insisting on a strategic meeting that would map out our design collaboration. He shot down most of my ideas- - "Kid, it's gotta be bigger- those ideas are pedestrian" (I taught him that phrase and he loved it). His devotion for dreaming big became the cornerstone of our friendship. It was the fertilizer for the growing adoration of him. His thirst for life inspired me as I watched him bounce around the room, laughing, dreaming, scheming and telling tales.
He was an iron worker, a union guy, an artist, a friend, a free mason, a father, son, brother, and a recovering addict as a man who accidentally collided with heroin. He was a talented man who twisted steel and pranced on beams thirty-eight stories high that were hardly wider than his foot. To say he was interested in high fashion design is an understatement, he was passionate about becoming a beacon in the industry and was soul searching, he was aching to make his mark. Confident, smart and talented, he was seeking the mentoring on how to go from a union steel worker to a provocative designer. He was seeking people to keep him strong and to help him be a great dad to his son.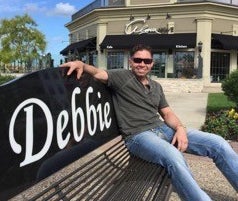 We had plans to take him to the swanky design shop and create an image for his website. Relying on my dusty producer skills, I told him he had to be the sales tool: a unique cocktail of edgy, radiant, provocative, iconic, vulnerable, pure and sexy. He had the looks, he had the charisma, he just needed opportunity. He needed someone to share a little time, wisdom and expertise- he wanted a mentor. He corrected me and said " Kid, I got this…. I am already hot - I rock leather pants."
Looking back, I realize this wasn't Chris' first chair of hope, he had worked with Cumar Marble and Granite a while back on a Walhberg family project making a bench dedicated to Debbie Walhberg. This may have been the start of his interest in design.
But Chain Reaction was the name of our first project together. Chris took the heap of chain we had rescued and laid it out and started to carve out the sturdy frame. As he began bending the steel to form the curved sexy legs, I remember him saying, "design is sensual." He was molding the frame to become architecturally playful, the connected links fusing the stability, "just like mentoring" he said.
I watched him artistically interpret the entire mission statement of my non-profit, the Over My Shoulder Foundation. "Break the chain and stability crumbles" he whispered. Our excitement began to grow as we decided to enter the "Chain Reaction- Chair of Hope" into the Fourth Annual International Event that the design group "IFDA" hosts. The 'Take a Seat' event invites design professionals to create a one-of-a-kind chair that is then auctioned off.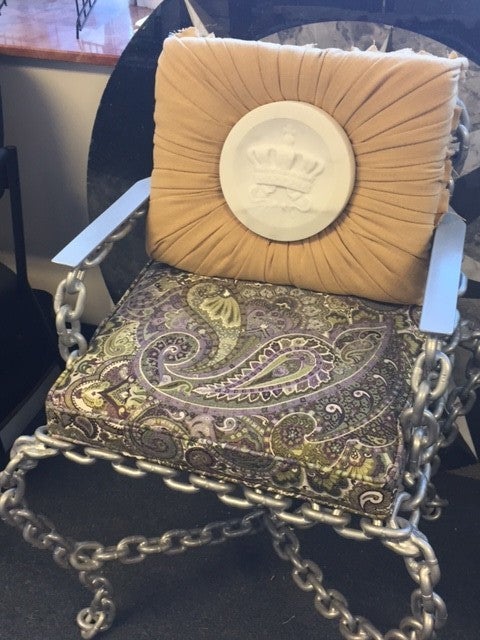 Chris called this creation, "The Mentoring Chair of Hope". We wrote the description: "Chain reaction is a nod to the power of mentoring. Much like every piece of salvaged steel – the iron chair was repurposed and fused together to form the foundation of something sturdy, something built to last a lifetime". Chris came up with most of these words: "Every person knows something, can share something, can help shape lives and build something positive, powerful, and strong". This hand crafted, sculptural chained chair influenced this ideology. The chair became an advocate, rising from being a rusty forgotten chain to beam with new life as we embellished it with engraved marble royalty and finished it with a cheery paisley fabric that celebrates a symphony of color and whimsical patterns.
The event was held in Lincoln at the deCordova Museum, just feet away from some of the deepest scars of my childhood experience in Lincoln, MA. I remember respecting the pain on the land where so many of my dreams had hatched but few had survived. Chris, all decked out in a suit, beautiful blonde on his arm, made sure he met every single person, collecting business cards like they were thousand-dollar bills. Making sure I knew that this was the beginning of a new dream, he said "Kid, you gotta leave all that shit behind- it's a new day… we can do this." I don't know how he knew that I was lost in painful memories, but he did. He saw my yesterdays as a threat to our tomorrows and nipped it in the butt. "Kid, would you focus, manifest, forget about yesterday, move on."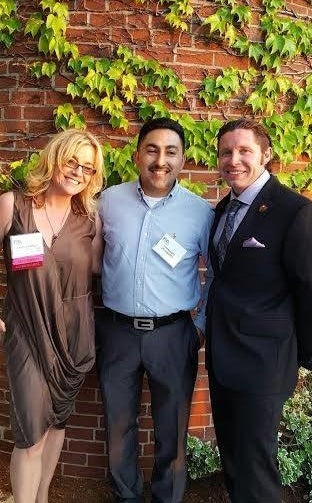 I didn't notice anything unusual, I didn't notice the corrosion of his spirit, I didn't hear the roar of the monstrous illness determined to break him down. I hadn't realized that the super sonic strength he needed, every moment, to stay away from his demons, was impossible to maintain on his own. I didn't think anything about his increased conversations about God, visits to church or his reliance on faith growing. I saw it all as part of his energetic aura and desire to be a great role model for his young son. I saw the church as his military base and was convinced that the perspiration was a result of hard work not the evil cravings of drugs seeping from his pores. I didn't realize that I was on the cusp of another giant heartache.
The last time I saw him was a few weeks ago, on a Sunday – it was after he attended church enthusiastically offering to help me pickup and deliver the sea grass and hydrangeas I had bought for my front yard. I slipped him a check and said go do something unforgettable with your son. I suggested a whale watch- he laughed and said it would be a paint gun. Loyal, considerate, and thoughtful he struggled with taking the check "Kid, what are ya doing? I can't take this." I caught a glimpse of a saddened, lost look, a clash. I saw an unsettled moment in his face that I thought was just a reluctance to be compensated for the one thing he always did, which was give. He was not a taker, taking was against his morals. In hindsight, the worst part of being a survivor of this tragedy is that now I see how many things I missed and how many moments I misinterpreted. And I'm left with a hurt that is impossible to soothe.
"Kid I feel better than ever- Kid, I will never go back, Kid, I am going to conquer the world, Kid, manifest. Kid check out my six pack."
These last moments are fixed in my memory.
Now I understand the extent of support required to stay clean, and the expansive team of mentors needed to keep addiction away from the sacred grounds, hope, faith, and strength needed by the one battling the demons. Heroin addiction is as horrific as any addiction and it is deeply saddening for it to take this sweet soul who was at the height of his dream, determined to be that metaphorical chain.
I miss my pal, the one who could slip into a room unnoticed and charm everyone with his smile. I will forever miss all the energetic ideas that swarmed like bees trying to pollinate with just one single collaborative idea. I will miss his innate kindness, which is so rare in humans, the enchanting thoughtfulness that was HIS way of life. And I will miss the giant honest hug that escorted unconditional love.
I didn't hear the emergency, I didn't see the drain, KID, seeing you lifeless, is just so wrong.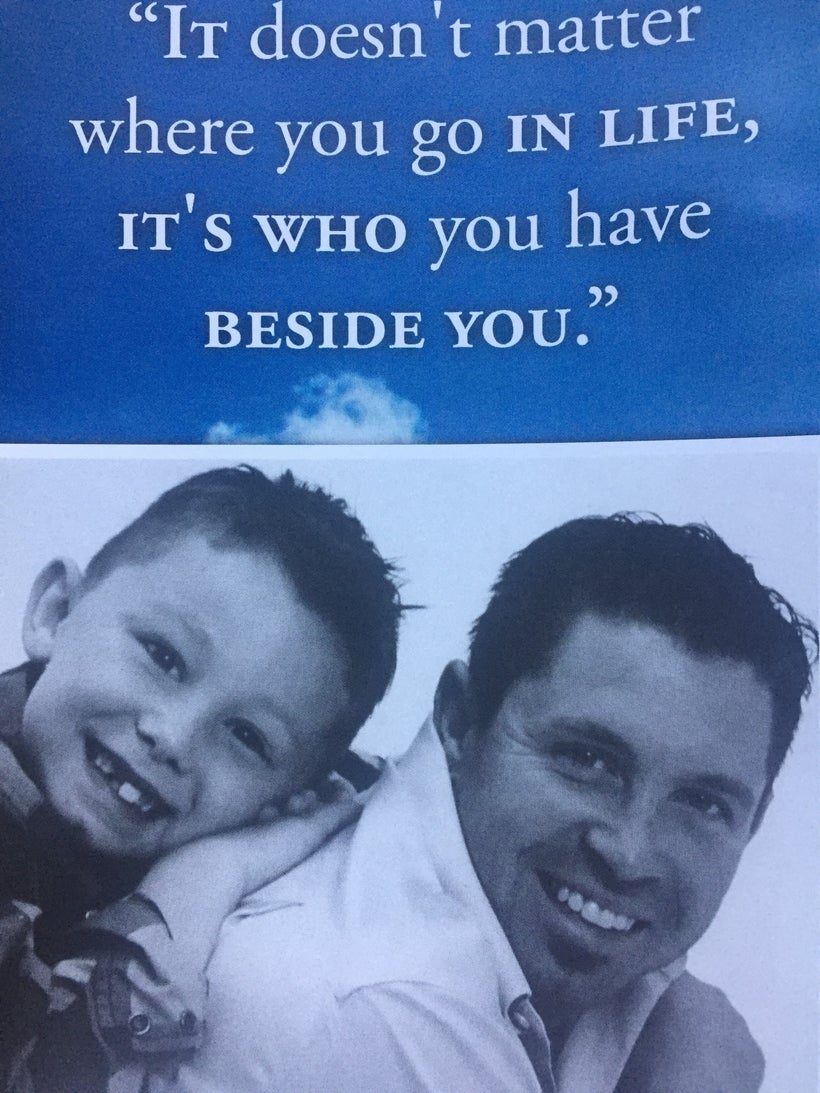 In memory of 39-year-old Chris A Santini
June 26, 1978 - September 11, 2017
Update since this piece was written:
Update: President Trump announced Tuesday that his nominee for drug czar, Rep. Tom Marino, has withdrawn his name from consideration for the position.
In the midst of the worst drug epidemic in American history, the U.S. Drug Enforcement Administration's ability to keep addictive opioids off U.S. streets was derailed -- that according to Joe Rannazzisi, one of the most important whistle-blowers ever interviewed by 60 Minutes. Rannazzisi ran the DEA's Office of Diversion Control, the division that regulates and investigates the pharmaceutical industry. Now in a joint investigation by 60 Minutes and The Washington Post, Rannazzisi tells the inside story of how, he says, the opioid crisis was allowed to spread -- aided by Congress, lobbyists, and a drug distribution industry that shipped, almost unchecked, hundreds of millions of pills to rogue pharmacies and pain clinics providing the rocket fuel for a crisis that, over the last two decades, has claimed 200,000 lives.
Calling all HuffPost superfans!
Sign up for membership to become a founding member and help shape HuffPost's next chapter
This post was published on the now-closed HuffPost Contributor platform. Contributors control their own work and posted freely to our site. If you need to flag this entry as abusive,
send us an email
.