President Obama, Tavis Smiley, Robert Kennedy Jr., & "The Last Mountain", Gabrielle Bernstein, "The HELP", The Dream Hotel /Marble Lane Steak Joint & Bar, Philippe (Chow) ...
President Obama Puts a Smile on Many Faces...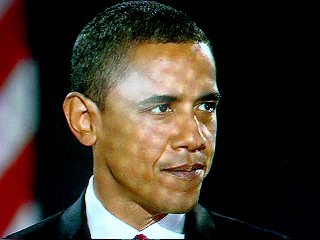 Our neighbor, the renowned Film Producer (& Founder of Miramax) Harvey Weinstein, hosted a zillion-dollar-a-plate dinner for President Obama this week. Bank Street was closed off except for friends hanging out on their stoops. From wee ones thru seniors all had Cheshire-Cat-Grins on their faces -- including yours truly -- proving that President Obama still makes many people smile. Important to remember on the eve of what promises to be a nasty head-butting election.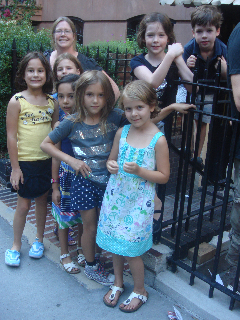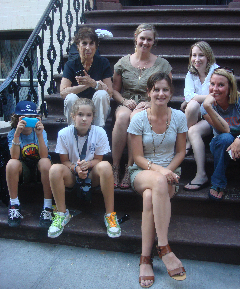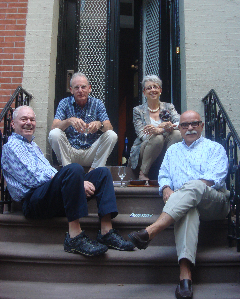 Tavis Smiley Hosts Robert Kennedy Jr....
The important Tavis Smiley PBS Program, which airs EST post Charlie Rose on Channel 13/WNET @ 12:30 am (& then replays the following weekday afternoon), recently hosted Environmentalist (& more...) Robert Kennedy Jr. Kennedy is also the Founder of "RiverKeeper, NY's Clean Water Advocate" -- the organization responsible for environmentally monitoring the Hudson River (www.RiverKeeper.org).

His recent documentary The Last Mountain exposes the devastating environmental impact of coal mining in Appalachia.
Kennedy's call for environmental vigilance and governmental transparency, issuing a stern warning against the increasing corporate control of government, should be heeded.
Just listening to this reasoned voice of true intelligence and clarity, is in itself inspiring.
(Check out www.pbs.wnet.org/TavisSmiley/interviews)
Have we forgotten how to dream?
On August 28, 1963, Activist/Leader the great Martin Luther King presented his forever-memorable 17 minute speech, "I Have a Dream" -- presenting a strong vision of a better world, "that this nation shall rise up and live out the true meaning of the creed:" We hold these truths to be self-evident, that all men are created equal... Free at last!... Thank God Almighty we are free at last!
Martin Luther King dared to dream -- and that very dream ultimately was transformative.
Gratefully the USA is not what it was then. Despite residual racism we do have a half-black president.
It seems we as Americans have forgotten how to dream.

Born in the 1950s when LIFE Magazine pictured "Cities of Tomorrow", and the envisioned future seemed always brighter, we as children of the '60s & 70s believing in world betterment, worked diligently to implement change. Success followed -- Civil Rights, Women's Rights & Gay Rights.
For a decade I have witnessed American youth (& adults) becoming disenchanted, disillusioned, decreasingly hopeful. Too much energy is devoted to mere subsistence, while the degradation and trivialization of the culture focuses on such false icons as Britney Spears, and is derailed by "red herrings" -- as in the Casey Anthony trial.
As Author Lewis Carroll states in Alice In Wonderland, "In this country you have to run as fast as you can, just to stay in the same place!"
Plagued by problems, it is indeed difficult to conjure up wondrous visions for a seemingly far-off future. Yet without dreams, nothing happens. Dreams lead to plans, and plans to action and Voila!
So I challenge you to DREAM!!!
Dream for yourself, the next generations, for your community, country and world.
Native American lore speaks of the "7th Generation". Before one takes action they counsel, contemplate the effect on the next seven generations.
Community is strategic for change!
And yes, please also share them with Moi...
When we first met, Gabrielle was a successful Fashion Publicist.
Yet she had a deeper, inspired, more expansive calling, and the courage to go forth as a seeker...

Titled "The Next Generation Guru" by the New York Times, she has transformed herself into an impactful motivational ever-chic speaker, bringing together bright-eyed audiences, primarily 20, 30 & 40-something in age. -- Following in the tradition of Louise Hay and Marianne Williamson -- with whom I studied.
As an Author, her best-selling book Add More -- To Your Life, and the forthcoming Spirit Junkie: A Radical Road To Self-Love and Miracles (Random House, September 2011) continues to contribute to a positive vision of one's self and world.
The Help (Novel & Film)...
My Daughter CoriAnne has undoubtedly turned me onto some of my most fav books. Inherited from her Grandmother (my late Mum), through Moi, to her, we are all voracious readers. So when she gave me a beautiful golden hard-covered edition of The Help & aptly noted it was a "Must-Read", I followed suit.
The New York Times bestselling novel by courageous author, Kathryn Stockett, is a fascinating somewhat autobiographical tale of growing up in 1960s (more like the Northeast's 1950s) affluent small-town, Mississippi, is truly an insider-look at the relationship between the lily white inhabitants and their black employees -- nannies, housekeepers, cooks...who raised their children and cared for them.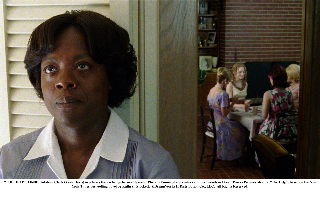 It is a tragic commentary on the humiliation, non-appreciation, disrespect and degradation these noble "servants" endured, until...the human spirit rises up, boils over, and...
I fell in love with the characters -- from the wide-eyed, Skeeter (the Author) who bravely grows into womanhood, the wise maid, Abileen, sassy Minny.
I have rarely adored a book this much.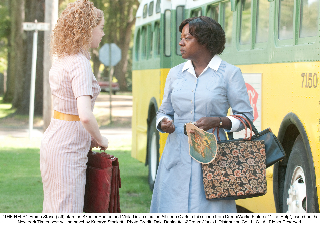 So when the film was announced, I went to the Bryan Bantry screening with more-than-a-bit of trepidation. I was with good friends -- including Designer Cece Cord -- who noted, that although raised in Texas, she grew up that very way!
However I am so glad to report that the film is sterling -- A true-to-the-story brilliant, high-integrity rendition of the book.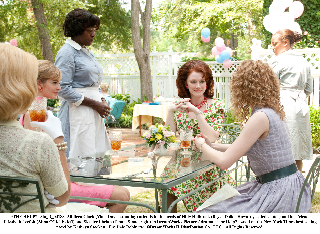 Starring the great Actress Viola Davis, Emma Stone -- who turns out her best performance yet, Bryce Dallas Howard, Octavia Spencer, and Chris Lowell. Directed by Tate Taylor, this compelling film takes one on an emotionally-charged journey through America's troubled past. However this is yet a subtle film, infused with humanism and humor.
As the Book is a Must-Read, the film "The Help" is most definitely, a Must-See!!!
PS: As I stroll the streets of my posh "hood", Watching Black Nannies -- now, primarily from The Islands -- pushing strollers of multiple white babes, although I am certain they are treated far better, it is important to state that old habits -- especially those economically-driven, sometimes change so slowly...
The Dream Hotel (The Dream Downtown) & Marble Lane Restaurant: Steak Joint & Bar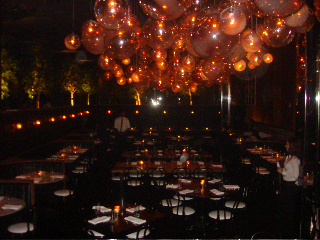 Intrigued by the post-moderne architecture (Handel Architects), I'd been watching the DREAM Hotel progress. Located 355 West 16th Street, adjacent to the Maritime Building between 7th & 8th Avenues, this impressive, newly-opened Vikram Chatwal Boutique Hotel (gem), houses the delightful Marble Lane Steak Joint & Bar (presided over by touted Executive Chef Manuel Trevino), and a sizable rooftop "BEACH", appointed with lounge chairs, beach-umbrella-tables, a full bar, and yes, not only a "Pool Menu" but the entirety of the delicious Marble Lane Menu.
, Removed from the sounds and sensibility of the city, this is becoming one of my fav secret NYC hide-aways, so shhhh -- Don't Tell!!!
So what does a non-mammal-eating femme-fatale eat at this "Steak Joint"?
Well, I am delighted to report the selections were marvy.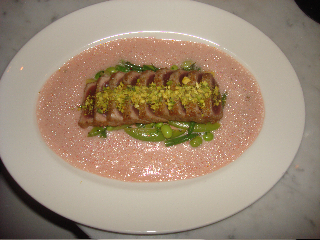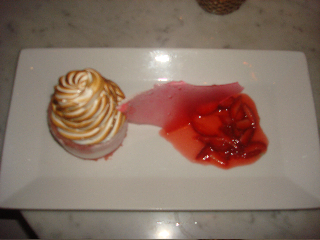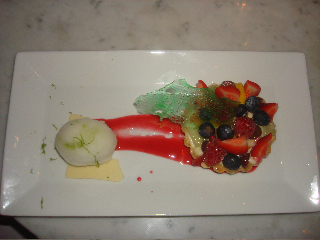 Our carefully orchestrated feast began with perfect Yellowfin Tuna Tatare with Asian pear, Cucumber and a tangy Citrus Dressing, Peekytoe Crab Cakes with a Cracker Crust, a delectable Lobster Cobb Salad with Bacon, Radicchio, & Goddess Dressing. We moved onto the purr-fect Seared Diver Scallops -- prepared with Fregola Salad, Summer Veggies, Spicy Cashews & Pomegranate -- and Olive Crusted Salmon - with Flageolet Beans, Fennel, & Tomato broth. We were comfortably filled, but were empted to continue by irresistible desserts -- Baked Alaska Strawberry Shortcake -- with Toasted Meringue, & gelato, a nouveau Banana Split, and my luv, & most highly recommended, a Pecan-Crusted Fruit Tart -- with Vanilla Cream & Tequila-Lime Gelato.
Beyond satiated! The question - How did we ever walk home?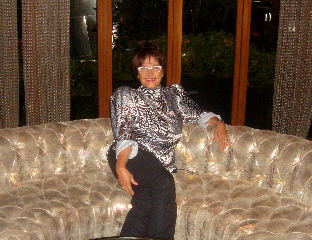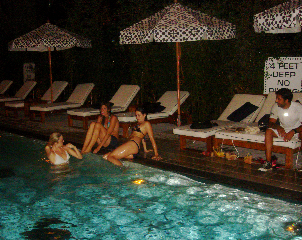 Also hush, but -- Sunday afternoon/eves, the Dream BEACH hosts a secret "Shark Party" Primarily attended by a crowd of an easy-on-the-eyes young gay men but with a few fab femmes...
Philippe (Chow) Restaurant/Chef...
Asian-fusion fare is one of my best-liked cuisines. Perhaps it is the memories of being a wee child regularly dining at a NYC Chinese restaurant with my parents, and being allowed to sneak off into the kitchen to play with the Owner's Daughter of similar age. I remember fondly, our antics, while huge pots steamed above our heads.
Born in China, Philippe Chow immigrated to Hong Kong at 16 years old. He studied Chinese cuisine hands-on. In 1979 he began his real apprenticeship in the kitchen of Mr. Chow -- where he remained for 25 years.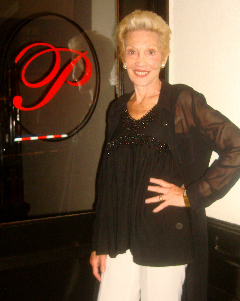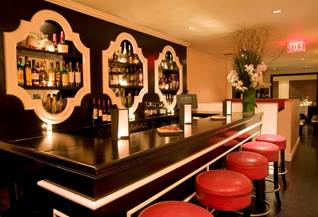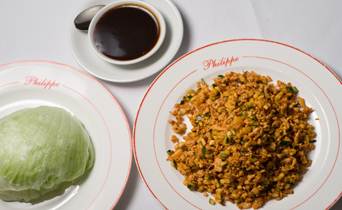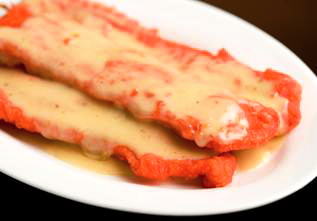 Chef Philippe Chow developed this unique venue for "Haute Faire" Chinese food in 2005. Decorated in Lacquer Black, Red (for Good Luck) and White, the plush Banquets provide comfy intimate yet stylish seating. Conveniently located at 33 east 60th Street (just east of Fifth Avenue) this Restaurant is ideal for Business Lunches and tres social Dinners.
While there the Chef prepared a delectable tastings menu for us. We happily dined on crispy Maine Lobster Rolls (I've never met a Lobster I didn't adore!), oh-so-healthy & tasty Crispy Seaweed (Gambee), the BEST Red Chicken Satyas in a special peanut cream sauce I have ever sampled, Chef Chows crunchy Lettuce Wraps, succulent Chicken Sieu Mai (Chicken & Black Mushroom) Dumplings). Perhaps my favorite dish were the Green Prawns -- served with Cashew Nuts, Water Chestnuts, Peppers & Black Mushrooms. A trio of natural fruit-sweetened delicate Sorbets of mango, pineapple & coconut completed our fine dining.
Phllippe is now in multi-locations including Boca Raton, Jericho, and Houston.
Happy Summer's End!
All Photographs (unless otherwise Credited) © Jill Lynne, August 2011
All may be Purchased from: JillLynne1@MAC.com
www.JillLynne.com
1. President Barack Obama Inauguration Night
2.& 3. Bank Street Neighbors Awaiting the President's Arrival
4. 12th Street West Village Neighbors
5. "The Help" Starring Emma Stone as Skeeter Phelan & Viola Davis as Aibileen Clark
(c) Dale Robinette
6. "The Help" Aibileen Clark Tends to the needs of Hilly Holbrook (Bryce Dalas Howard, seated center) & her friends Elizabeth Leefolt (Ahna O'Reilly, left) & Skeeter (c) Dale Robinette
7. "The Help", A tense moment when Aiblileen overhears the exchange between Skeeter & her friends...(c) Dreamworks Pictures
8. The Downtown DREAM Hotel's Marble Lane Steak Joint Dining Room
9. DREAM Olive-Crusted Salmon
10. DREAM Baked Alaska Strawberry Shortcake
11. DREAM Pecan-Crusted Fruit Tart
12. Celebrated Brazilian Artist Vilma Noel @ The Dream Hotel's Golden Couch Lounge
13. Dream Hotel's BEACH Pool: Nite Play
14. Ellen Lake-Ewald, President of O'Toole-Ewald Art Associates at PHILIPPE Entrance
15. PHILIPPE's Red, Black & White Bar & Lounge
16. The BEST Chicken Satay in Fabu Peanut Sauce @ PHILIPPE
17. Fun & Tasty Lettuce Wraps with Crunchy Chicken Filling & Special Soy-type Sauce
© Jill Lynne, August 16, 2011
Related
Popular in the Community