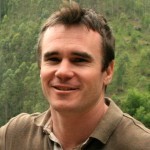 Guest Post By Andy Bryant, executive director of the Segal Family Foundation (SFF)

The world's image of Africa as the "dark continent" is changing. Yes, the news cycle in the West still abounds with images of poverty and conflict, but it's nothing like years past. Today, the region boasts some of the fastest growing economies in the world with ever-growing middle classes.
Africa's emerging affluent class of more than 300 million is now playing a much larger role in advancing the continent's development agenda. The African diaspora worldwide are collectively sending an estimated $60 billion in remittances each year to their families on the continent, benefiting some 120 million Africans. Incredibly, this flow dwarfs the $43 billion in overall overseas development assistance from industrialized countries to Africa.
Tapping into this source of capital can open up tremendous growth opportunities for development organizations in Africa and shift the power dynamics ever closer to the actual beneficiaries of their work.
The global philanthropic community is just starting to take notice. Western donors, even those with the best intentions, have consistently monopolized the conversation about what approaches are best for Africans, rather than identifying the most talented and passionate African changemakers and supporting their vision. The rise of African philanthropists and diaspora remittances offers a clean slate. These African changemakers can help to renegotiate the balance between donors and do-gooders.
Western philanthropists can choose to either sit idly on the sidelines watching the shift occur or roll up our sleeves to help shape and speed up this transformation. The organization I lead, Segal Family Foundation (SFF), is taking a proactive approach to this transformation by investing in the grassroots solutions of dynamic and visionary African leaders who are deeply rooted in their communities and who understand the challenges faced by their people better than anyone.
Fundraising for any nonprofit is an ongoing challenge. Fueled by a passion to serve the great needs in their communities, African NGOs often devote so much of their time and revenue towards programming that little time is spent on organizational planning and resource development. As a funding partner with hundreds of African organizations, I've heard a common frustration over and over again -- that when they connect with funders, they are relegated to serving as implementing organizations for project 'x' or 'y'. Their own vision for development is brushed aside.
If we, in the global philanthropy community, are serious about creating sustainable development in Africa, we must make a transformative shift and look to the African continent as a source for development solutions and financing. I'll offer two key strategies on making this shift from our experience investing in African organizations.
1. African-led organizations must be supported and empowered to flip the question that they ask funders from "What development trend du jour would you like for us to implement on your behalf?" to "How can you, as a funder, help us to realize our vision?" The Social Impact Incubator in Burundi that we initiated with other international partners is one just example of how Western philanthropists can assist African NGO leaders in strengthening their fundraising prowess and organizational capacity.
The incubator is a collective of grassroots Burundian NGOs that seek to boost their organization's impact and deliver a robust response to the Central African nation's most difficult development challenges. Through hands-on workshops, one-on-one coaching, connections to funders, and careful mentorship, grassroots leaders are encouraged to first identify and mobilize local resources within their country for support before reaching out internationally.
As an example, one local organization, Association pour la Promotion de la Fille Burundaise (APFB), received an $80,000 commitment from CARE International as a result of their participation in the incubator. They'll run an adolescent sexual and reproductive health program on their terms that will reach young people across the country with health education.
2. We need to influence the growing group of African philanthropists to resist the urge that has overtaken so many Western funders to brush aside the vision of local leaders. Top-down, paternalistic 'support' of changemakers is disempowering whether it comes from American or African sources.
Our efforts are, as yet, small in the greater context of the continent's development. Fortunately, there are examples found in African traditions that tell us how we can amplify our impact. Harambee -- or "pulling together to accomplish a greater goal" in Swahili -- is a tradition in many East African countries where family and friends gather for a festive event to raise money to support their local communities. In Southern Africa, the concept of Ubuntu is a Zulu philosophy that means: "I am what I am because of who we all are." These African examples of purpose-driven togetherness can serve as touchstones for the sort of collaborative learning environment that Western and African philanthropists need to create for themselves.
The SFF team will join African and global business leaders, philanthropists and policymakers at a new kind of Harambee- the African Philanthropy Forum in late-February in Addis Ababa, Ethiopia, where we hope to lay the groundwork for an inclusive philanthropic model for African development.
In the spirit of Ubuntu, the continent's most powerful women and men- like Kenya's Manu Chandaria and James Mwangi- will gather with representatives of the global philanthropic community to discuss ways to bolster our collective effectiveness to accelerate Africa's growth and prosperity. If they can translate the acumen that helped them build business empires to judiciousness in how they find and fund changemakers, then Africa's future is bright, no matter how the news cycle despairs.
Related
Popular in the Community