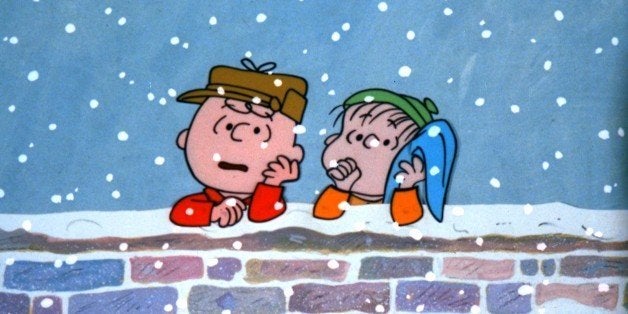 Since this is the shopping "holiday" Cyber Monday, which follows the more grimly named Black Friday, we should perhaps listen to the message of A Charlie Brown Christmas, which tonight on ABC marks its 50th anniversary as a television classic.
The irony of this holiday special is that American consumerism quite literally was destroying the program, chipping away at its runtime. And, when the networks finally listened to the fans, another tradition was born--the mysterious appearance not of the Great Pumpkin, but instead a clue as to which school Charlie roots for.
The Christmas special was originally broadcast on CBS in 1965 and, as the years went on, the network demand for commercials kept increasing. Because the special had to remain within a half-hour time slot, each year kept bringing more and more cuts to the show, leading to an eventual outcry from a public that was taking notice its favorite Christmas cartoon was trimming down to make room for additional commercials.
After years of being snipped in this fashion, A Charlie Brown Christmas was restored in 2001 to its unedited original version. This was a case of ABC making good on being a responsible network broadcaster of this beloved animated show. In 2001, just as there will be tonight, there were additional filmed sequences with celebrities and documentary profiles to commemorate the occasion. Tonight's festivities are hosted by Kristen Bell.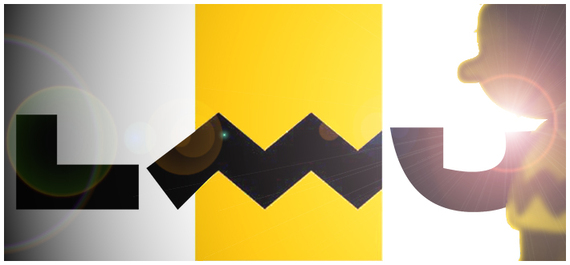 Yet, there had to be a way to show it each year without always requiring an all-star celebration to fill the extra time. For a straight-ahead broadcast (including the network load of commercials for a half-hour show) it was clocking in at over 35 minutes. Here's where a clever solution came in--and also the beginnings of the mystery that's been the stuff of Santa sightings for a certain Los Angeles university.
ABC contracted the Bill Melendez studio to make a sequence of short Peanuts holiday vignettes that would play for the remainder of what then became an hour-long Christmas special, comprising the unedited A Charlie Brown Christmas and the new material called Charlie Brown's Christmas Tales.
Within the production of the new clips, virtually the last thing an audience sees is Sally running into Charlie's bedroom to wake him on Christmas morning. As the scene plays out, there is only one thing that we see on his wall. It's an LMU pennant. This has appeared most years since 2002, and has caused double-takes and disbelief for alumni of Loyola Marymount University.
Could it possibly be true? Had they actually just seen the school's letters on Charlie's bedroom wall--and if so, what did it mean? It turns out that there was indeed quite a strong connection. The 'Easter Egg' appearance of the pennant was probably no coincidence at all.
Members of the Schulz family have attended LMU. And foremost, there were instances of Charles Schulz himself making appearances on campus, attending events and usually drawing personalized cartoons for Jesuit professors. Schulz was a devout Catholic and he found something of a spiritual home at the university especially during his most active affiliation in the 1960s and 70s.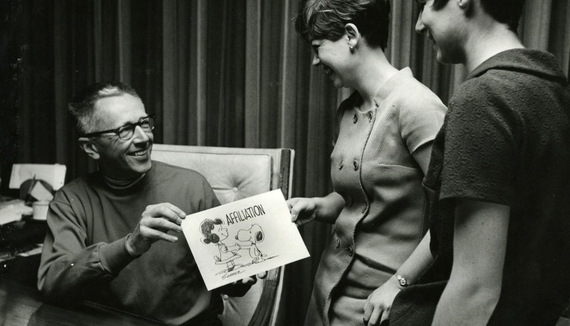 A defining moment--and a modernizing one--for Loyola University was its merger with Marymount College in 1973. In the period leading up to the merger, Schulz played a role by lending his talents to celebrate the joining of these two institutions. One of the treasures of its archive is an inked cartoon showing Lucy shaking paws with Snoopy, a beautiful gesture welcoming the order of nuns together with the priests, combining to make a greater and more diverse university.
Of course, that still does not entirely explain the pennant in Charlie Brown's room. To plumb that mystery, we must look to the Bill Melendez studio, the same studio that created all the Peanuts TV specials since 1965. Charles Schulz and Melendez had a great professional relationship, and Bill was entrusted with animating all the shows for decades.
As an interesting bookend, the last assignment for the Melendez studio was the production of these holiday vignettes that filled out the new hour-long version of ABC's A Charlie Brown Christmas. Amazingly, the studio was still using the exact same animation camera that had filmed all the specials. Every cel and background had been shot to 35mm motion-picture film, clipped on to metal pegs and pressed down under a glass platen for each exposure. Since 2005, this camera too resides at the university within its Animation program.
Owing to the special relationship between Schulz and the school, someone placed that pennant on the background art. It appears for only a few seconds, a momentary wink to those in the know. He passed away in 2000--just before ABC became the new network steward of the Christmas special--although Charles and Bill had worked in a similar manner in the 1980s on a vignette-based show using the comic strips as source material. All good things find a second act.
These days the future of the Peanuts franchise looks as bright as ever, basking in the afterglow of its successful theatrical feature release. A new generation of fans is learning the quiet charms of Charlie, Lucy, Snoopy, Linus and Sally. Against the loud and unrelenting tenor of modern life, the simple wisdom of Schulz's Peanuts can seem profound.
For this reason, if for none other, tonight is a perfect time to settle into your couch and enjoy A Charlie Brown Christmas one more time. If you have survived the maddening crowds and screaming ads for Black Friday and Cyber Monday, then maybe there is no better way to re-focus your holiday priorities than a gentle evening with ol' Charlie and his miserable Christmas Tree.
Popular in the Community