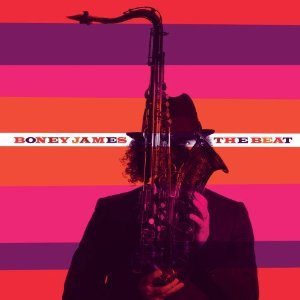 A Conversation with Boney James
Mike Ragogna: Boney! How are you?
Boney James: I'm doing great, man, how are you?
MR: Me too, quite groovy. Can you go into the history of how your new album The Beat was made?
BJ: Well you know I was just sort of sitting around thinking about what my next move was going to be, I just found out I was going to be leaving Verve where I had gone for one record; I was wooed away by all the people at Verve to make my Contact CD and then all the people at Verve that wooed me away from Concord got fired, so I was sitting there thinking, "What am I going to do next?" I was talking to Concord about coming back but before all the deal stuff was settled, I was feeling really creative and wanted to get back in the studio, so I started messing around with different ideas of what the next record would be and I had always kind of had an idea in my mind that I might do a latin record, a full-on Latin concept record. But I wasn't sure if that felt right, so I thought, "Let me just try and do an arrangement of one of these songs that I always love. I picked "Batucada," which was originally recorded as a vocal tune by Sérgio Mendes back in 1968. It's always been one of my favorite songs and I thought, "Let me see what an arrangement for me of that would sound like." As I started messing around with it, I came up with the idea of dropping some of the bossa nova rhythm and bringing more of my signature R&B groove beneath it. As soon as I did that, it inspired me to go on this mash-up idea of taking Latin music and making it sound more R&B, and taking from R&B songs that I had been writing and adding more percussion to them and make a whole new genre.
MR: You had some guests on this project, how do you choose who was coming on board?
BJ: Whenever I'm choosing a guest, it's always like casting for a movie. You're always trying to find the right voice for the role of the song and to take the song to another level. It's good to always have a list going of people I'd like to work with and match songs to that person. Raheem DeVaughn was pretty interesting because I had written this groove with my friend Phil Davis and I thought it might be a vocal song. I was looking for someone to write some lyrics and Raheem DeVaughn was pretty much right at the top of my list of people I'd like to collaborate with. Just at the time, he started following me on Twitter and I got one of those emails saying, "Raheem DeVaughn is following you" so I wrote him a direct message saying, "Man, I've got a song for you. Would you ever want to do it?" and that's how we hooked up. It was a pretty interesting thing.
MR: Social networking strikes again.
BJ: Yeah, well, in a way, it's sort of like instant access to someone. Back in the day, you had to track people down or track down their lawyer, now you can just kind of write someone directly. Of course, anyone can write you directly too. It's definitely a major change from the way things used to be, but a real positive one.
MR: It gives the artist and people who are working on projects more power. It does seem empowering.
BJ: Yeah, I guess it's just a little bit more of an open society in a way. You have that connection to people. That was kind of fun, and then Rick Braun is of course someone I've been working with off and on for a few years. We did a whole duo CD back in 2000 I think called Shake It Up and one of our greatest hits was "Grazing In The Grass." Whenever we play together, it's a nice big sound, we sort of spur each other on and always cut those tracks live together next to each other in the studio. He's on "Batucada" playing trumpet as well. And the Floacist is just another person I admire. She was in a band called Floetry and sort of known as being a European spoken word style and I had this track that I had written for what became "The Midas" track and I thought it had a little bit of a European flavor to it. I thought it was a unique-sounding piece of music even for me. When I wrote it, I was like, "Oh, that's kind of different. How can I enhance that flavor?" So I thought a European spoken word kind of thing would be cool. So she popped into my head and luckily we were able to get her.
MR: You recorded "Don't You Worry 'Bout A Thing" on this project, and you've covered other Stevie Wonder songs as well. He's someone you've admired over the years.
BJ: Oh yeah, I'm a huge Stevie Wonder fan. He's been a big influence on me. He was certainly someone who inspired me to do what I do because he was a guy who was always mixing up genres as well. He was known as an R&B singer but really, he incorporates all kinds of jazzy chords and solos and things into his music. He's a great inspiration as well and one of the great songwriters of modern times. This is actually, I think, the third Stevie Wonder song I've recorded over the years, but this one I did specifically because he had sort of beaten me to the idea of mashing up genres because this particular song, even when he recorded it, starts with a big long Spanish intro but it's got all of the percussion on it. He kind of laid the groundwork for me doing that so I thought I would do my version of his version of my concept.
MR: And then we've got the majority of this album written by this guy named Boney James.
BJ: Oh yeah, Boney James! [laughs] Eight out of ten songs are me. I was pretty proud of the music I was writing. I think I was doing an interview with Tavis Smiley, and he said he wondered if the fact that I didn't have a deal while writing it actually changed the music that I was writing and I think that it did. A number of people said that they thought the record had more energy or creativity to it or something and I wonder if that had something to do with it. I can never say why things are happening.
MR: Well to follow up that kind of question, does this inspire you to try to mix up yet more genres in the future?
BJ: Probably, I enjoy that sort of thing. It's partially from the era I came up in, in the mid-seventies, when I first became interested in music, it was just a much freer time. This whole concept of fusion was taking hold. These days, everything seems to be much more compartmentalized and a lot of people seem to want to keep you in your genre and only do that thing. I like to try and rebel against that as much as I possibly can. So I'm going to keep trying to do that.
MR: Rebellion is always healthy.
MR: Even within artists' catalogs, especially the pop singers or the singer-songwriters, they experimented with all sorts of genres. It was the norm.
BJ: Yeah, and I love the fact that back in those days, a lot of radio stations would even play different kinds of music and it wasn't very formatted like it is now. I certainly miss that. But time marches on and I try to do my part to stay true to what it is that I like and I like things to be more eclectic.
MR: Yeah. Blame Jane Fonda and Olivia Newton-John.
MR: And maybe disco. My theory is when music becamse aerobic or more about "function," it sort of became more "genre"-ized. Next, I blame the boom box because it took the audiophile element of it listening and traded it for convenience. It got even more removed from those people wanting to focus on what kind of music they were listening to.
BJ: Wow, definitely. And certainly the corporatization of radio and music in general has had a negative effect in that a lot of the stuff started being programmed more centrally and individual DJs didn't have a say in anything anymore. I think the whole society's a bit more compartmentalized now. Of course, the internet is one big happy free space, so I think there's different forces at work. But I just try to keep my head down and make music I like and trust that there will be other people out there that feel the same way about it that I do. And so far so good on this record. It's had a pretty good run already.
MR: I know, it debuted at number one on Billboard's jazz chart.
BJ: Yeah, it did. It spent five straight weeks at number one on Billboard Jazz, it was at number three last week, but I'm hoping to go back to number one. Eight weeks of radio number one and the Hareem single has crossed over and got up to number fifteen on the R&B chart which is pretty good for a sax player in this day and age.
MR: Was that track "Maker Of Love?"
BJ: It is. It's one of my highest-charting R&B crossover singles.
MR: What is the state of R&B in your eyes right now? I always ask jazz artists, "What's the state of jazz?" but because you're mixing it up, what's the state of R&B?
BJ: I think there's a lot of great music coming out in R&B these days and I always try and include myself in that formula. That's certainly the school I came up in; I never think of myself as a jazz guy. I always think of myself as an instrumental R&B artist or a soul/jazz artist or some kind of hybrid. So yeah, there's a lot of great talent, a lot of great music coming out and I'm excited by it. Certainly a lot of different styles that are flowering there. It's certainly not homogenous at all. Great artists.
MR: Other than Stevie Wonder, who were some of your R&B favorites?
BJ: When I was a kid certainly one of the biggest influences on me was Earth, Wind & Fire. Them and Curtis Mayfield--those were records that really excited me because being an instrumental artist myself or a sax player, I loved to listen to the music and not just the words, and these were all people that had incredible melodies and incredible orchestration and arrangements with the instruments of the music and just really powerful music in and of itself, and then, of course, great lyrics as well. But the melodies were just so compelling to me and the flavor of it, the feeling that I would get when I would listen to it and the long instrumental passages, I really appreciated it. So when I was a kid those were the ones I really gravitated to.
MR: Nice, well speaking of "passages," more specifically "Time Passages," and some of those pop records Gerry Rafferty's "Baker Street," Hall & Oates' "She's Gone," maybe the sax break on "Year Of The Cat," or Bruce Springsteen recordings with Clarence wailing... Did pop like that they have any influence on you?
BJ: I wasn't so much into "Year Of The Cat," but Bruce, I loved. Like I said, being in the seventies and eighties and the radio being so open I listened to a lot of different kinds of music. I loved Bruce, I saw Bruce play live a couple of times. I liked bands like Yes and Jethro Tull and fusion bands like Chick Corea too and Pat Metheny, all this great stuff was happening. I was jogging the other day and I was listening to my iPod and some of my favorite sax solos came on. Michael Franks, and Michael Brecker played on his record, David Sandborn was on this Linda Ronstdt stuff, saxophone solos were everywhere back in the day.
MR: You mentioned David and it just reminded me. Some pop records had the most incredible sax solos, and it's kind of weird because you would think those kind of really progressive and memorable sax figures would have been more appropriate for a jazz record or an R&B record specifically.
BJ: I think it's interesting that the saxophone sort of fell out of favor at some point in terms of its place in pop music. I wonder why that happened, because it is such a wonderful and compelling instrument. Hopefully, one of these days, it will come back.
MR: My feeling is that the airwaves were too saturated with it in the same way that maybe Michael McDonald and Phil Collins or the Bee Gees got too played out. You get a sound on every record, then after a while, you don't want to hear it for a while.
BJ: And of course electronics have certainly taken over a lot, too.
MR: I wanted to ask you about that. Your style isn't lending itself to a strict dance or electronic type of thing, but do you look at that field and get tempted to make a whole project or two like that?
BJ: There was a song I did on my Contact CD that I was dabbling in a little bit of an electronic dance music kind of thing, it was a song called "Look On Your Face," it was featuring an R&B singer named Mario who I always loved. I wrote the song with Jon B, another R&B singer. I was just messing around with my computer and my ProTools and came up with this groove and I thought, "I wonder if this could be a dance track." So some of that music I like. In small doses.
MR: Boney, what is your advice for new artists?
BJ: I had some really good advice when I was out there. I was not an instant success at all and there's lots of frustration if you're choosing a career in the arts, although any career in this day and age is challenging for most people. I heard someone say once that it's like you're in a big long tunnel and you're peddling a bicycle trying to get out and if you stop peddling in the middle of the tunnel, you'll never know if you could've made it to the other side. If you keep peddling, at least you have a chance to make it. Just keep going. Every day, try and get a little bit better. Don't focus on the goal but just the journey and then you can't lose.
MR: That's very good advice, beautiful. Anything we need to know about Boney James that we never knew before?
BJ: [laughs] I'm not really sure about that. Do you want me to come up with something? I don't know if a lot of people know I have a degree in history from UCLA, I was always very interested in that and it's something I still like to do a lot of reading on.
MR: Okay, and for your next project, are you looking at something completely different or are you looking at more of this new adventure because it was so rewarding?
BJ: I've got to say, I usually have a really fallow period after I turn a record in, it's like giving birth to a baby, I can't even think about having another one right now.
BJ: And I never know how I do it. Every time I'm like, "How did I do that?" It takes at least a good eight or nine months after I turn the record in until i can think of what I'm doing next. I'm still trying to tell people about this record at this point, so that I get to make another one.
MR: Nicely said. So I guess I will torture you no longer--
BJ: No, it's my pleasure, man. I have read your stuff with pleasure and I appreciate the opportunity to talk to you.
MR: Thanks for saying that, Boney. Thank you very much and all the best with everything.
Tracks:
1. Don't You Worry 'Bout A Thing
2. Sunset Boulevard
3. Missing You
4. Batucada (The Beat)
5. Maker Of Love
6. Mari's Song
7. Powerhouse
8. The Midas (This Is Why)
9. Acalento (Lullaby)
10. You Can Count On Me
Transcribed by Galen Hawthorne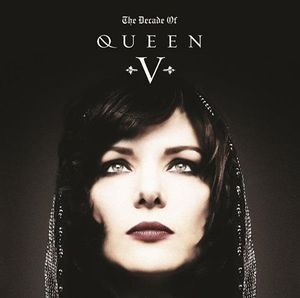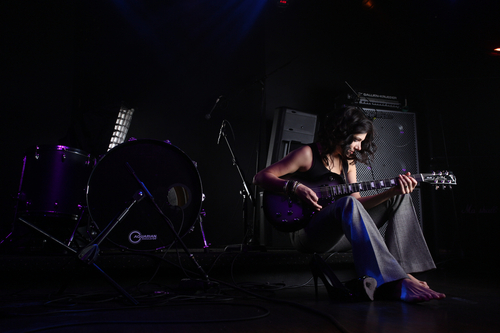 On June 25, the rock world will bow down to Queen V, with the release of new album The Decade Of Queen V on Royal Noise Records. Fronted by powerhouse frontwoman Queen V, who is a denizen of New York's underground scene, the band churns out melodic rock infused with emotionally-charged songwriting and empowered, soulful-yet-tough vocals. The Decade Of Queen V boasts a diverse range of songs, from the burning gusto of "My Machine" (featuring Tom Morello), to the anthemic "Wasted" (with vocal assists by Lemmy), to the deep impassioned "Right Or Wrong." Rebellious and rugged while passionate and powerful, Queen V's sound can be summed up in the first line of Decade's opener: "Revolution, baby, that's my sound."
Check out this exclusive of Queen V's video "Cry Your Eyes Out." She and the band do rock.
Inspired by a passion for life and the joys that it brings, Cameron The Public's music grew out his love for playing. Born in Denver, Colorado and raised in Salt Lake City, Utah, Cameron The Public (aka Cameron Rafati) first began performing at the age of 13 playing guitar and singing in school talent shows and pizza parlors for fun. Music continued to guide him while at college at USC, and although artistic endeavors were placed behind his scholastic goals, Cameron could not escape the pull of his life's passion. He started the band Vertices and quickly gained campus wide attention. After graduating and spending some time in the corporate world, Cameron knew that daily grind wasn't for him. He decided to return to his first undeniable love, music.

In 2011, he independently released his solo self-titled CD, which was produced by Scott Wiley who also worked on projects by Bonnie Raitt, Elliot Smith, Tracey Chapman and Neon Trees. Live shows are a huge element of Cameron The Public's life. His initial tour experience started when playing residencies at the Cosmopolitan Hotel in Vegas. Since then he has gone on to open for a diverse group of national acts including: Fitz and the Tantrums, Imagine Dragons, Jason Derulo, Goo Goo Dolls, Sean Kingston, Vintage Trouble and The Parlotones. Cameron The Public's live band met in 2010 in Los Angeles, and brought a cohesive vibe to his creative vision. The group is comprised of musicians who have played with everyone from Lionel Richie to Mariah Carey to Aloe Blacc and Van Hunt. Cameron The Public is currently finishing a new album to be released later this year.
And here is a slice of Cameron The Public's latest, the exclusive "Apple Pie."
SMILE DESIGN GALLERY MAKES HUNDREDS SMILE
Auctioneer Alexander Gilkes, Haute Living, Paddle8 and Dr. Lee Gause are teaming up at Provocateur to whet the appetites of art collectors across the tri-state area. Hosting works for sale from Chi Modu, Takashi Murakami, Angelo Romano, Robert Peterson and UR New York, the hope is to turn the $100.000 of charitable dentistry done to date into millions to benefit uninsured families through Smile Design Gallery.

Smile Design Gallery is a social enterprise that provides free dental care to people in need by employing the sales of art to provide free dentistry for children and communities who otherwise could not afford it. With a wealth of celebrity support from the likes of Swizz Beatz, Angela Simmons, Kris Humphries and more, Smile Design Gallery has grown exponentially over the last year. Supporting The Bowery Mission, Urban Promise and WSFSSH, Smile Design Gallery has provided free dentistry for over 400 people in one year's time.

Special Guest Swizz Beatz is a well-known art enthusiast and avid collector of Warhol, Basquiat and Ernie Barnes to name a few. A supporter of Robert Peterson, Swizz first attended a Smile Design Gallery showcase display featuring the works of Murakami. He will be our special guest and in attendance on the 25th to show his continued support for Smile Design Gallery.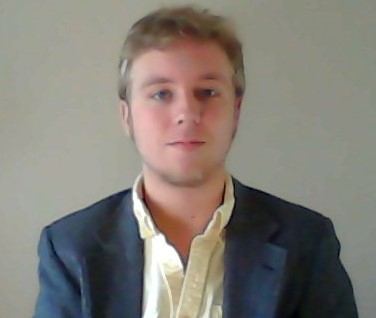 GALEN HAWTHORNE'S MOON HOOCH REVIEW
photo courtesy of the cosmos
Recently, critically-acclaimed alt rock band They Might Be Giants graced Iowa City's Englert Theater with their clever lyrics, energetic melodies and bizarre showmanship as part of a tour to promote their new album Nanobots. This is not their story. This is the story of their opener, Moon Hooch.
As my friends and I sat in the theater seats patiently waiting for the show to start, we began speculating on what kind of music a group called Moon Hooch would possibly play. I actually found myself slightly worried that we were in for some second-rate local bluegrass band to whom the owner of the building owed a favor. Then, the house lights dimmed. A towering, slender man with flowing blonde locks approached and equipped a baritone saxophone that had what appeared to be a traffic cone sticking out of the bell. His beefier buddy grabbed a tenor sax, and their more compact comrade sat down at the drums. Before half the people in the house had turned around, they took us by surprise.
The drummer slammed down with a controlled fierceness as the baritone growled and pulsated. "Is this going to be dubstep saxophones?" my friend Sam asked with a grin of anticipation. That was the last I heard from anyone but the band for the next forty five minutes. Moon Hooch bounced, stomped, screamed and wailed a non-stop forty five minute mix of every song on their eponymous new album and several that I suspect are from last year's album Contra.
To try to describe their style (especially their stage-show flair) in solely terms of music would be criminal. On their Bandcamp, they use the genre "Cave Music." According to them, Cave Music is "like House, but its more wild, more jagged, more free, more natural to live in." On stage, their de facto leader Wenzl McGowe told the audience they sought to bring the electronic dance sound into the acoustic world. The most coherent description I've been able to form is it's the logical extension in your mind from the phrase "two saxophonists and a drummer who is also a saxophonist make your dreams come true."
Since that fateful night it's all I've been able to tell anyone about, and for good reason. Their enormous stage presence includes (but is certainly not limited to) coordinated dance moves, flashing lights and colors, high-reverb microphones, and a contrabass saxophone known affectionately as the "bazooka horn." At one point, the two saxophonists made an elaborate display of tracing around the stage with eyes locked, lunging at each other occasionally to pass blats between their bell mics. James Muschler absolutely killed on the drums, shifting masterfully from everyone's favorite dance, house, and electro beats to intense stints more expected from prog metal than anything involving a saxophone. Later, the tenor player Mike Wilbur let go of his sax to pull a penny whistle and a harmonica seemingly out of nowhere and played a call-and-response solo that also included some beautifully raw metal yells. The M.O. of the night was a sort of self-competition to please the audience in the most absurd way possible, and it worked.
From what I gathered from them on stage and off as well as from the later chatter of They Might Be Giants, it seems Moon Hooch started as a subway band in Brooklyn when TMBG grasped them firmly by the hands and pulled them across the country on their ridiculously huge tour. No word on whether they'll cross the ocean with them as well, but one can only hope. Moon Hooch is the kind of thing that needs to be passed around and delivered to as many cities as can handle them. Go online, check out their Bandcamp, and try a swift pull of some Moon Hooch. I guarantee you'll dance.
Popular in the Community