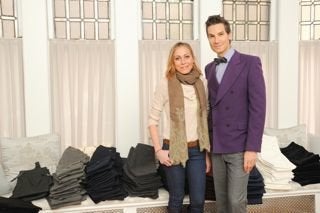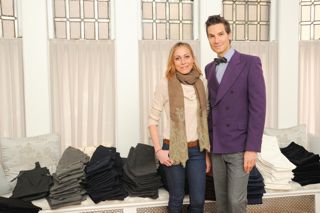 Decades owner and fashion icon Cameron Silver and former financial analyst, executive and fashion enthusiast Angelique Soave have teamed up to create Decades Denim, a new line inspired by the past. The Holiday collection, featuring 11 styles with names like "Marilyn," "Marlene" and "Jen" is stocked everywhere from Opening Ceremony to Planet Blue. I recently caught up with the duo, who met at Silver's famed boutique and became fast friends, sharing a love of timeless fashion.
VN: Why denim and why now?
CS: Up to this point, my fashion ventures have been strictly high-end through the vintage couture boutique Decades or consulting with luxury brands as a creative consultant. With Decades Denim I am creating a line that was accessible to all women, but from a sophisticated point of view.
AS: As a woman, I knew where the void was in the denim market and how to fill it. Cameron brings years of fashion experience and was the perfect partner for this venture.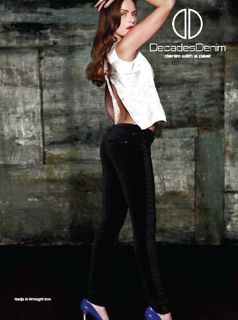 VN: Many people are surprised by how affordable the collection is. Was that a goal of yours?
CS: Absolutely. This line was created to fit the needs of every fashionista, regardless of age or position. We wanted to create a line that provided value without sacrificing quality.
VN: How did you decide what to include in the collection? What was missing in the marketplace?
CS: The styles were designed to be both timeless on-trend, with the ability to transition an outfit easily from day to night.
AS: I was always searching for that perfect pair of jeans that was clean and sophisticated and didn't distract from the rest of my look.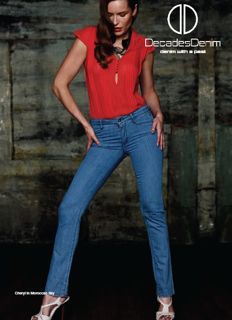 VN: Do you plan to expand Decades Denim in the future? Do you one day plan to design other collections?
CS: For Spring, we expanded the collection beyond jeans and introduced jackets, vests, tops and dresses. We are fine tuning the fall collection right now and I am loving all the new styles that are effortless and super chic!
VN: How are you enjoying your first foray into denim?
AS: It's been so much fun working with Cameron. We are almost finished with fall which will be our fourth season. I feel like we have definitely refined our vision and can't wait to see it!
Photos courtesy of Billy Farrell Agency
Calling all HuffPost superfans!
Sign up for membership to become a founding member and help shape HuffPost's next chapter