Early evening was a perfect and peaceful time to visit the leafy environs of the Belvedere Hotel where Matsuhisa Mykonos is housed. The fragile powder blue of the twilight was whispily accentuated with a delicate pink. The glazed white metallic pendant lights, designed by David Rockwell and Clark Johnson , swung gently in the breeze and the mature, fat trunked palms provided gentle shade from the still warm setting sun. Its rays still glinted in the crystal waters below in the harbour of Mykonos town.
I didn't have to wait long for the celebrity chef to appear. Nobu is slim, fit and his face has a certain symmetrical, smooth attraction. His stride as he walked towards me suggested agility of body and mind.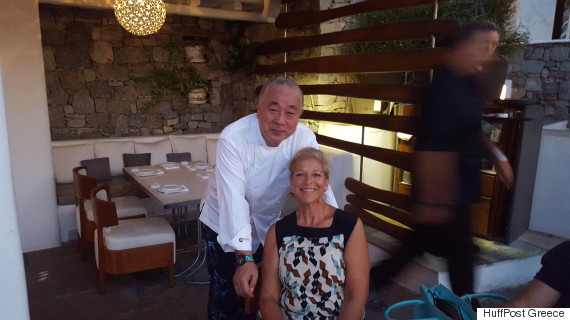 Eugenia Chandris: Nobusan, it is an honour and a pleasure to interview you for the Huffington Post Greece and especially for its Thalassa section which I founded and which has been on line since June 1st featuring all things to do with the sea. I must start out by asking you did culinary talent run in your family ?
Nobu Matsuhisa: There were no professional chefs in my family. I was raised by my mother who passed away ten years ago. I truly realize how important home cooking is. A mother, a grandmother cooking for children imparts such love, this was an inspiration to me, this gave me my inspiration for food.
EC: When did you know you wanted to become a chef?
NM: My father died when I was eight years old. I saw other boys in the park with their fathers, playing with footballs and model planes and I really missed this. To cheer me up my older brother took me to a sushi restaurant and then I realized that I really wanted to be a sushi chef.
This become my dream, I was 11 years old!
EC: How did your career begin?
NM: I worked for six and half years in Tokyo as a sushi chef and then I opened a Japanese restaurant in Lima, Peru with a business partner. Peru has a long history of Japanese immigrants. There was an abundant and high quality supply of fish however it was more difficult to find the same high quality of rice and sea weed that exist in Japan.
NM: I had to be imaginative and use local ingredients.
EC: Is that when you started to created sauces from traditional Peruvian ingredients?
NM: No, that happened later on, I shall tell you. I stayed in Peru for 3 years and I was indeed inspired by their cuisine. I then found other business partners and moved to open a restaurant in Argentina for a year. After that I went back to Japan and then opened another restaurant in Alaska which burnt down a few weeks after the opening. You can imagine how I felt?
EC: Yes I can. What did you do in the face of such adversity?
NM: Opened a small place, 6 to 8 seats only, in Los Angeles in 1982. I was sponsored so I obtained my green card and so I was in America to stay.
EC: What is your philosophy behind this iconic brand of Nobu. How do you create your menu?
NM: World wide there are 32 Nobus, 6 Matsuhisas and 2 more coming this year. In 1994, 21 years ago, when I opened my first Nobu in New York, Japanese cuisine was strictly traditional. When I opened, out of courtesy and politeness I looked in on two other Japanese establishments in New York. The proprietors looked at me strangely and more or less implied to me that I would last for six months. Many people thought that this new concept of Japanese cuisine wouldn't be success.
EC: But it was! How did you so radically depart from the austere Japanese culinary tradition based mainly on sushi and sashimi?
NM: Yes you are right about the sushi and sashimi. These were the staples of the Japanese menu but served in a limited manner, just with soy sauce and wasabi. It was first in Los Angeles and then in New York, that I began to draw on my Peruvian experience. Adding elements from that cuisine : garlic, Peruvian lemons, olive oil. Creating sauces from these to accompany the sashimi and sushi. In Los Angeles I started making a separate sauce to accentuate each main dish. All Nobus have the same menus more or less with the favourites:- rock shrimp, tiradito etc but each restaurant has its own particular dishes. I stay in the kitchen
with the chefs and use local products with them.
EC: For me what makes you so unique is your creation of so many main dishes which were never part of a Japanese menu. Tell me about your creation of the black cod main course dish.
NM: Yes that is my signature dish and I am quite proud of it. It happened in 1987 in Matsuhisa Beverly Hills. Now you can find any kind of fish you desire in L.A., then you couldn't. So I went to the fish market and found frozen black cod. No chefs were using this. They disregarded it. It only cost 25 cents per pound!!! I took it sliced it and marinated it for 3 days. I marinated it in miso, fermenting it. I created my own taste and blended the miso with mirin and sweet sake, mixing all these together. Then sliced the fish and put it under the salamander to "caramelize" it.
EC: As we are here in Greece can I ask you a few questions to do with our country.
NM: Yes of course, please do.
EC: Which Greek fish do you value for gastronomic excellence?
NM: Since we opened in Athens, I have been using red mullet, I really like it.
EC: Are there any Greek ingredients you could incorporate into Japanese cuisine?
NM: For this year's Nobu festival we created a brand new dish utilizing the red mullet, olive oil, caper leaves, fresh onions and cucumbers.
EC: Is there any one Greek herb or spice that could inspire you? Like oregano or thyme?
NM: This taste is totally Mediterranean, that flavor evokes that part of the world. It would confuse the clarity of the Japanese dishes, their simplicity.
EC: Is sushi a philosophy, a certain measured way of eating?
NM: Yes indeed it is. Food prepared with so much detail and in small bites. This sushi preparation is very disciplined. When I trained in Tokyo to become a sushi chef, I was doing very humble tasks, working in the dishwashing department, cleaning tables, receiving deliveries and for the first 3 years which is how long it takes to train, I only got to scale the fish. All chefs' apprenticeships are harsh but for a sushi chef I feel it is the harshest.
EC: Is there such a thing as a global menu or is ethnic cuisine still the essential element behind a great chef's success?
NM: It is becoming more global - for instance I am using caviar and foie gras which were never used before in Japanese menus and French chefs are now using soy sauce. However I still retain a distinctive ethnic philosophy and I lectured about this now at EXPO, an exhibition in Milan this summer. I explained the concept of Umami. There are four tastes, sweet, sour, bitter and salty. Umami is the fifth taste.
EC: What is Umami exactly?
NM: It is dry combu and seaweed. It is bonito which are dried fish flakes mixed with seaweed. You boil these two together for 15 minutes to create the stock that is the very basis of Japanese cuisine. It is very healthy and has no calories. I was very excited to explain this at EXPO.
EC: Is cooking just technique or a state of mind? Is experience necessary?
NM: Experience yes. Just technique no. My mother inspired me when she cooked for me and I still have that connection with her memory. I cook with my heart always using fresh products. Japanese food is simple and pure.
EC: Nobusan what makes your restaurants unique. Is it the presentation, the stylish accessorization?
NM: Together with Tassos Ioannidis the owner of Matsuhisa Athens and Mykonos and Matsuhisa in St. Moritz, Nobu answered. Actually every dish on the plate has a head and a tail. It has a position, an architecture on the plate. The plate is a canvas for my dishes. Cuisine used to be a trend, like fashion. However the chef who created the restaurant El Bulli, Ferran Adria made cuisine a science.
EC: All your restaurants are in gorgeous places. Is this important?
NM: Yes very. The building is vital. In Aspen, we cut the house where Nobu is, in half. We then moved the half away, dug out the kitchens and then moved the house back on top!!
EC: You have always been a pioneer. What is cuisine's future?
NM: The future and the real core of success is as much as possible to use natural flavours. Fish as a primary source and all the accompanying ingredients must be pure. Great cuisine should not be complicated. That is the secret.
The interview concluded on an informal and chatty note. Nobu gave me an surefire recipe for a Pisco Sour, the Peruvian cocktail of choice and one again exulting the healthy advantages of miso soup as supported by the World Health Organization, emphasizing the excellent general health of the Japanese people. The sky darkened, drinks were served but Nobu stuck to water. An iconic chef who thinks and feels deeply, he has an air of competence but also of serenity. Unlike many of his culinary counterparts who make a name of being cantankerous and egomaniacal, he understands the wisdom of measure and modesty. A very Japanese lesson indeed.
Related