Just minutes from the USC campus is the John Tracy Clinic, the nonprofit that provides parent-centered services to young children with a hearing loss -- all without charge. This month, JTC is in the running for a Pepsi Refresh Project grant. I recently caught up with the organization's new president and ceo, Dr. Maria E. Garay.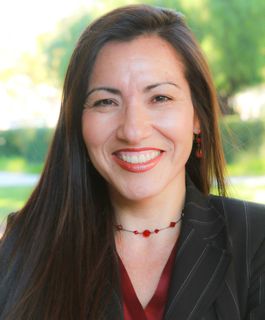 Even though JTC has been around since 1942, many are unfamiliar with the clinic. What is something you think people would be surprised to learn about JTC?
First of all, people are amazed to find out that deaf children can learn to talk and attend regular schools with their hearing friends. John Tracy Clinic (JTC) has been showing parents how to help their children accomplish that for almost 70 years. When most of us think of deafness, we think of sign language because it's so visible and unusual. But the majority of young children diagnosed with hearing loss in the United States today learn spoken language because of huge technological breakthroughs that allow even three-week-old babies to wear advanced digital hearing devices. So, except for the multicolored hearing aids and cochlear implants, deafness has become an invisible disability.
A second surprise for people is learning that the famous actor Spencer Tracy and his wife Louise, who founded JTC, had a deaf child. His name was John and they named the organization in his honor. A long list of Hollywood celebrities helped raise money for JTC in the early days, including Walt Disney, Mary Pickford and Michael Landon. Members of the Disney family are still staunch supporters.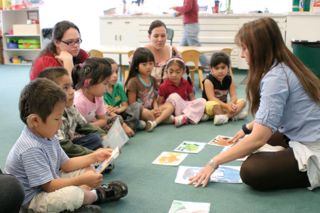 When parents and families come to JTC what is the process that they and their children go through?
The process usually begins with a hearing screening or other test to determine the nature and severity of the hearing loss. If permanent losses are found, a family counselor and audiologist will encourage the parents to choose the course of action that would be best for their baby and the whole family. Many choose to join our programs, starting with Parent Education and Support. This program is at the heart of what we do, providing an emotional foundation for the family through support groups as well as knowledge and skills through educational workshops. Topics such as audiology, anatomy, and child development are discussed in detail in sessions held twice a month for all families in English, Spanish and other languages as needed. As the parents continue their classes and groups, the child's educational journey normally begins in the Parent/Infant Program, where master teachers guide parents in helping their children learn to listen and be aware of sound in their environment.
For many families, their next JTC adventure is preschool. The preschool provides a dynamic space for teachers and aides show parents how to encourage their child's speech and language skills and advance their social, emotional, cognitive, and physical growth. When children leave this program, most go on to mainstream preschools or kindergarten. For parents out of the region and around the world who can't come to our Los Angeles or Long Beach campuses for service, we offer an interactive, web-based Parent Distance Education Program. The program enables parents to benefit from the latest information, activities and lessons on line, while also receiving direct individual guidance from experienced parent educators.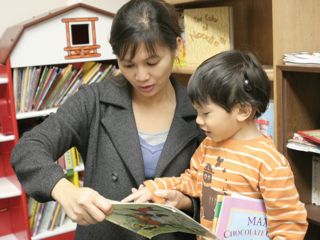 What are the challenges of coming on board in recent months?
When you join an organization that has a 70-year history, a founder with a movie star husband, and a solid worldwide reputation, you must do your homework and begin humbly, with great respect for those who came before you. I discovered that a good place to begin assessing JTC's strengths and any challenges I might face was to develop a strategic plan. I saw the need for a healthy degree of reorganization, reprioritization and program enhancement as well as greater diversity of funding. With my long experience working with local nonprofits, I also knew there were opportunities for stronger connections with our sister organizations in the community. JTC is a wonderful place to work with an urgent and unassailable mission to help young deaf children fulfill their promise in the world, and I am so excited and grateful to be here to carry the work forward.
How did you get into the world of nonprofits and what keeps you staying in the field?
Everyone's heard about those big hearts that Latin Americans are supposed to have. Well, I have one. Ever since childhood, I wanted to help others, starting with my own family in Mexico. It was no accident I pursued degrees in social work and held leadership positions at The Salvation Army and Para Los Niños, two acclaimed nonprofits. There is such passion and commitment in this whole field because we address the basic human need for shelter, food, safety, education and work. In a world with an increasing gulf between have and have-nots, nonprofits carry the flag for old fashioned values like compassion, generosity and brotherly and sisterly love. What we do at John Tracy Clinic -- teach deaf children to talk -- is so fundamental to a child's well being and sense of belonging that we risk taking it for granted.
How do you fundraise in such a difficult economy?
The current "great recession" has created one of the most challenging fundraising environments in recent history. Despite these challenges, we want the life-changing work of JTC to grow and speak for itself. Those who see first hand or have been personally touched by our services typically become our strongest supporters and most loyal advocates. We are working hard to get the word out and build relationships with individuals and organizations that want to invest in the lives of young children and parents. Allowing them to speak on our behalf and partnering with us to create futures that might never be possible otherwise.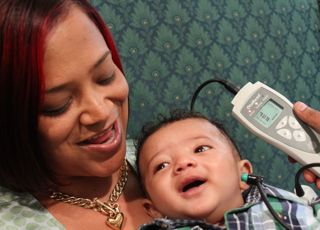 How can people help if they are interested?
There are many ways people can help. Financial support is our greatest need right now. Making online donations at Jtc.org is easy and only takes a minute. One exciting way people can make a real difference right now is to support us through the Pepsi Refresh Project. For the month of December, we are in the running for a $250,000 grant from Pepsi.This online program is completely voter-based. The organization with the most votes is chosen as the recipient of the grant. Voting is free, and easy. We also encourage folks to learn more about us by visiting our website or stopping by our campus for a tour.
Watch JTC's short video Give Deaf Children a Voice:
All photos courtesy of Gregory Wilson/John Tracy Clinic

Calling all HuffPost superfans!
Sign up for membership to become a founding member and help shape HuffPost's next chapter