With credits dating back to 1954, Roger Corman has one of Hollywood's longest running careers, and every step of the way has fearlessly pioneered ideas in filmmaking, through all of new media's many definitions over the decades. So it's perfect that the 5th Annual New Media Film Festival honors Corman this week with the Legend Award to be presented by director John Carpenter. The event takes place June 11th at Los Angeles' Landmark Pico Cinemas.
Roger Corman (photo by Jim Steinfeldt)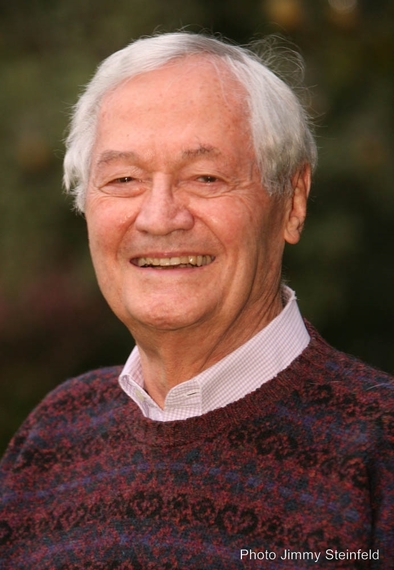 At the 2013 Sundance Film Festival, I had the pleasure of catching his innovative video game inspired action-adventure Virtually Heroes, his first ever (!) entry there, proving that the same man who brought audiences such classics as Vincent Price in The Pit and The Pendulum, and The House of Usher, hasn't lost his edge. In fact, Corman's pop culture footprint has loomed increasingly larger the past few years thanks to the popularity of his monster films on the SyFy Network (Piranhaconda, etc) and a recent honorary Academy Award, thank you very much. Not to mention that a pantheon of film luminaries helped establish themselves by working in Corman productions early in their careers - a partial list includes Martin Scorsese, Ron Howard, Peter Bogdanovich, Francis Ford Coppola, Jonathan Demme, John Sayles, Dennis Hopper, William Shatner, Peter Fonda, Sally Kirkland, and Jack Nicholson.
Jack Nicholson on Roger Corman:
I had the pleasure of chatting with the energetic 88 year old Corman, who, with five films ready for release including Syfy's Sharktopus Vs Pteracuda (premiering Saturday, August 2) shows absolutely no signs of stopping.
Xaque Gruber: Prior to you, New Media Film Festival's Legend Award has only been given to Ray Bradbury. That's very good company.
Roger Corman: It's excellent company. I knew Ray, and funny, when we'd get together, I drove because he never drove. (laughs) He never even had a driver's license despite all his sci fi writing about space travel and technology.
XG: When people say "oh Roger Corman, you are a legend," what goes through your head?
RC: I think of this: there are various rankings of legends, and it's possible I might be there, but it would be among the lower rungs (laughs).
XG: I understand that John Carpenter is presenting you the award.
RC: Yes, and I'm very pleased because I've known John for many years. I really love the work he's done, particularly Escape From New York. With that film, he reinvented the genre in the same way that Quentin Tarantino reinvented the gangster film.
Roger Corman (photo by Jim Steinfeldt)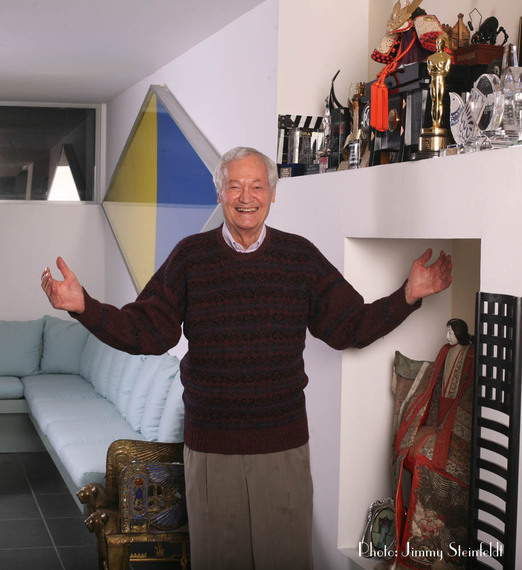 XG: Let's talk about what being a new media filmmaker means to you.
RC: I think of the term 'new media' in two ways. First with production, the move from film to digital. There are so many production advantages with shooting digitally with the savings, especially when making lower budget films. Then there are the advantages of the lighter weight cameras, which are easier to use on location, and all the computer effects give you a whole new toolbox. The other aspect of new media is in distribution, which has undergone even more sweeping changes than the production side. You have newer outlets like Netflix and Hulu, and that's exciting, but on the flip side, we used to go out with a $100,000 film and open it in big theatres all around the country and compete with major studio films with almost comparable figures in a short period of time. All of that has disappeared.
XG: And yet you've survived, and thrived. So for the young filmmakers out there who say I want to be the next Roger Corman - what advice do you have?
RC: My advice for the beginners is if you can go to a film school, do it because it can really give you a great foundation and propel you. And if you can't go to a film school, well then do it yourself. There is so much no budget filmmaking going on around the country, and most frankly is not very good (laughs) but a couple of them are. The other bit of advice is to get a job or work for free on a movie set, and observe and learn something from seeing how it all goes. You never know, but you might get promoted.
XG: You recently executive produced Virtually Heroes for only $114,000, which is unbelievable considering all that's going on onscreen. Only Roger Corman knows the secret how to make a war/video game film for that money.
RC: Well, there was a secret to it. We had made so many Vietnam war pictures in the Philippines decades ago, and the director, G.J. Echternkamp wanted to make Virtually Heroes. I said we don't have a lot of money, but I have some really spectacular war footage, and you can use it and build a story around that. The idea of a character (played superbly by Robert Baker) stuck in a video game was the key to the whole thing.
XG: What's going on in Roger Corman's production world today as we speak?
RC: Today, I receive the last computer graphic shot on our upcoming Sharktopus Vs Pteracuda, the latest of our SyFy Network monster mashup films. We asked our staff with all of their college degrees and said 'okay, what insane creature can we come up with next to fight Sharktopus?' And the result was half pterodactyl and half barracuda.
XG: There aren't many who can say they've been making movies since the 50s, helped launch careers of major stars, and have five more films set for release in the next year. RC: And I'm still above ground. (laughs)
For more info on the New Media Film Festival, check out: www.newmediafilmfestival.com
Calling all HuffPost superfans!
Sign up for membership to become a founding member and help shape HuffPost's next chapter