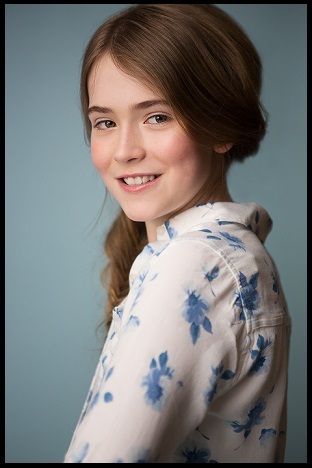 Ashley Gerasimovich plays 'Delilah' on the new TBS comedy The Detour opposite Jason Jones and Natalie Zea. Premieres April 11, 2016.
Ashley's Socials: Twitter & Instagram
Photo by Emily Soto.
Ashley Gerasimovich is a cutie! Plus, she's one of those rare young performers who appreciates being an actor.
It's always a pleasure to interview actors under 18 years old who are grounded and happy to be doing what they love.
Let's learn more about Ashley Gerasimovich!
Tell us about your audition for The Detour.
I got a call from my agent to audition for the role of 'Delilah' in NYC. A few days later, I got a callback. At this callback I met with creator Jason Jones, and he and I did the scene together. He was really nice, and I had fun auditioning with him. For my second and final callback, my mom and I flew out to LA to audition. There I met with the director and members of the TBS network, who also came to watch us audition. When I go to an audition. I don't like to bring the script in with me because I want to focus on the scene itself more than on the lines, which is why I always make sure to be fully memorized beforehand. One special memory from this audition process is that Jason Jones called me personally to tell me I booked the role of Delilah. I was so excited, I screamed when he told me!
How did you get started in acting at the age of five?
I started modeling as a baby. My mom was looking through Parents Magazine and came across an article on baby modeling. That started my older sister modeling, then I joined in. I hit the "terrible two's" stage, so my mom put me into semi-retirement, but when I was five years old, the agency called and told us about an audition for me. My mom reluctantly said "Yes", but guess what? I booked my first audition ever! It was for a movie called Fair Game, playing Sean Penn and Naomi Watts' daughter. From then on I have been acting regularly and love it!
What are your favorite books? What genre?
My favorite books are The Name of this Book is Secret, When You Reach Me and Percy Jackson: The Lightning Thief. I like adventurous books which keep me on the edge of my seat, and I also enjoy reading comedies because they lighten up my day and counteract any bad things that happen in the book.
I go to public school, but when I'm working I have a set tutor with me.
What do your friends think about your career?
Most of my friends understand what I do and support me and are happy for me when I get a new job. They treat me like a regular kid. I love hanging out with them! After school we'll get pizza or frozen yogurt and sometimes see a movie.
I have a fish named Noodles 2 and two bunnies named CC (which stands for chocolate cutie) and Brownie. They are super cute! I am waiting for the day my Mom says we can have a dog. I can't wait to walk it and play with it and I would name my dog Buddy".
Do you take any extracurricular activities?
I take Tae Kwon Do and I am a blue belt. I've been doing it for two years and I really like it. I look forward to becoming a black belt one day. I also take horseback riding lessons and I love it because horses are my favorite animal. I was lucky enough to work with horses and ride them in a movie I filmed called Take Me to the River. I am also a Cadette in the Girl Scouts and have a really fun troop.
Tell us about your independent film A Different Sun. Who do you play?
A Different Sun is about a Chinese family who moves to Germany and chronicles the struggles of transitioning to a different country and culture. Their daughter, Ling, becomes best friends with a German girl named Nina, who I play. I had to do a German accent throughout the entire movie, so I worked with a dialect coach to help me with it. The girl who played Ling was the only other kid on set most of the time, so we became best friends just like in the movie!
Do you have any advice for young performers?
I would tell them to have fun and never give up! This business has a lot of ups and downs, so keep your eye on the prize! If you are practicing your lines, auditioning or just booked your first job, you're doing what you love and that's all that matters! Another thing my mom taught me is that if you don't get the job, the audition was great practice and the job simply was not meant for you. That's what keeps me going and I always look forward to booking my next job!
Calling all HuffPost superfans!
Sign up for membership to become a founding member and help shape HuffPost's next chapter