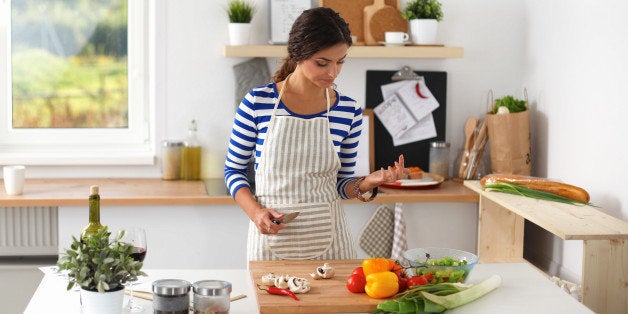 There's nothing quite like a home-cooked meal. Childhood memories of mom's chicken noodle soup or nana's chocolate sheet cake - certain foods, their taste and smell evoke memories and take us back in time. There is something so satisfying about cooking and baking for the people I love, passing on good vibes and creating a treasure chest of food memories to have forever.
The benefits of home cooking are clear - a recent study suggests that people who cook at home frequently eat healthier and consume fewer calories than those who cook less and eat out regularly. For families, cooking at home can translate into time to both prepare and create meals together; an enjoyable experience to be shared with loved ones.
For busy parents, cooking can be a daily ritual that allows for quality bonding time, while also carrying out a task that needs to be completed - two birds, one stone. Furthermore, according to a Cornell article in their Parenting in Context series, children who participate in family mealtime are 12% less likely to be overweight and more likely to eat healthy foods, succeed academically, and have improved mental health. Despite the numerous health benefits of home cooking, many Americans struggle to take on the task.
Key Ingredient, a free online cookbook system with more than 1 million subscribers, was created to simplify and streamline the experience of preparing homemade meals. In 2014, a random sample of Key Ingredient users (2,287 responses), found that only 22% of participants actually cooked these recipes after saving them to their Key Ingredient Cookbooks. Why aren't more people cooking at home?
In a recent survey, Americans shared the top reasons why they do not cook. The number one cause might not be what you think. I was surprised to read that the reason less families are preparing meals in the kitchen is because grocery shopping takes too much time. The next reason, with over one-quarter of the respondents agreeing, was that they did not know how to cook.
Culinary education is seamlessly glossed over in our schools and the results are apparent - many Americans don't know how to cook, which means they choose not to cook at all. Instead, they opt for unhealthy take-out and expensive dinners. This not only affects our health but also creates a new generation of non-cookers.
This past April, my organization, Miami-Dade County Public School (M-DCPS) teachers and administrators, a handful of A-list chefs, and supporters of healthy food for kids, came together to celebrate the importance of cooking for life. The cooking boot camp, a day-long event hosted by celebrity chef, Michelle Bernstein, and M-DCPS District Superintendent, Alberto Carvalho, provided expert tips on easy and delicious meal preparation. Below is a list of (my now coveted) secret weapons to becoming what my friend Chef Bill Kim calls a "sustainable chef."
Safety First
Richard Ingraham, private chef for the Miami Heat's Dwyane Wade, had some tips for cooks to keep all of their fingers as he taught a hands-on, jazzed up shrimp and grits class with his infectious positive energy. Our Common Threads kiddos swarm him every time he walks into the kitchen with total devotion and pay complete attention to him in class.
1. Keep your knives sharpened, because dull knives can be dangerous. To those of you new to this classic kitchen caveat--this may seem like a contradiction, but, because dull knives can often resist our chopping and slicing efforts, their use can lead to knife slippage that could potentially catch some skin.
2. When using a cutting board, keep a wet towel underneath. This will keep the board in place and protect your beautifully chopped fruits, veggies, and lean meats from ornamenting the floor.
3. If a knife should fall, let it drop. Do not try to catch it. As the old saying wisely warns, "A falling knife has no handle."
4. Keep your knives separate from other pans and dishes in the sink. This easy tip can protect you from the misfortune of grabbing (a now perfectly sharpened) knife hidden beneath the dirty dishes.
5. When done washing do not dry your pots and pans manually. Letting them air dry prevents cross-contamination.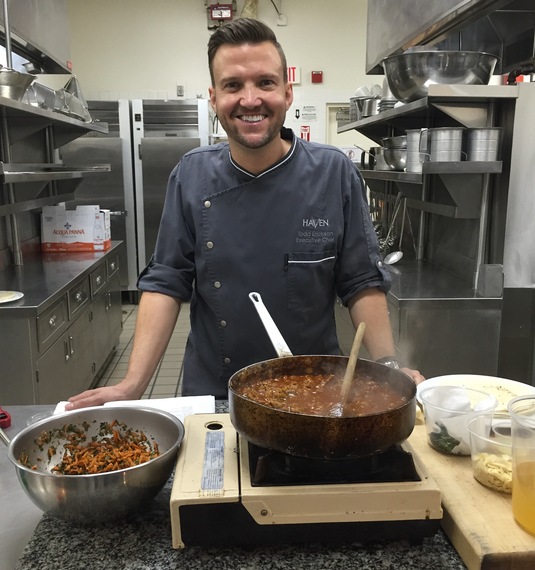 Chef Todd Erickson demonstrated how to make Lamb Picadillo, Carrot Salsa and Toasted Cumin Yogurt in his Cooking for Life bootcamp session.
Layers of Flavor
Todd Erickson, gorgeous inside and out and hilariously witty, is currently an emerging name in Miami and Executive Chef of Haven South Beach and Huahua's Taqueria. He taught us all about how to spice up a healthy dish as he demonstrated how to make the most delicious full-flavored lamb tacos I have ever eaten in my life.
1. Use big, separate flavors in layers. Think out of the box and lean on menus of favorite restaurants for unique flavor combos or tap the food wheel. A diverse array of ingredients (ex. raisins, cumin, cinnamon, almonds, tomatoes, and carrots) brings an unforgettable punch to Taco Tuesdays!
2. Season every component. Treat each piece of your work as a delicious meal of its own. When you add these separately seasoned components together, every bite will be bursting with flavor.
3. Salt and acid are the duct tape and WD40 of cooking. It may be surprising, but many chefs agree that salt can spruce up a dish alone. If the dish still needs some life, add an acid. Sometimes all it takes to make a meal work is a dash of salt and a squeeze of lemon.
4. Get your greens on. Roughly chopped herbs like dill, cilantro, and basil can be tossed together to replace lettuce for a more lively salad experience.
5. Replace mayonnaise with avocados for a creamy, healthier green goddess dressing. While on the salad note, why not top it off with a healthy alternative to a classic favorite? A quick and easy recipe can be found here: "Avocado Green Goddess Dressing."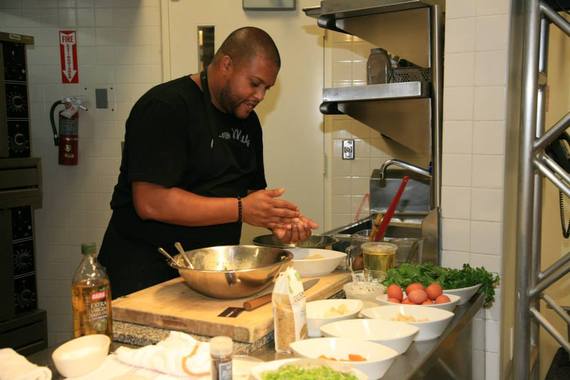 Chef Timon Balloo showed a sold-out crowd how to make Moroccan-spiced Meatballs with Apricot and Mint Cous Cous.
Potpourri of Tricks
Timon Balloo, Executive Chef at Sugarcane Raw Bar Grill, has an ease in the kitchen and in his teaching style that makes you feel empowered to get your groove on and copy his moves. This hard working husband and dad touched upon a sundry of tips including his must-have pantry items while teaching how to make Moroccan-spiced turkey meatballs.
1. Dry your protein before cooking. Salt your meat hours or even days in advance--this allows the salt and moisture on the surface to be absorbed. This way, it should brown normally and be flavorful inside, not just salted externally after cooking.
2. Heat your pan first before adding oil. This prevents the oil from burning and lets you get started right away. Another tip--instead of turning down the flame, lift your pan to reduce heat. With this common sense trick, you can lower the heat without encountering any problems if you forgot to set your flame to the proper temperature.
3. Timon cannot live without these in his pantry--have the following flavor-kickers on hand for diverse and happy meals:
- Badia Spices (packs of these come cheap--test out a bunch!)
- Sriracha
- Fish sauce
- Modena Italian balsamic vinegar (the longer this ages, the thicker it gets)
- Sazón Completa (Complete Seasoning)
- Soy sauce
- Sherry vinegar
4. Don't forget about the versatility of eggs. This might seem like the odd-one-out, but this tip should not be underestimated. Eggs are a cheap source of protein that can contribute flavor and substance to a variety of meals, not just breakfast. Check out these ideas for breaking the breakfast barrier: "25 Delicious Ways to Eat Eggs for Dinner."
Freshest Mozzarella
Dena Marino, co-owner and Executive Chef of the Italian eatery MC Kitchen, momma, and inventor of the truffle fries, demonstrated how to make your own pulled mozzarella (a kid favorite) and offered suggestions for pairing your fresh cheese with fresh tomatoes. She also dished on her six favorite cooking utensils she can't live without.
1. Making your own mozzarella is a great option for those who are lactose intolerant. As you pull the mozzarella curd in the water, some of the lactose dissolves. Dena knows from experience--her lactose intolerant son loves her freshly pulled mozzarella!
2. Pick your tomatoes based on smell, try to buy on-the-vine, and keep them out of the fridge! Fresh mozzarella is incomplete without delicious, plump tomatoes. Yellow tomatoes are okay--just stay away from tomatoes with a funky smell. While this may not always hold true, on-the-vine tomatoes will typically be fresher. Tomatoes kept in the refrigerator become mealy and unappetizing--make some counter space for those babies!
3. Access to the following utensils is a MUST for Dena:
- Small French Chef's knife
- Steel scissors
- Microplane zester/grater
- Ladle
- Strainer
- Fish spatula
4. Try out Dena's recipe below! Other delicious recipes from the all-star lineup of chefs at the Cooking for Life Festival can be found here: "Cooking for Life Festival Boot Camp Recipes!".
Pulling Fresh Mozzarella--serves 4-5
INGREDIENTS
2 gal. cold water
1 lb. fresh mozzarella curd
Kosher salt
PREPARATION
1. Shave the fresh mozzarella curd with a sharp knife into thin layers
2. Place into a large bowl and set aside
COOKING METHOD
1. In a large pot add cold water and salt and bring the water to a rolling boil
2. Quickly ladle over shaved mozzarella curd
3. Allow mozzarella curd to warm before working with your mozzarella
4. With a wooden spoon stir the curd until it begins to "pull," you should have a string-like effect
5. Work quickly to achieve a consistent "silken texture"
6. Hold the cheese in bowl and pour off excess water (water should be skim milk color)
7. Take mozzarella in hands and begin to fold under itself to create round shape
8. Place mozzarella in bowl of cool water and continue process of pinching cheese between thumb and index finger until cheese is formed. The cheese can be refrigerated overnight