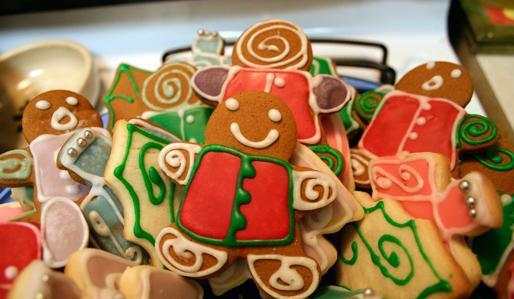 A friend of mine was recently talking about her experience of being hospitalized because of cancer during the holidays. She shared that while the staff went out of their way to bring the festivities to their patients, she and her family felt a bit forgotten by their friends. So, if you know someone who is a patient this holiday season, here are 24 ways my Facebook friends and I came up with to help hospitalized friends feel loved, including the top five most effective ways to lend a hand to someone who is in the hospital.
First, keep in mind that there are certain things that might not be allowed in the hospital, especially if your friend is in any type of isolation. Live plants, certain types of food, and candles with an open flame are restricted in some units. So it's always a good idea to call the hospital where your friend is and ask if your holiday ideas are allowed.
Here are the top five most effective things you can do for your hospitalized friend and their families during the holidays, plus 19 quick and easy ways to bring Christmas cheer and holiday fun.
1. Spend time. A favorite for most patients and their families is to have those they cherish come for a visit. Spend time with your loved one when they are in the hospital. Your presence will serve to help the time go by more quickly, ease their fears and may even reduce their pain. If you can get them laughing (and it's not too painful) that's even better. Laughter speeds the healing process, reduces stress and improves sleep.
2. Remember to be a good listener. Don't cloud the air with too many of your own stories when you're at someone's bedside. Most patients and their families have a lot they want to talk about when they're in the hospital. It's a whole new world for most people who become admitted. People often feel better if they can share about their experience of being a patient. Make eye contact with them while they talk, nod and ask questions about their experience. Your hospitalized friend will feel loved if they know someone has been listening to what they have been going through.
3. Gifts for patients. Remember to give gifts that someone in the hospital can use right now. An iPad, bluetooth speaker for a cell phone or an e-book reader like a Kindle are ideal gifts for someone in the hospital. This way they can watch movies, read a book in a variety of font sizes or listen to their favorite music immediately, once they feel up to it.
Also, be sure to think about giving what I call not-too-far-in-the-future gifts. Remember, some folks in the hospital may or may not recover. Be sure to keep this in mind when gifting. Gifts that hinge too much on future dates are not ideal and may even be discouraging for the person who is ill. So, tickets to the Super Bowl, local spa or spring ballet may not serve your holiday hospital friend very well right now. Save those for later once they are on the mend and beginning to venture out of the house and well on their way to recovery.
3a.Gifts for families of patients. Whether it's missing work to stay with their loved one, paying for lodging or constantly having to eat in the cafeteria, people with a close relative in the hospital for days or weeks on end can spend a small fortune. Here's how you can lend a hand and offset their financial burden:
- Buy a 10-pack of hospital parking passes.
- Pay for a few nights at a nearby motel so the family can shower and rest.
- Give them gift certificates to local restaurants that deliver.
- Gift them with gas cards if they travel back and forth every day from home.
- Stay and visit with the patient so they can rest and recharge their own energy. Caregiving is as taxing as being a patient.
4. Help with things back at home. If a friend of yours lands in the hospital during the holidays, it is probably unexpected, and they may have lots of things left undone back at home. Offer to help manage these things for them during their stay. Take out their trash, feed their pets or watch their kids to take a load off their mind. If a child is hospitalized, it's likely their parents need the same sort of help as well. Parents of a hospitalized child might need help with Christmas shopping, house cleaning, meal preparation or taking their other kids to lessons, school or seasonal parties. Don't hesitate to offer this type of specific help. Your willingness to jump in and be a part of the family will help this hospital stay land softer on your friend.
5. Offer to set up a Caring Bridge website. www.caringbridge.org
This website can help your friend if their stay or their condition is expected to last longer than a week or two. This way, your friend only has to give one update to everyone at once rather than answer multiple texts, emails and phone calls when things change.
If you are able to help with even one of the above needs you will have lightened the burden of hospitalization for your friend. Now let's talk about some additional fun ways to bring holiday cheer to someone who is hospitalized over the holidays:
6. Bring in a mini Christmas tree with LED lights. Popular and colorful, this idea can set a warm and festive tone for almost anyone during the holidays. If live plants are not allowed, try finding a faux variety.
7. String colorful lights around the room and in the window.
8. Have a Christmas movie marathon with your friend on a laptop or hospital DVD player. I recommend these three to get you started: Elf, The Grinch Who Stole Christmas and National Lampoon's Christmas Vacation.
9. Download seasonal or inspirational music and keep it on repeat. Music has its own magic and can often heal things that medicine cannot.
10. Bring in air freshener that smells like apple or pumpkin pie.
11. Ask your friend if they want to be moved to a room where it's easy to see the fireworks on New Year's Eve. If so, hospital staff may be able to accommodate. Then at midnight, share a toast of sparkling cider or Perrier.
12. Homemade treats like holiday cookies and cakes are fun and familiar.
13. Create a poster board with family pictures displayed for all to see.
14. Bring in a gourmet meal from local restaurant and then serve it by (battery-operated) candlelight..
15. Arrange for your friend to have a Skype visit with far-away family and friends who couldn't visit during the holidays.
16. Make homemade seasonal room decorations. Paper chain with wishes and hopes written by family and friends -- it's so encouraging.
17. Share read-aloud stories of the season with children who are hospitalized.
18. Gift wrap the door with colorful paper and ribbons.
19. Build mini snowmen out of play dough together with little ones and display near the window.
20. Board games in bed with popcorn and hot cider is often a treat for older kids who feel up to it.
21. Arrange for a Santa Claus visit.
22. Hang holiday cards with tape or yarn around the room.
23. If you're a musician, ask the floor nurse if you can give a special mini concert in the hallway. Play holiday favorites and special requests from your loved one.
24. Gather a group of your close friends and go caroling in your friend's room and along their floor. Music and smiles will abound when your friend sees you doing Christmas karaoke on their behalf.
Remember, the present of your "presence" will go a long way with someone who is sick and hospitalized this holiday season. Stick to "the golden rule" and try to do for them whatever you would like done for you if you were in their place instead. Happy Holidays from my home to yours.
The information provided in this column should not be used for diagnosing or treating a physical or mental health problem, disease, or condition. If you have or suspect you have a medical or psychological problem, please consult your medical doctor or psychologist or appropriate health care provider. If you think you have a medical or psychological emergency, call 911 immediately.