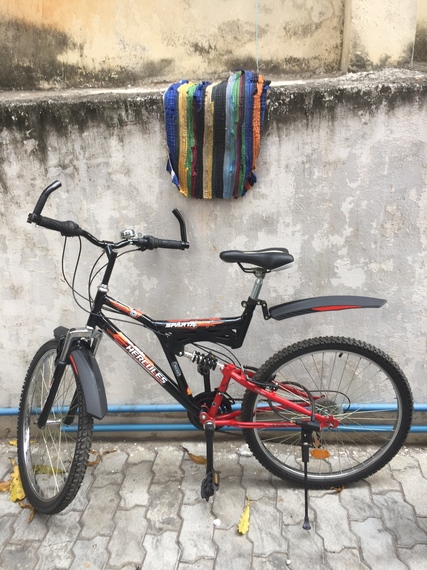 Coming from America, I initially resisted riding a two wheeler in traffic crazy Chennai. But after 7 months in India (and some practice in Jaipur for a while), I screwed up the courage to buy a "Hercules" (made in Chennai) street bicycle to ride from my flat in West Mambalam to work in Anna Nagar. It's a great ride, particularly when the traffic isn't so bad, taking 20 minutes under ideal circumstances (about 7 kilometers).
From Brindavan Street in West Mambalam, I head east into T Nagar and take Usman Road north. There is a flyover at Kodumbakkam High Road. I fear the flyovers. Too many stories of people flying off the flyovers for one reason or another. Not good. Interestingly, I have no problems with the underpasses. Maybe the thought of getting squished against a wall is more palatable than flying off a flyover.
So, for now, I'm going under the flyover. Sometimes crossing the street takes some time. Occasionally, and somewhat surprisingly, a driver will slow down to let me cross. So nice.
Then up to Loyola College hugging her around Mahalingam to Tank Bund to Nelson Manickam Road. Ampa Skywalk Mall leads to Anna Arch Road, the gateway to Anna Nagar. This is the most "exciting" part of the ride because it involves getting on a major thoroughfare (Poonamalle High Road or Route 114) for a brief period and merging into Anna Arch.
I'm already learning some tricks to stay safe on a bicycle in Chennai traffic, like "skipping" (one foot skipping on the ground, the other foot pedaling), ringing my bell and always being careful of the person in front of me (you never know when they will randomly stop). My worst fear is getting sideswiped on the right from behind. The two wheelers and autos can be soooo intimate and the buses can be intimidating and annoying.
It helps that, in the city, no one is ever going so fast as to make cycling prohibitively dangerous. Maybe a few broken bones here and there, but -- oddly -- I don't fear for my life (most of the time...I have to be always careful...cycling in Chennai really makes you feel alive). And since I'm in India, if I die I die, it's fate isn't it?
Once in Anna Nagar, it's nice to enjoy this upscale neighborhood. Kilpauk is close by and worth a visit.
There is an interesting politeness and humanity in the chaos of Chennai traffic. I haven't seen any "real" road rage here, despite being in situations that if happened in the U.S. I'd be fearing for my personal safety. There are unwritten rules of courtesy even though few follow all the traffic rules. Everyone is trying to get somewhere and that is respected by all. And the roads of Chennai carry on with their crazy politeness.