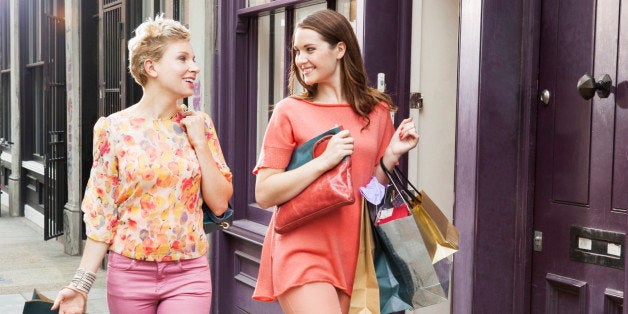 If you haven't noticed, we've entered a beautiful moment. A shift in the way we shop. The last decade has delivered a roster of brands and products that are designed at their core to have net-positive influences on our world. From fairer foods to greener cleaners, consumer culture has grown a conscience, and shown us that a simple choice can make a significant impact; that spending can feel like donating; and that brand loyalty can build long-term benefits. These new options mean we'll begin to vote with our wallets -- no longer just paying for product, but instead choosing to relieve, facilitate, improve and sustain the world around us by selecting one product over another. It's our civic duty baked into our shopping routine -- and why not? We'll keep shopping anyway, might as well make it count.
The fashion industry, in particular, is ripe for this kind of positive, purposeful shopping behavior. It's an industry where a consumer's purchases are emotionally charged with aspiration and self-expression -- creating shopping moments that inspire benevolence and welcome an extra pat on the back. In the US alone the industry is a powerhouse, with retail sales at roughly $350 billion dollars. A shift in our shopping that adjusts even one in four items towards a purposeful purchase, and contributes only 20 percent of those purchases in a measurable way towards a net-positive impact on disadvantaged communities, would create a change comparable to seven new Bill and Melinda Gates Foundations (approximately $17 billion dollars of subsidized or philanthropic support to the international community). And that's just fashion retail in the United States. Imagine the kind of widespread progress possible if this movement crossed industries, oceans, lifestyles and politics. It could be, perhaps, the next great irony -- consumer culture that saves the world.
And better yet, it's already happening. We've seen tote bags fight famine (FEED Projects), cute canvas shoes cover feet far and wide (TOMS), and rad red accessories eradicate disease (PRODUCT RED). Leading design labels, too, like Donna Karan, Vivienne Westwood, Kate Spade and Sass & Bide have all launched sub-brands or capsule collections with give-back ethics at their core, while newer luxury brands like Edun, Suno, Lemlem and Maiyet have been conceived entirely to do good while looking luxe. And yet with all this activity and momentum, as a curiously conscious fashion consumer, I can't say I've been shopping ethically -- and I bet you haven't either. Why is that?
Simple: no one knows where to go. Capsule collections are great, but you don't "shop at" an ethical capsule collection, you simply consider it when already shopping the mother brand. What we conscious consumers need is an actual ethical retail destination: a "Whole Foods of Fashion" with a broad selection of well-presented product under one roof that is as enticing as it is ethical. We need a retailer that's re-styled "Fair Trade" with a new look -- curating only the bold and the beautiful from among the "better" made, and leaving the groovy-granola haze behind. We need a retailer that brings the emotional side of the story to life within their compelling merchandising, so we're doubly stirred by both our selfless and our selfish inclinations.
Such shops are now showing up online with an edit that's the best of the best -- strong ethics & killer aesthetics -- under one (digital) roof. In fact, at least eight start-ups have launched in the last two years alone, and soon too, I hope we see brick-and-mortar stores with the same ethos. It's important that shoppers, in whatever their habitat, find it easy to mix, match and fall head over heels in love with pieces rooted in purposeful production, because facilitating this forward-thinking fashion helps the greater social shift settle into place -- permanently.
Related
Popular in the Community