The following is Part Three of Galunker, a children's book about a pit bull rescued from a dog-fighting ring. The dog is assumed to be vicious, but is in fact ridiculous and dopey and longing for love.
Galunker himself was partially inspired by the dogs rescued from Michael Vick, one of whom became a therapy dog in a hospital. (Not so rare, in fact.)
Part One can be read here.
Part Two can be read here.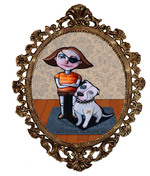 This book has been illustrated by DULA YAVNE and written by DOUGLAS ANTHONY COOPER. Both have had their work published and shown worldwide, but there was no possibility that any conventional publishing house would touch a children's book about a pit bull.
We were told: "You might as well write a kids' book about meth."
Hence it has been launched as a Kickstarter project, with the passionate support of pit bull advocates across America and Canada.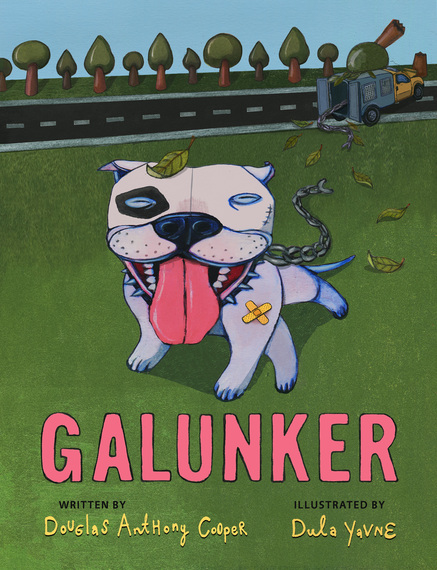 Some shelters are wondrous; some shelters have worth;
Some sheltering people are angels on earth.
But this was a pound of the opposite kind,
A pound that you'll find was with Evil aligned.
And Philty had this very fact on his mind.
Now what to do? thought the catcher of beast,
I love this dang beast -- he's a fun beast at least,
And not that dang kind that would have you for feast.
I can't take this Galunker to back where I work --
I am Philty and not some ferocious foul jerk.
(It was known through the town and the state and the earth
By every good citizen worthy of worth
That this shelter was no kind of shelter, alack:
No dog ever sent there had ever came back.)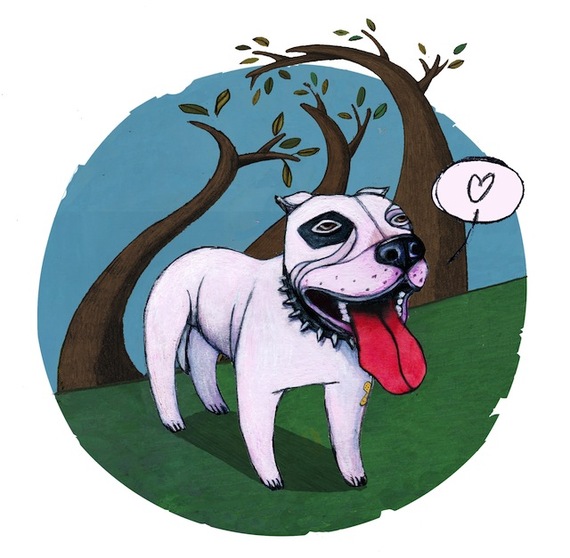 Perhaps it is lucky I squishened the truck --
Not that squashing a truck is in general luck --
For now I can say to my boss at that place
(And in saying this can perhaps save partial face)
That the beast in the back was released by the crash.
If I look all sufficiently crushed and abashed
Then perhaps they'll forgive me for crushing their van
And releasing this creature. Then maybe I can --
To add to this lie a small sprinkle of truth --
Explain that this beast was not ruthless... but ruth.
And not quite the slavering murderous thing
That we thought that we'd saved from the dog-fighting ring.
Yes that's how I'll do it! thought Follicle Philty
And deciding on this he felt somewhat less guilty.
For lying at work is a moderate sin,
Whereas killing a creature... well, where to begin...
Killing a creature this big and benign
Is not what I want on this conscience of mine.
And perhaps if I tell them that pit bulls are nice,
Then perhaps they'll begin to think once, twice or thrice
About whether just killing such creatures is so
very decent of us.
Well, he didn't just send him away on his own
For it wouldn't be kind to just leave him alone.
When Philty emerged up from under the creature,
He found them awatch by a girl who featured
Among other things a black patch on her eye,
Like a tiny young pirate. This tiny young spy
Was taking them in, all amused and agog
And seemed to be extra amused by the dog.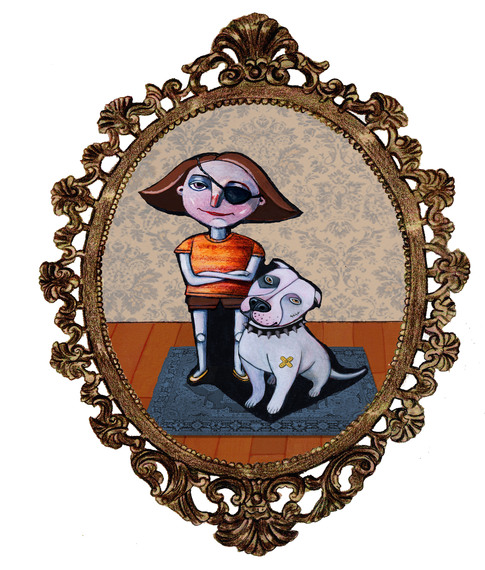 "What's his name?" asked the girl, not leastest afraid
Of a beastie that weighed at least twice what she weighed.
"Galunker, I think," opined Philty, unclear
"At least that's the name that's tattooed on his ear."
"And my name is Blinky," said Blinky, "I think...
But I have no tattoos so it might just be 'Blink'
Or 'Mary' or 'Sneezy' or 'Morton' or 'Lol'...
I guess we don't know what to call me at all..."
Again, Galunker is being funded with the aid of Kickstarter. Because, as we say, no conventional publishing house will go near it.
Like Galunker himself, we need all the help we can get.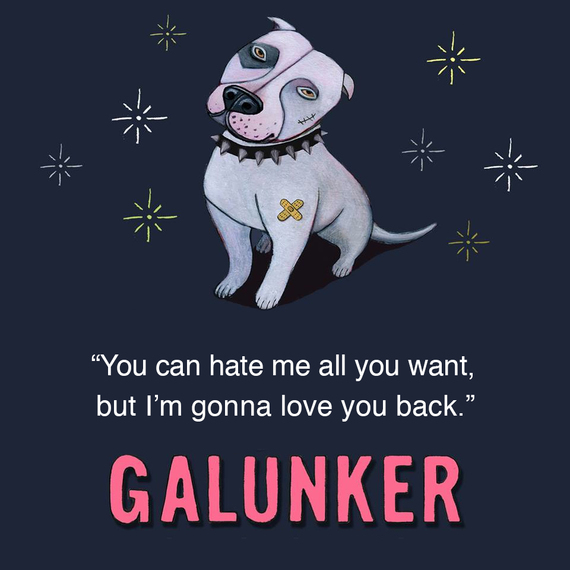 Popular in the Community