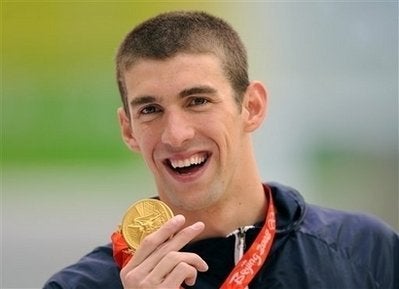 Wow...what a feeling to arrive in Beijing in the middle of the Olympic Games.
I was curious to see how much I would really feel "part" of all the fervor. This is my first trip to China in over ten years. Even before, try as I might I never did experience the sense of belonging, of coming home, I longed for. As an ABC -- American-Born-Chinese -- I had to settle for a less personal sort of honor and pride in "returning" to my family's homeland.
Beijing 2008 has changed all that, and it started during Zhang Yimou's stunningly gorgeous, epic opening ceremony. One minute I was, like everyone else, watching in awe; suddenly I felt it in my gut as I never have before: an overwhelming sense of pride--that this awesome spectacular was my people, was me. It was no longer wanting to feel a connection to China, it was just there.
Having hardly watched the last few Olympic Games, I was hooked, and it was about much more than the sport.
That doesn't mean I'm all rah-rah China. I was on tenterhooks for the US women gymnasts going for the team title, with the heartbreaking close-ups of a stricken Alicia Sacramone -compared to China's seemingly oh-so-confident and oh-so-young-looking Deng Linlin and her teammates.
And what fun cheering for the all-American, all-diverse men's team, with Sasha Artemev and Raj Bhavsar fresh off the alternate list, and Chinese American Kevin Tan. What if they could pull off a Cinderella miracle against the powerful and unapproachable Yang Wei?
It's no surprise that while watching NBC's coverage I was so taken with the wonderful back stories of these and other American athletes. But here in China, gymnast Yang Wei's story, and his effect on people here, has warmed me to his legend too. Hugely disappointing was a crushing fall from the high bar at the Athens games. Now, his romance with former Olympic gymnast Yang Yun has endeared both of them to the public; people loved them mouthing "I love you" to each other after Yang's all-around win Thursday.
And, for all the talk of China's "gold fever" after years of molding children in the Ju Guo system of hardcore systemized, national training, I've been impressed here with Chinese peoples' affection and respect for American athletes, many of whom have no less than hero status.
So many people I've encountered in my first day alone--from my host and her family, to a policewoman, to local journalists--are obsessively discussing every detail about Michael Phelps' personal story and his physiology, including the fin-like advantages of his long fingers and the spread of his toes. Contrary to what has been reported in the American press, the Chinese papers are obsessed too, with for example exactly how many eggs he has every day, and how he expends energy. All Chinese children, say CCTV Chinese television anchors, look up to him as an idol.
What I've concluded is that it can work both ways. My new-found Olympics-inspired Chinese pride is still intact after the opening ceremonies. Rooting for the Americans was of course natural for me as a Chinese American. But in China I feel the excitement as an American Chinese. Like so many of the more than 1.3 billion Chinese people, I was crazy for hurdler Liu Xiang's first appearance. And like the stunned crowds gathered around the television screens today at the offices of Google Greater China where I happened to be having lunch, I felt crushed when Liu pulled out after a few pained steps at the start of the 110 meter hurdles. Here, he's bigger than Yao Ming, his legs are valued at 13.5 million dollars, his name means "to soar," and he got into all of this not through the Ju Guo system but by knocking on the doors of those sports training schools until they let him in...doing it in what we call, the American way.
Related
Popular in the Community