Our favorite Greek traditional semolina halva with roasted almonds can be transformed into a very special cake for your loved ones on Valentine's Day!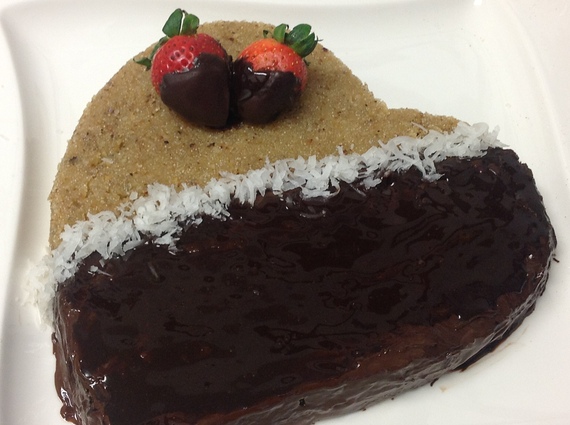 1 cup olive oil
2 cups semolina
2 cups sugar
4 cups water
200 gr. almonds, roasted and finely chopped
1 cinnamon stick & orange peel for the syrup
cinnamon powder (to garnish)
Directions:
First, prepare the syrup. Put sugar, water, cinnamon stick and orange peel in a medium saucepan over medium heat and stir until the sugar melts and they come to a boil. Remove saucepan from the heat.
Pour olive oil in a pot over medium heat. Add semolina and almonds and stir until they turn golden. Constantly stirring and gradually add the syrup into the pot. Continue stirring until the mixture pulls away from the pot's sides. Remove the pot from the heat. Transfer the mixture into a nonstick bunt mold and allow to cool for 10 minutes.
To serve, cover the mold with a cake platter, turn it upside down and remove the mold. Serve the halva garnished with cinnamon.
Tip: If you want to make your semolina cake more special, use molds in various shapes (heart, flower, etc.), melt chocolate in a double boiler ("bain marrie") and pour over halva. Garnish with almonds, coconut flakes, strawberries etc. Use your imagination, be creative and you'll earn a lot of credits!

For more recipes by Katerina, visit www.oliveoil-culture.com