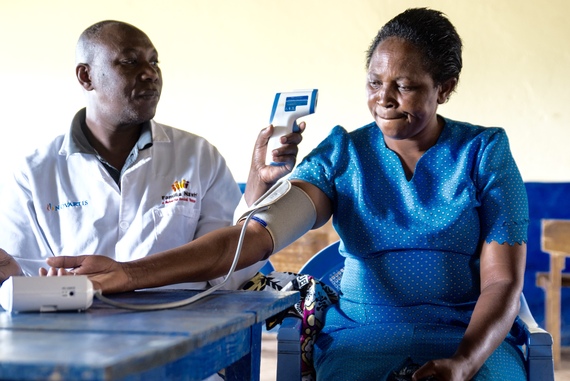 A patient at a rural health camp in Mwae County, Kenya has her blood pressure checked as part of a full physical exam. If she needs hypertension treatment, she will get it as part of the cost of the camp. Photo: Bedad Mwangi
In Kenya, non-communicable diseases (NCDs) such as cardiovascular and respiratory disease, diabetes and cancer used to be quite rare, because communicable diseases like AIDS and malaria were more likely to kill you first. That is why life expectancy peaked in 1987, and then went down in the 1990s, as AIDS made its presence felt.
But since about 2002, as more Kenyans have gotten AIDS treatment, life expectancy has started going up again and, if current trends continue, Kenya will return to its historic peak of 60 years in 2017, according to a World Bank blog.
That's great news. But it also means many Kenyans are surviving AIDS only to live long enough to be killed by NCDs. Annually, 28 million people die from NCDs in low- and middle-income countries like Kenya, representing nearly 75 percent of deaths from NCDs globally. Health programs, therefore, must turn their attention to this new pandemic without losing focus on the existing one (AIDS). This scenario is playing out not only in Kenya but in Botswana, Eritrea, Malawi, Mozambique, Rwanda, South Africa, Swaziland, Tanzania, Uganda, Zambia and Zambia. All of these countries increased their treatment coverage by more than 25 percent between 2010 and 2015, according to UNAIDS.
Dr. Samuel Mwenda is a seasoned veteran of campaigns against both pandemics. For 13 years, as the general secretary and CEO of the Christian Health Association of Kenya, a network of Protestant church facilities in Kenya, he has led CHAK's comprehensive approach to HIV/AIDS prevention, care and treatment. Kenya is now considered an AIDS success story, with CHAK making a significant contribution to that success. UNAIDS says that Kenya is one of the countries "showing the most remarkable progress in expanding access to antiretroviral medicines and reducing the number of new infections."
Now he is taking on NCDs (also known as "chronic diseases") with a major new program called Novartis Access. Seventy percent of the global cancer burden is in low- and middle-income countries like Kenya, where the probability of dying between the ages of 30 and 70 from one of the four main NCDs is 18 percent. NCDs now account for 27 percent of deaths in Kenya, according to the World Health Organization.
"Dr. Mwenda has been a transformational leader for faith-based organizations (FBOs) in Kenya and the African region," said Dr. Rick Santos, president and CEO of IMA World Health, who nominated Mwenda for the award. "He has used his skills and passion to build capacity of emerging health leaders and to advocate for the significant role of FBOs in delivering quality health services to the most vulnerable populations in Africa."
Mwenda is a medical doctor specializing in health systems management who took over leadership of CHAK in 2003. Under his leadership, CHAK made significant contributions to the national fight against AIDS in the four most populous provinces of the country with support from various programs funded by the U.S. government and the Global Fund to Fight AIDS, TB and Malaria as well as Kenyan domestic sources.
CHAK now supports over 41,000 clients with antiretroviral therapy, representing about 9 percent of the total number of patients nationally. Kenya now has the second largest treatment program in Africa (after South Africa), with nearly 900,000 people on treatment at the end of 2015.
Several years ago, CHAK turned its attention to the new pandemic of NCDs, and began working on hypertension and diabetes. In 2015, with the support of Novartis Access, CHAK offered a portfolio of products to treat cardiovascular disease, diabetes, respiratory illnesses and breast cancer at an end price not to exceed $1.50 per treatment per month. The program is currently in three counties of Kenya and is expected to be in all 47 counties by the end of 2017, and followed soon by Ethiopia, Rwanda and Senegal. The program will be in a total of 30 countries by 2020.
"A key learning from HIV programs was that you cannot build awareness until there is treatment," said Mwenda. "It's the same with NCDs. It's access to treatment that gets individuals and families to learn about heart disease and diabetes and to come forward for diagnosis. When people see others in their communities living long, healthy and productive lives despite NCDs, it makes them more willing to invest their own time and resources in treatment."
"Africa is rapidly overcoming the challenges of infectious diseases," said Mwenda. "I'm proud to say that much of that is due to the commitment of faith-based organizations, that provide about half of all health care in the countries south of the Sahara. I believe that the same God-given mandate that we had to conquer polio and AIDS requires us to get serious about diabetes and cancer."
Popular in the Community