As I sat down to watch South Coast Rep's fine production of "A Christmas Carol," it occurred to me that there are twelve days of Christmas and twelve steps in a recovery program. What better framework, then, with which to revisit the show than as a Yuletide rehab story set in Victorian England? The people and spirits that surround Scrooge (Hal Landon Jr.) serve as his support group. Jacob Marley's Ghost (Gregg Daniel) finds him at rock bottom, the Three Spirits (Richard Doyle, Timothy Landfield, and Sam Carter) show him what a mess his life is and what a mess it will continue to be until he mends his ways, and his nephew Fred (William Francis McGuire) and his clerk Bob Cratchit (Daniel Blinkoff) are the people with whom he must validate himself. It's not until he reconnects and makes amends with his past, just as AA's Blue Book counsels, that he learns the value of family, humility, and generosity.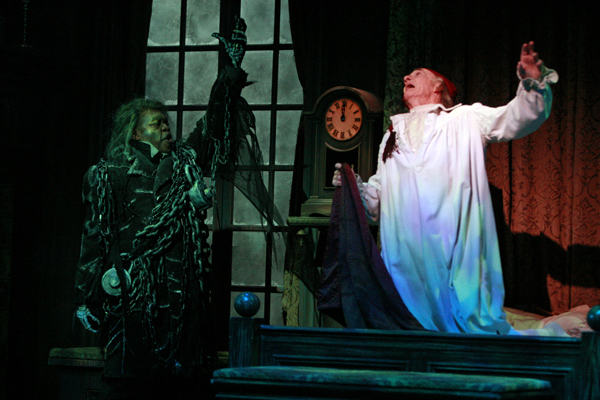 Landon's Scrooge is a perfect candidate for Grinchaholics Anonymous. Everything about him, including the onomatopoeic name, screams miser (Samuel Beckett would have a field day with the character). He's frugal with facial expressions, gestures, and, because he can't be bothered with the expense of complex sentences, with dialogue. He sounds like Mr. Burns from The Simpson's. His voice is rusty, as if he doesn't talk much; and when he does, it's more often than not to himself. A visual dictionary would define him as bean counter. Wiry and doleful, he seems more like a dyspeptic Man of Sorrows than the sole proprietor of Scrooge and Marley. And he dresses in black but, unlike Johnny Cash, he doesn't make it cool. The color reflects a lack of imagination as a well as a propensity to absorb all the light that happens to shine upon him. All of which sets us for Landon's miraculous transformation from austere hoarder (financial, emotional) to giddy benefactor. It's like he changed his mind and decided to go to a prom instead of a funeral.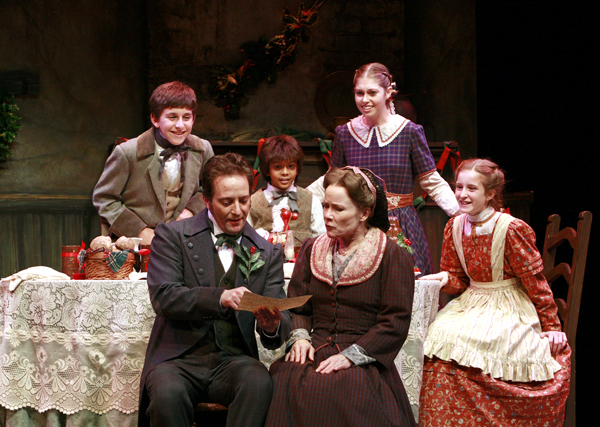 You know the story but still it doesn't fail to move you. Perhaps it's the tradition of trundling the family off to enact a Christmas tradition. Perhaps it's the way the arguments framed by the Scrooge Versus Everyone Around Him tug-of-war reminds us of our recent Presidential campaign. Perhaps you like happy endings, stories that denounce a life glutted to gold, or relate in one way or another to Scrooge or Bob Cratchit or Tiny Tim (Hadley Belle Miller). Heck, maybe it's just the spectacle of the production, of which is there is a ton. Tim Burton would be impressed. Everything is so well acted, designed, and directed (John-David Keller) that we don't note the effort that went into the production and instead fall dreamily into the story.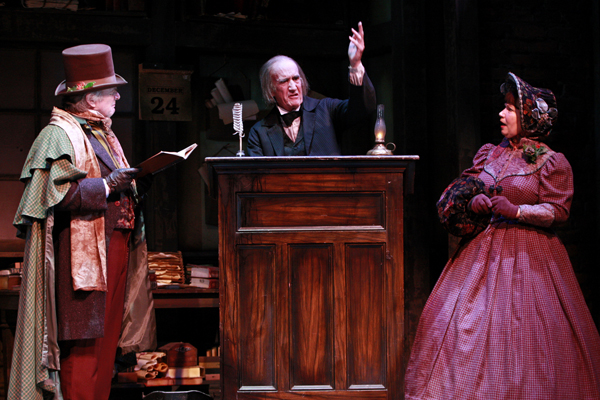 Whatever the reason (whatever the season, for that matter), South Coast Rep's "A Christmas Carol" reminds us the only currency is love and love is meant to be shared. And that's precisely what this production does.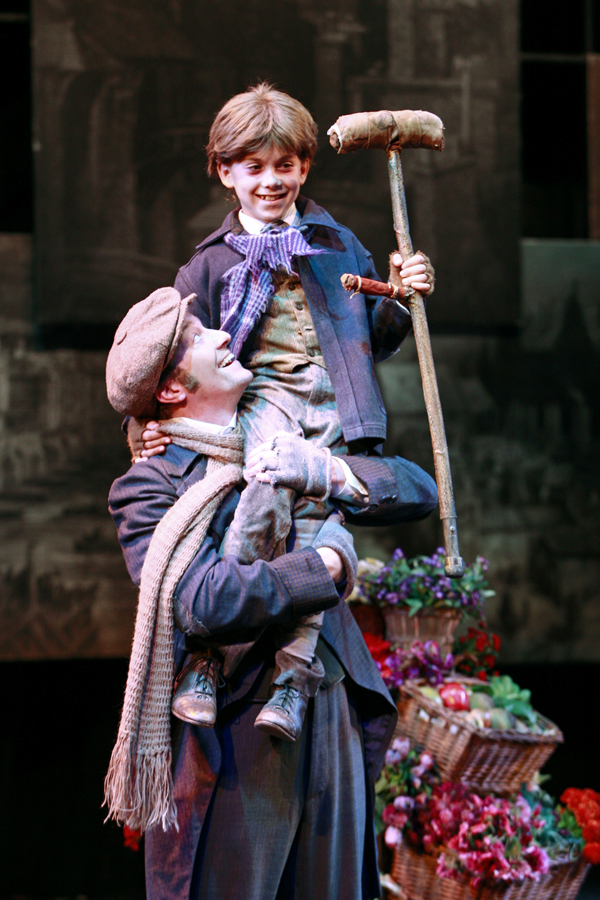 The show runs until December 24. The Theatre is located at 655 Town Center Drive, Costa Mesa. For more information call (714) 708-5555 or visit www.scr.org.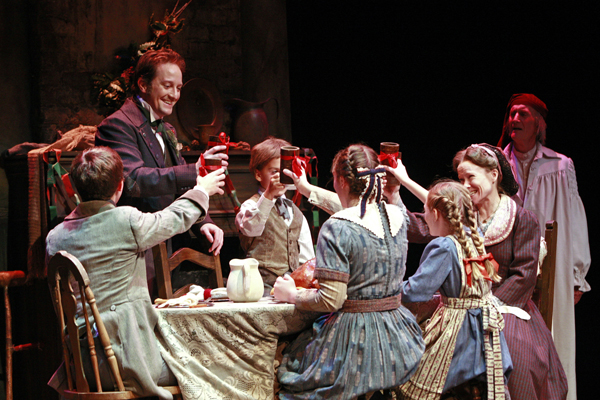 Calling all HuffPost superfans!
Sign up for membership to become a founding member and help shape HuffPost's next chapter