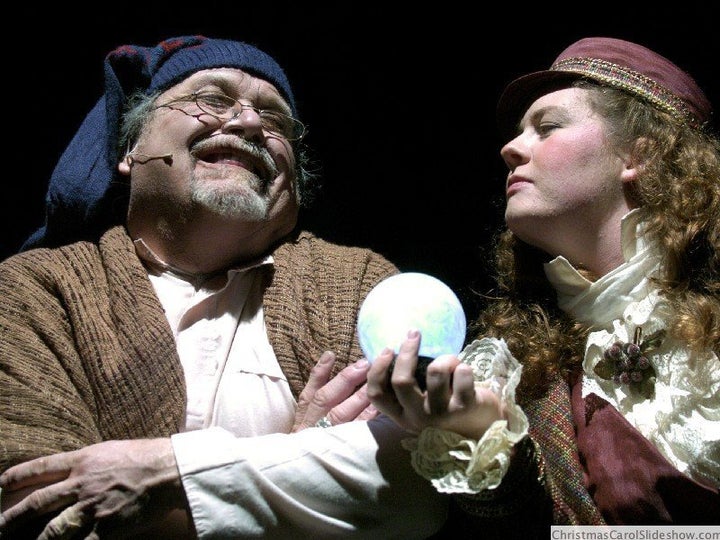 The Bay Areas' longest running stage production of A Christmas Carol will return to the stage of the Notre Dame de Namur University Theatre for nine performances starting Friday, Dec. 7. Over the past 26 years, "The Gift" as it is known, has provided a professional caliber musical theatre performance of Charles Dickens' A Christmas Carol, to the Bay Area communities. Tickets for all but one of the performances are given to public free of charge as a gift. Tickets for the opening night, which includes the Gala reception are sold to raise the funds required to stage the production.
I first saw The Gift three years ago when I moved to the peninsula from NYC, as one of my voice students was in the show. I was so deeply moved by the performance, and by the spirit of the cast, I came back several times before the run was through. I brought my children, I brought my friends. To me, this was the theater I believed Brecht envisioned, it's purpose to inspire us, change us, and activate us. The Gift thoroughly entertains its crowd, but more; upon leaving the performance, the audience becomes its participants desiring to understand how and what to do for others.
Since its first performance in 1985, over 100,000 people have seen A Christmas Carol directed by Michael Elkins and presented by the Notre Dame de Namur University Department of Theatre and Dance, which provides the beautiful theater space The Gift calls home. Each year audiences contribute over 2,000 toys and an average of three tons of non-perishable food when they attend performances. The Gift is created by a volunteer cast and crew. Costumes have been gathered, and kept, sets been added to over the years. This is perhaps the greatest gift of theater I have ever witnessed.
But how does it work? How is it all possible for free, as a gift to encourage giving?
A Christmas Carol 26-year director and lead actor (Scrooge) Michael Elkins took some time to map it out, so I could better understand the costs of giving The Gift to the Bay Area community. We often don't recognize what it costs, besides the sweat of volunteers and artists to create an event that can do something much bigger than one person can do alone.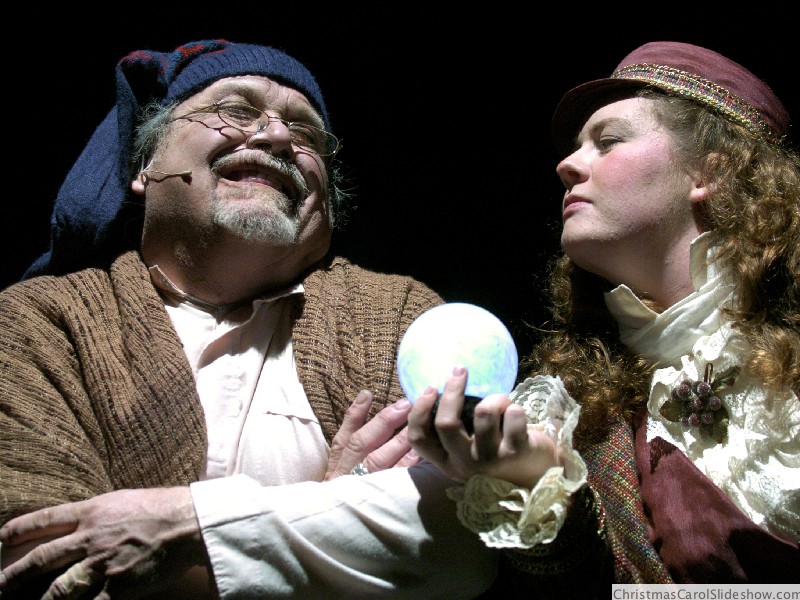 Photo by: Joyce GoldSchmid, courtesy of The Gift.
Ruth Gerson: What were the first performances of the Gifts' A Christmas Carol like 26 years ago compared to the high production quality it has today?
Michael Elkins: It had a cast of 35. It was performed on a fixed stage with backing flats, painted to resemble London buildings. It ran four performances, to half filled houses. The Gala [fundraiser] was on the closing night. We realized that it had to be opening to provide the financial support needed to offset production costs. This remains the most important source of funds required to stage the show each year.
RG: How has the production grown?
ME: We added a performance each year after the second year. This came to include two shows on the Saturdays in response to the demand for seats.Also, we had to start issuing free tickets in order to avoid people being turned away from full houses. We increased the cast size to, at times, nearly one hundred performers. We adhere to a mandate we have always given ourselves, to never become complacent about the staging, direction, special effects, music, choreography, costumes, etc. We know our audiences expect to return, year after year, to a production that moves and entertains them. To that end, we nurture a climate of respect for the traditions of the show, including the familiar faces of long-standing performers combined with the energies and talents of newer performers.
RG: What are the costs involved in creating the production every year?
ME: Performance Royalties and rentals, costumes, Gala supplies and services, printing, supplies for upkeep and modification of production materials... costumes, make-up, scenery, lighting and sound... etc. Modest fees for designers and some technicians. None of the performers have ever been [paid], nor will they.
RG: Notre Dame University has been a generous sponsor of the production, by providing a space to rehearse and perform. Have you ever had any corporate or individual sponsors?
ME: Occasionally we have been given sizable donations, such as from the Belmont Chamber of Commerce, several years back. Other than that, we receive donations from 10 to a thousand dollars from individuals and local businesses. There is so much competition for funds by larger, year round, community service organizations, that we are cautious about assuming how much of this will come in, that is why the Gala is so very important for us. Our Gala coordinator and her volunteers are miracle workers in getting the foods, beverages, decorations and support services donated each year. I have to be prepared to curtail production expenses if it doesn't look like we will cross the sales threshold that will cover projected costs by opening.
RG: Has there ever been a time when funding did not come through? If so, what was the outcome of that?
ME: No, we have come close, but by cutting expenses, and/or some late donations, we have always ended up in the black.
RG: So, the Gala is the event that allows all of the other shows to be free for the entire community, thousands of whom bring toys and non-perishable food. What is it like?
ME: The Gala is an elegant (semi-formal) reception right after opening night and it is filled with the excitement and celebration that goes along with the first performance of the season. It is very special to the cast and all who come to join us. There is a delicious gourmet buffet with meats, cheeses, baked goods, desserts, fruits, veggies, etc. This year we will have a dance floor and music, with video clips of past productions, etc. It is a means of thanking those who supported the production through ticket purchases and donations. It is always a very joyous occasion.
Related
Popular in the Community