Kiev, Ukraine, December 25, 2009
I sit up in bed and take a deep breath. The air is cold and stale; vanilla air freshener mixed with the cigarette smoke that oozes from the walls of the one-room apartment. The dark brown curtains try to conceal the light, yet the morning sun manages to send a few gray rays to sneak around the folds of the heavy curtain.
A little girl pulls on my sleeve and makes the sign "eat," followed by a string of Ukrainian words. Then in English, she manages to say, "Banana." The thought of food is enough to brighten my newly-adopted daughter's day, while all I can think of is that I have been away from my home and my girls for six weeks. Today will be especially hard. It is Christmas.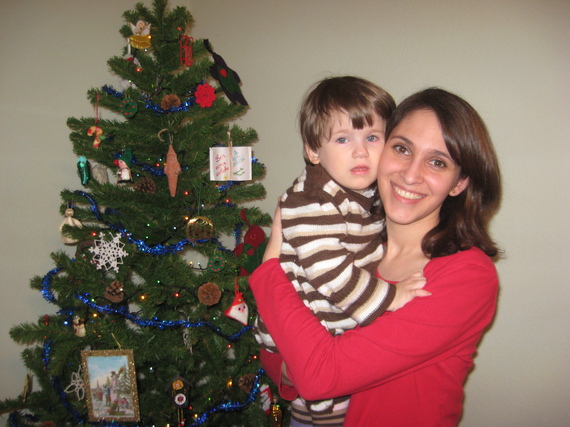 I carry Nina across the room and set her on the black leather couch that functions as the living room. I pull a black coffee table close to her -- that's how I turn the living room into the dining room. Thankfully, there is a DVD player and I brought a "Signing Time!" DVD from home. I play it for Nina often. She loves the music and I hope she learns more signs besides "eat" so we can improve our limited communication.
While Nina watches the show, I proceed to get her breakfast ready: chamomile tea, dry cheerios and a banana. I set all three items on the small black table and she smiles. I know we will do this again at least two more times throughout the day. It is always the same. The only things I can get her to eat are bananas and dry cheerios. At least she is willing to drink different flavors of tea.
Once she is settled, I turn my computer on to check my email and Facebook messages. Social media is what helps me feel connected to my home. However, this morning there are few messages. I feel angry, so angry that tears spill slowly down my cheeks. Everyone else is happy enjoying their families, while I am stuck halfway across the ocean. They have forgotten me in the glee of their Christmas spirit and I fight the bitterness of the feelings that threaten to take a hold of my heart. I google Amy Grant's rendition of "I Will Be Home for Christmas." I sing along, and scream the line, "I will be home for Christmas, BUT ONLY IN MY DREAMS." As if they could hear me back home. I feel abandoned.
The adoption process has taken its toll on me emotionally. Nothing prepares you to be away from your family for six weeks, and in a country where you feel deaf, mute, and illiterate. Why couldn't we have adopted from a country where they speak Spanish or English, or at least a country where they use the same alphabet and letters I'm used to? But after my outburst of bitterness, I decide I need to lighten up my mood and find a little Christmas cheer. I plug in the Christmas tree sitting on the counter. It is no taller than my forearm, but a real Christmas decoration nonetheless. The cleaning lady brought it just two days ago. I find a Christmas playlist online and I crank up the volume. I force myself to smile and try my best to have a positive attitude.
I sing and dance in the middle of the room. Nina notices me and watches intently so I scoop her up in my arms. She weighs less than my 2-year-old, yet she is twice her age. We dance and twirl to the music with the lights of the Christmas tree giving the perfect colorful glow to the small room.
But the reality is Nina has lived most of her life with little to no attention, and she is soon done with me, done celebrating Christmas. I set her on the white and black checkered floor and she crawls quickly to the corner, where she has gathered a few toys. I know she will be in her own world, ignoring me, until she is ready to eat again.
So, I question, once more, if it was worth it. The adoption journey is emotionally draining, and it seems as if Nina doesn't care to have a mom. Moreover, back home, I have a husband who misses me and two little girls that cry for their mommy to come back. I cry for them too. Every day being away from home is getting harder and I am unable to keep my composure before my family when we Skype. As soon as I see them, I start sobbing and mumbling how much I want to come back home. I don't want to cry, I don't want Nina to be scared of me, her mother, but the tears come and I end up bawling almost every time.
I sulk the rest of the morning, indulging in a personal pity party. As I caress my wounded thoughts, I watch Nina play with a box of crayons. She dumps them out and then puts them back in the box. She does this over and over. For a second, she looks back at me and makes eye contact, she smiles while waving the box, her way of saying, "I love this toy!" She then turns her attention back to the box, absorbed in her world.
Where would she be today if she wasn't with me?
In an orphanage. Scratching her eyes to compensate for the lack of physical stimulation, like she did for all these years. Laying in a crib or sitting in a play pen. Alone. No toys. No box of crayons to discover the wonder of spatial depth as she puts the crayons in and dumps them out. An orphan. She would still be an orphan. And worse, in this country children with special needs are taken from their orphanages and sent to mental institutions sometimes as early as age 4. Dark places where there is no hope and no future. The possibility of adoption is gone for most children, and they estimate that many die within a year after being transferred. Their lives often consist of living in a crib, sometimes tied down to prevent them from harming themselves, with little food and minimal to no medical intervention.
On that Christmas morning, I was choosing to be depressed and wished for what I did not have. What a pitiful way to spend my day. Thankfully, God reminded me of the Christmas miracle for an orphan he had orchestrated, and the beautiful part I have to play in it. I had a reason to celebrate. I had a new daughter!
The scene that took place before me was beautiful. The little girl sitting by my feet would never have to go to an institution. She would never again know hunger or abuse. Nina had a family, with a mommy and daddy and two sisters. Her disability would not stop her, she would have a chance to overcome her limitations because of a family standing strong behind her, cheering her on. She would go to school, learn to read and write. Her life was full of potential. Nina had a hope and a future.
There were many sacrifices we had to make in order to adopt her and bring her home. I could already tell it was going to be a hard journey. She had several self-harming behaviors, and little control over her emotions. She pushed me away when I tried to hug her, and looked away, avoiding eye contact when I tried to play with her. The cleaning lady translated for me once that Nina said she didn't like her new mom, because I was too different and she didn't understand me. Yes, the hard days were only beginning. But was it worth it? Yes. Yes it was. Because she was my daughter, and i would not give up on her. Never. We made a choice and a promise to be her forever family, and we would do whatever we needed to do to heal her heart, her spirit, and her physical body.
"Nina." I call. She stops playing and looks at me again. "Merry Christmas, sweetheart." I say.
She doesn't understand my words, so I do the best I can do at the time to show her love. I pour her another cup of chamomile tea... with an extra spoonful of sugar. And I make one for me too.