Christmas Eve was full of unexpected blessings and visitors. We visited with special friends and the children were showered in love by many angels! We baked together and decorated cookies; we laughed and we cried. Children were overloaded with sugar, so we might have even "yelled" a bit. We played with toys, and by the time our heads (Pappa and Grammy and Daddy and Mommy's) were about to explode, we made beds in the living room at Pappa and Gramm's house and settled in for a fun Christmas movie.
This year the kids watched a documentary about Santa (Lucas A. Nast). It was pretty amazing. So from that point forward, the kids began researching and coming up with a plan to see if Santa was real. Each child wrote Santa letters. I will share Bella's. I asked them to pick two things they desperately wanted. Bella requested for Santa to write her a letter. She wouldn't put down a toy, because she wanted to prove Santa was real and a toy substitute would not do. So she hatched a plan. We'll all sleep in the living room. She slept right in front of the entry to the tree. She was determined to catch a glimpse of the myth to prove it was true...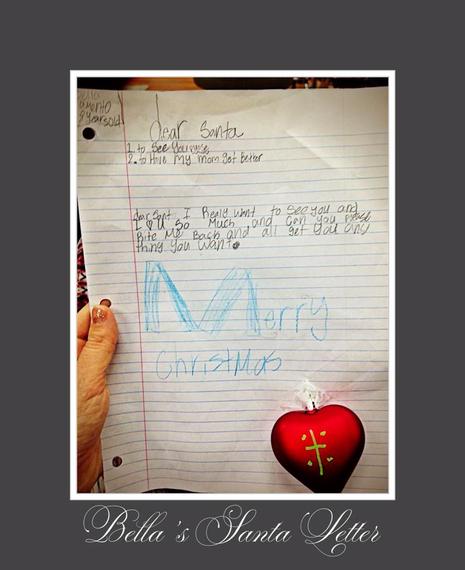 We went to sleep. At around 4 a.m., I hear, "Santa!" Followed by a deep and jolly, "Ho Ho Ho"...
Could it be? Next, as I'm trying to wake up out of a deep sleep: "Santa, can we take a selfie?" (Oh, this generation.) Santa, so beautiful and real, was sitting in our living room sharing a special moment with each child. Then the kids began to ask Santa questions. Bella asked about the name Lucas A. Nast, which Santa did not confirm or deny. But what he did do was take off his beautiful trademark hat, and underneath that hat was a beautiful white head of hair, about which Bella said, "Oh, your hair is so beautiful and shining." What did we see with our eyes? An exact resemblance to this legend Lucas A. Nast. He certainly had the exact same spirit.
Anabelle, our 2-year-old, exhausted, awakened by this stranger in a beautiful red suit, who smelled of fresh cookies, as Bella said, wasn't paying him much attention. She wouldn't sit in his lap and take a picture with him. See, last year during this time I was sick the first time with cancer. I never took her to the "mall," so she had no experience with this jolly man who spreads cheer to children. Out of the blue, she climbed up on him and snuggled him so tight. My heart melted. It took my breath away. She just snuggled in his arms.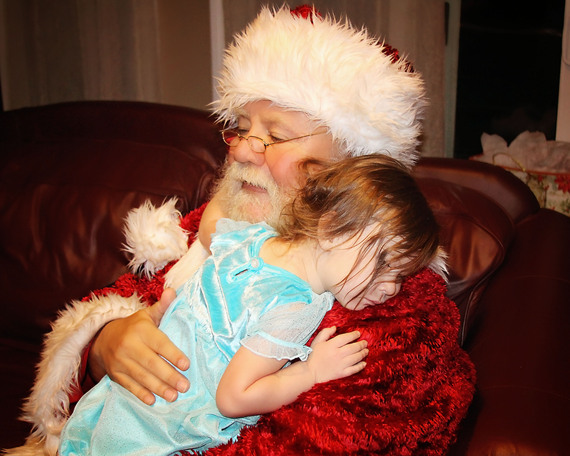 Santa told the kids how important it is to believe. He showed the kids his beautiful white gloves. How they get dirty in chimneys and travel. Sometimes they get so dirty, he needs new ones. He asked Bella to be responsible for cleaning them and asked the kids to place them by the tree every year just in case his are ever too dirty, so he can pick them up at our home. How special, the Amento kids -- "The Keepers of Santa's Gloves."
Then Santa told us he had another house to get to before heading back to the North Pole. He asked us if he could pray with us. A moment to pray with Santa? Yes please. We bowed our heads and prayed with Santa. The tears because of this gentle-spirited man rolled down my face. This was a perfect ending to a treasured memory.
I know everyone has conflicting views on Santa. Some believe it takes away from the true meaning of Christmas. Some believe you're teaching a child to believe in a lie. Others celebrate the idea of Santa. There are so many different beliefs. I respect them all. I'm not trying to sway or debate anyone. For us, it is so important for the children to believe. It is so important for us to believe. Especially, to believe in something that cannot be seen. We desperately need the children to believe. I am "sick" with Stage IV Cancer. The understanding that they can lose me is very real. Belief is the only thing they have. If they only dealt with "reality," or what they see, imagine how defeating this would be. They would be waiting for me to die, instead of believing in the hope of a miracle. Thank God for the belief in what we cannot see. It is so important too for my husband and me to believe!
The gloves, those magical white gloves. They are being cleaned. I'm going to get a display case for them and engrave it with "Santa's Visit 2014" -- and on the back have the story of the Christmas that we met Santa along with a picture. When the children have families of their own, each year they can take turns putting out the box that encases Santa's white gloves, sharing with their families the Christmas miracle we experienced that year.
Thank you, Santa. Thank you for taking the time to remind us how important it is to believe! I believe. I believe in hope; I believe in what is not seen; I believe in the spirit of Christmas...