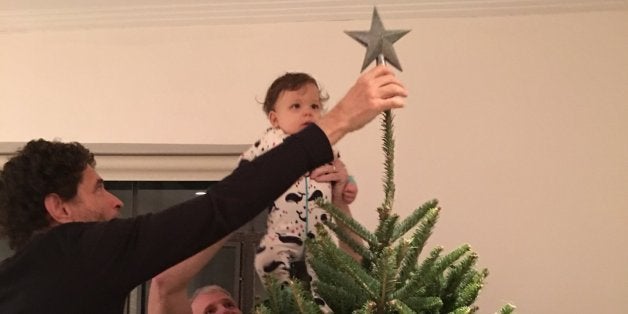 Walter mastered the art of crawling just two weeks before the Christmas tree went up. New mobility has arrived simultaneously with a need to grab every cord, remove every item from surfaces in reach, and clear shelves of contents.
Yet, when Walter approaches the tree with its simple bands of clear lights with a small metal star on top, he stops, looks up in wonder, turns to his parents as if to ask if we are also seeing this beautiful sight and then turns his gaze back towards the tree. Normally, Walter strikes his targets with a newfound speed of a cobra. But with the tree, he approaches slowly and reaches out gently to stroke the delicate and prickly pine. He then sits back, looks at us and together we silently look at the simple tree, sparking in the corner.
And so Christmas has come to our house, much different now that our son is here with us. We will go to the family Christmas service at the church where Walter was baptized at the Easter vigil eight months ago. Our religious experience this Christmas will include a pageant and folksy manger scene instead of the more majestic midnight Mass we have attended in years past. Because of doting aunts, uncles, cousins, grandfather and friends, there will be lots and lots of presents for Walter under the tree. I am sure he will enjoy the gifts as much for the wrapping paper as for contents inside.
Christmas is different this year and I am feeling a great joy and gratitude for the gift of Walter in the world. I am also even more grateful for the story of Christmas that reminds us of a homeless child, born into a dangerous world, who came to show us the Way of love. And so on this Christmas, I wish to offer a blessing for my son Walter, one that he might carry into the many years of Christmases that, I pray, he will enjoy during his long life.
A Prayer for Walter on Your First Christmas
Walter, I pray that Christmas always be a time of joy and spiritual reflection for you. I pray that you take time each year to contemplate the story of Jesus' birth, how God came into the world as a fragile baby who changed the course of history. No matter what religious beliefs you eventually decide upon for yourself, I pray you will always appreciate the powerful example of the life and teachings of Jesus who embodied God's special concern for the outcast, the suffering, and the hurting. I pray that you will find yourself in solidarity with those whom society might call lowly, but whom Jesus called blessed.
Walter, I pray that you will always find yourself on Christmas surrounded by people whom you love, and who love you. I pray that this beloved community include your immediate family, but also, like those who gathered in the manger, extend to unlikely people like the wise ones who came seeking from far off, and shepherds who watch nearby. May you always be inviting and invited into a widening circle of love and generosity.
Walter, I pray you will find inspiration in the figure of Mary to whom the Angel Gabriel appeared and who found the courage to say "yes, here I am" when she was needed and through whom great things were done. May you continue to sing Mary's Magnificat and magnify the Divine love with your life, filling the hungry with good things and lifting up the humble.
Walter, I pray that when you are feeling lonely, lost or afraid that you will hear that still, small voice speaking from deep within your soul saying, "I am with you always," and seek the inner divine light that will guide your way.
Walter, I pray that like the Magi in the Christmas story, you will always be seeing signs, following visions, and seeking the Divine that lead you on pilgrimages towards the center of love.
Walter, I pray that you will retain the wonder that you feel right now when you see the simple signs of Christmas. May you never be too busy, worried, or efficient to stop and be overcome by this season of joy.
Walter, I pray that on this Christmas and every Christmas for as long as you shall live that you will remember and know how much your parents love you. May the birth of Jesus be a reminder that your life is precious. Son, on this first Christmas, please know how beautiful you will forever be in our sight, and in the sight of the Divine who made you. May God bless you and keep you on this Christmas day and forever more.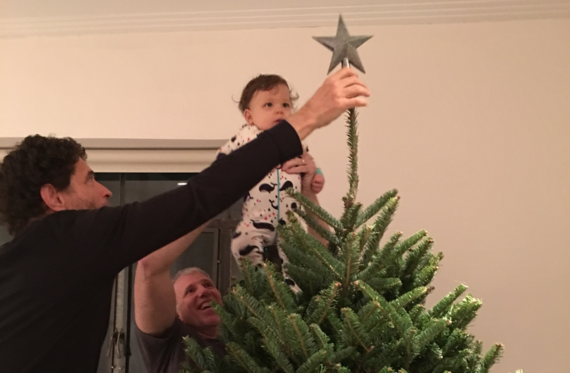 REAL LIFE. REAL NEWS. REAL VOICES.
Help us tell more of the stories that matter from voices that too often remain unheard.