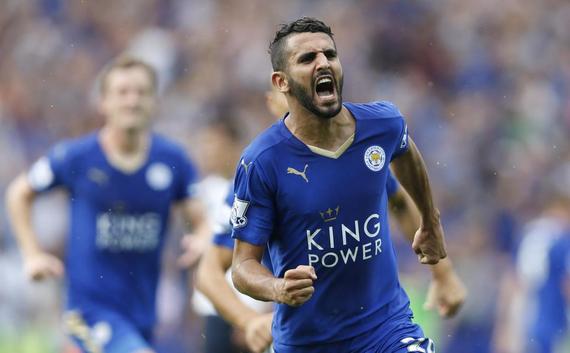 Dressed in a tuxedo, with his hair perfectly gelled, Riyad Mahrez strolled to the stage. His manager, Claudio Ranieri, handed him the trophy; one which is etched with names of previous English footballers of the year: Ronaldo, Henry, Rooney. With his trophy in hand and his name about to be added amongst names of other legends, Mahrez began his acceptance speech.
If they didn't know any better, audience members would have never guessed they were listening to the man who just won the award for the best player in English football. Mahrez gave credit to his teammates, his manager, other coaches, and the club. When asked about his schoolyard playing style and if he used that philosophy for every game he looked back at his coach, smiled, and responded, "No, I've also had focus on conditioning," garnering laughs from the audience.
Unconventional path to stardom
Placing modesty aside, Mahrez' story is truly amazing. He traveled on an unconventional path to stardom, becoming both the first Algerian and African player to win the best player award for English football. His playing style perfectly mirrors the style of his club: he's got a slight frame and doesn't go for contact, but he's the trickiest player on the pitch and his footwork will dazzle you. Leicester City Football Club (LCFC) is the same, as it won't overpower teams with raw force, but instead will use schoolyard tricks to win matches. Just as Leicester faced its fair share of trials and tribulations over the past few years, Mahrez' whole life was one big test for this moment.
Born in 1991 in Sarcelles, France to an Algerian father and Moroccan mother, Mahrez was destined to play football. Mahrez spent his summers in Algeria, the country in which his father Ahmed established himself as a professional footballer. Mahrez described his upbringing in Sarcelles as normal, with his family being "neither rich, nor poor." However, tragedy struck when Riyad was only 15, as his father Ahmed died of a sudden heart attack.
Mahrez lost his number one supporter in his father and gained more responsibility as "the man of the house," Mahrez said in an interview with BBC. After the death of his father, the Algerian international player's path to stardom was anything but straightforward; yet, this moment served as a motivating "wake-up call."
Seventh tier French football
Four years after the death of his father, 19-year old Mahrez signed a contract with Quimper football club, a team in the seventh tier of French football. He tried out for the team and although the coaches were interested, they were initially unable to sign him due to money constraints. Riyad then called his mom, "his eyes almost burning with tears," according to Christoph Marchand, a journalist who covers Quimper, who spoke with BBC. In a sign of the good fortune to come, the Quimper staff sensed his hunger and signed him anyway.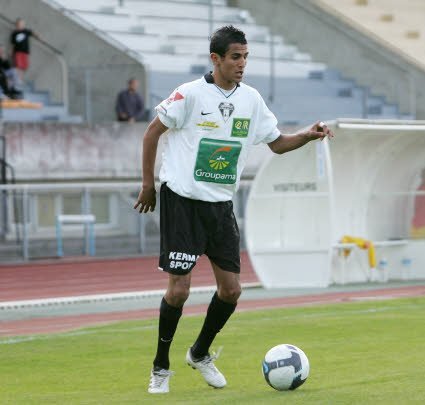 At the Quimper squad, Mahrez played with Mathias Pogba, brother of French footballing phenom Paul Pogba. Later, Mahrez signed with Havre, a club in France's Ligue 2. Despite receiving interest from Paris Saint-Germain, Mahrez chose to sign with a club in which he could play with the first-team squad, rather than join a developmental program. His decision paid off, as he rose through the ranks of the squad and by 2014, clubs throughout Europe had Mahrez on their radar.
One of his peers then informed him of Leicester City FC. Upon first hearing this name, Mahrez thought his friend was talking about a rugby team. At the time, Leicester was still in the Championship League and outside of true English football aficionados, few knew of its existence.

Move to Leicester
After realizing that it was not a rugby team, but in fact a football team, Mahrez signed with the squad in 2014, despite the fact that his slender frame appeared particularly susceptible to the rough style of play in English football. In the beginning of his time at LCFC, a team which plays in only the 14th largest city in England, Mahrez saw spot-duty time off the bench. Soon enough, he earned his first start and with Jamie Vardy, helped guide Leicester out of the Championship League and into the Premier League. He then competed in the 2014 World Cup for his father's birth country of Algeria and helped his team to an impressive Round of 16 finish. The World Cup was then followed by his team's first season in the Premier League, which was a near-disaster, as the team sat in last place, with only 9 games left to play.
In April 2015, Leicester City Football Club sat at the bottom of the Premier League table. In their first year out of the Championship League, Leicester struggled mightily. However, the football gods granted them success, as the team went on to win seven of their last nine matches, vaulting them from last place to fourteenth, thus avoiding relegation. They haven't let go of this momentum since. In the 2015/2016 Premier League campaign, Leicester has been the top club throughout the season. Much of their success should be attributed to their star goal-scorer Jamie Vardy and their fearless goalkeeper Kasper Schmeichel; yet, most of the praise should be heaped on Riyad Mahrez, the ultimate playmaker.
In the 2015/2016 season, Mahrez, with help from Vardy, Schmeichel and others, has guided his squad to just two points away from a Premier League Championship. In 36 games, Mahrez has notched 17 goals and 11 assists, but the numbers fail to show the full picture. He does most of his playmaking in between the lines, attacking the second half and causing defenders to flinch.

A Cinderella Story
Leicester's Premier League championship run is truly remarkable, as the odds were completely stacked against them. London bookies placed the odds of Leicester winning the championship at 5000 to 1. To give these odds some context, one needs only to read about other betting odds. According to London bookies, Simon Cowell was ten times more likely to become PM than Leicester winning. Piers Morgan was two times more likely to become Arsenal FC manager than Leicester winning. Even finding Elvis alive and Kim Kardashian becoming US president were more than two times more likely than Leicester taking home the championship trophy. For American readers, Grant Wahl of Sports Illustrated believes that the closest analogy to Leicester's championship run would be if a AA (third tier) baseball team somehow made it into the major leagues and won the World Series.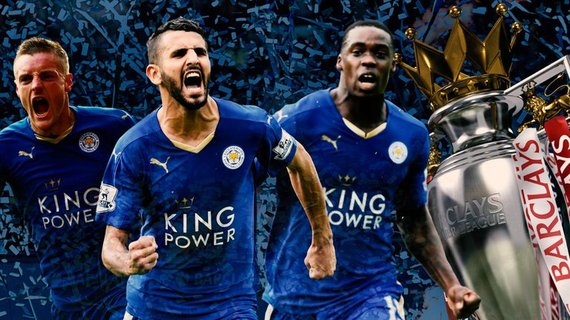 For those tracking Riyad Mahrez throughout his life, the odds of him eventually winning player of the year and a Premier League championship likely seemed slim to none. Although he was born with football DNA, he was by no means hailed as a prodigy like Ronaldo.
Another differentiation between a player like Ronaldo and Mahrez is the fact that Mahrez believes there in the phrase "there is no 'I' in team." When asked about the key to success and the "Leicester way," Mahrez responded, "We play together. We work hard. We don't have any one star. We play for each other." When told that many people refer to him and Jamie Vardy as stars, Mahrez disagreed, "We're no stars. We just happen to be the ones that score. Every team has one or two players who score."
He realizes the fact that his team's championship was never expected. "Teams like Arsenal are expected to win. For us, it's just a bonus. A dream come true," he told Be Any Man Sports in an interview.
Algeria is proud of its son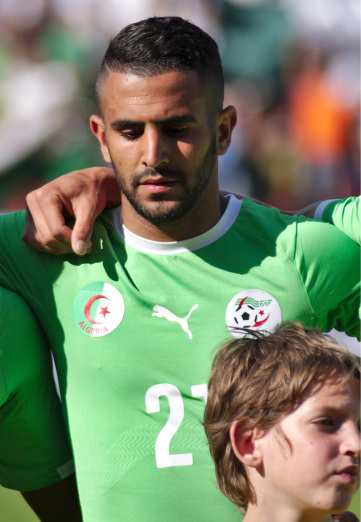 Mahrez has inspired a whole nation, as people throughout England are rooting for Leicester this season. On top of that, people from his father's home nation of Algeria are immensely proud of their native son. Billal Kammas, 25, tells me, "Now all of Algeria supports Leicester. When Mahrez plays, you can't find an empty spot in the coffee shop. Everyone is watching."
Kammas, who hails from Algiers, believes Mahrez is having a huge impact on his home country. "He is doing amazing things. After he won player of the year, everyone has been talking about him."
Popular in the Community