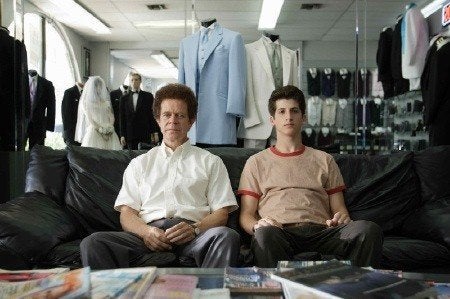 As a native of South Florida, I love nitpicking about how my hometown is portrayed in films and television programs. Sure, South Beach is glitzy and perfectly-tanned 10s do strut about in barely-there clothing, but that's hardly the standard. Colin Farrell and Jamie Foxx lookalikes, sad to say, do not populate our police force, and our sunsets, while nice, don't match the technicolor extravaganza portrayed in the opening credits of CSI. Thus I was curious to see how director Brian Hecker, a fellow South Floridian, would depict our neighborhood in his feature film Bart Got A Room, which debuted at the Tribeca Film Festival last week. I was pleasantly surprised. For his semi-autobiographical tale about a high school senior (Steve Kaplan) desperately seeking a date for the prom -- that isn't best friend Camille (Arrested Development's Alia Shawkat), Hecker honestly captures the pastel suburban hell that can be much of Hollywood, Florida, but also shows the unique culture (yes -- there is a culture) and strong familial bonds that keep citizens around. Eager to reminisce, I recently spoke to the writer-director, who is now based out of L.A., about exploiting his old neighborhood and adolescent adventures for the big screen.
Was it hard to convince your producers to let you shoot in a South Florida suburb?
I definitely had to fight to keep the production in Florida because we would have saved money through tax benefits if we'd switched to Connecticut or New Jersey. After I finally convinced them, I sat down with my cinematographer and discussed how every gram of this movie had to be specific and indigenous to the neighborhood. I didn't want anyone to think that we cheated, so I shot a lot of staples, such as homes off canals and wandering egrets on lawns. Also, I'm pretty detail obsessive. If I have a scene where a father is in a restaurant taking to his son about sex, I love that behind them there's some old couple fighting about where they want to sit. That adds to the flavor of what of the actual scene is about.

How long did it take you to formalize the story?
This has been in my head for years and years. The film was at one point a Miramax project, but then Plum Pictures bought it from them, and they said they would go to the grave with this film. Casting-wise, once William H. Macy came on board [to play Bart's dad], everyone else fell into place.

Macy does rock a good Jew-fro in the film.
I was pretty obsessed with finding someone to capture my dad's persona. The only actor that truly looks like my dad is Billy Crystal, but since he was busy, we looked at other actors. Now my father is a very loving, compassionate, and sincere guy who's been dealt an unlucky hand -- he's a lovable loser type -- and Bill Macy was the perfect actor to embody him. Before production started, the three of us went to dinner together, and when my dad went to the bathroom, Macy turned to me and said, "I get it." Additionally, [co-star] Cheryl Hines totally channeled my mother, although we had to age her a bit and give her dark curly hair, and Steve Kaplan was plucked from a major casting call of over one hundred kids.
You namedrop my high school in the film. Where did you go to school?
I went to Hollywood Hills High School, where we actually shot part of the movie. We had the school's marching band in the opening number and we shot in one of the classrooms. My old English teacher even helped to recruit extras. She was actually very influential in my life. I remember she gave us an assignment to write about beautifying our lives as a parallel exercise to reading Joyce's Portrait of the Artist As A Young Man, and while others were writing about the birth of a child, I wrote about asking out Lesley Spevack, because I knew that even if I failed, it would be a great story. She said no of course, but I got a great response when i read my essay aloud in class. It is from that experience that I realized I could exploit and use my pain from all my nerdy glory days to write stories about what I know.

Popular in the Community