By College Tourist - Author - Kate Hiller, Ohio University
Two weeks in Windhoek: a whirlwind and mostly-walkable tour in and around Namibia's capital city.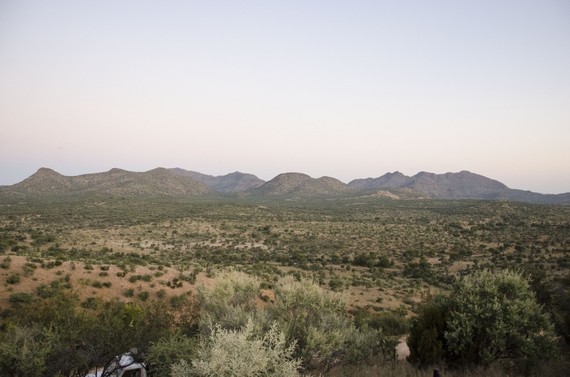 Where is Windhoek anyway?
Windhoek (also known as Windhuk) is the capital city of Namibia, which is situated just north of South Africa on the west side of the continent. The country has a population of about 2.3 million people, a bit more than 300 thousand of whom live in the capital city. It has been colonized twice -- once by the Germans (hence the heavy linguistic influence and superb German cuisine) and once by South Africa. There is also a Fidel Castro Street close to where I am staying, which I find rather amusing. Namibia formally gained independence in 1990, and the first president (Sam Nujoma) was sworn in after winning more than 50 percent of the vote. Hifikepunye Pohama was in charge from March 2005 until March 2015, and Hage Geingob is the current president. All three leaders of a free Namibia have been from the SWAPO party.
Windhoek, as I have come to know it over the last two and a half weeks, is a vibrant, European-esque city that mixes local culture with a very modern vibe. In my time here, I found three malls within about a five-block radius, and in the same space have seen dozens of artisans selling their goods on the streets. There is a lot to take in, and I haven't had a whole lot of time to explore during regular business hours, due to the nature of my work here... but if you find yourself this far south, I recommend the following (listed in no particular order):
Goche Ganas -- This is outside of the city, about a 30-40 minute drive depending on how often you stop to take pictures of the giraffes on the side of the road (not even kidding). I also saw a waterbuck en route last week, which are apparently pretty rare in Namibia.
Gathermann -- A wonderful German restaurant located on Independence Ave., the main street. You'll easily recognize it from the six or so flags that hang off the balcony. I recommend the apple strudel...
Jojo's Music and Arts Cafe -- Jojo's is a local joint at which I have almost become a regular customer. This entrepreneurial venture opened early this year, and is committed to providing a platform for local artists as well as a laid-back atmosphere with quality food. I recommend the vegetarian quesadilla and the guacamole (seriously, it's some of the best I've ever had).
The Gourmet -- Also a German-influenced restaurant. Located near an outdoor display of mounted rocks (still not sure what this is), the majority of seats are outdoors in a secluded patio area. The pancakes (or crepes, pretty much) are to die for.
Ital Eis -- For N$12 (about $1 US), you can get a sizable scoop of gelato in a homemade cone. Yum! There are also a few other places that sell ice cream, but this is the cheapest I found.
Sicilia -- If you know me in real life (or really even over the internet), you know that I live on pizza and pasta in the U.S. Well, I was able to satisfy my cravings here too. Though the pizza isn't Rubinos, my hometown favorite, it was pretty good both taste-wise and budget-wise.
Craft Café -- Located in the Namibia Craft Center near the heart of downtown Windhoek, this cafe features homemade delicacies that look as good as they taste. A balcony for dining overlooks Tal St, and you can go downstairs to purchase all sorts of handmade goods.
Namcrafts -- Basically, this is your one-stop-shop for artisan goods. If you want hand-carved giraffes, handmade jewelry, wallets, batiqued fabric and almost anything else, this series of shops has it all. The biggest location is around the corner from Jojo's Music and Arts Cafe, which is a perfect area to shop and dine in the evenings. If you're in town during your birthday month and can show ID, you'll get 25% off your total purchase.
Anyone selling goods on the street... Just know that the closer you are to the Hilton, the more expensive the goods get. And for these sellers (and even in some shops, depending on how much you buy), bartering is key. I drive a harder bargain than many people I was traveling with, but even if you're shy about it the artisans will offer you a "special price" and you can go down to about half the asking price without being rude. Women from the Himba tribe (northern Namibia) dress up in traditional costume to sell their bracelets and other goods outside of my hotel every day, so I broke down and paid a bit more to also get a photo with them.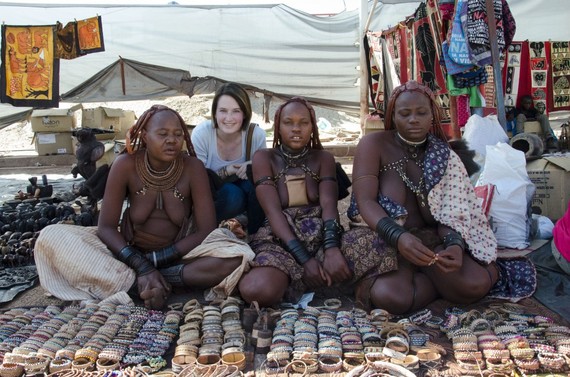 Posing with a few women from the Himba tribe who sold me some of the most beautiful homemade bracelets I've ever seen.
Rogl Gallery -- Among other souvenirs, this downtown shop sells coffee from all over Africa, roasted in Namibia.
Ostrich eggs are a big seller here. You can buy jewelry made out of them, eggs turned into candles, painted eggs, glazed eggs, and pretty much any other good you could want made at least partially with them. There is no specific place to go to purchase them, but Namcrafts has a lot of very beautiful and colorful eggs at a very reasonable price.
Namibia Craft Center -- Namcrafts is part of this series of artisan shops. Attached to Craft Cafe, this multi-story hub of carvings, jewelry, fabric and so much more is a one-stop-shop for everything a tourist could want.
Christians Church -- According to my local counterpart for the YALI Connect Camps, Namibians pay a lot of money to get married here. It's easy to see why - the architecture is absolutely beautiful and it overlooks the city.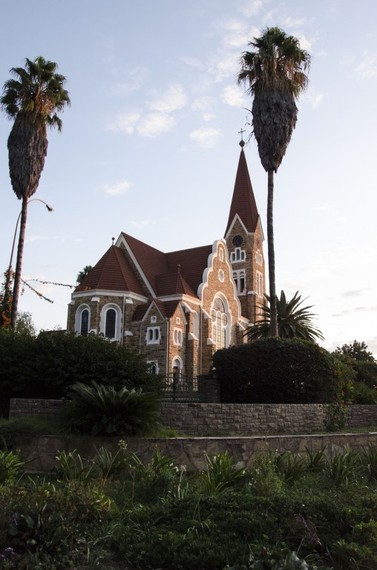 Christians Church -- Windhoek, Namibia
Parliament Gardens -- The first time I walked past the gardens, there was a group of about 20 people doing yoga in the yard. The gardens are very beautiful and are open to the public during the day.
Sam Nujoma statue -- The first president of Namibia, Sam Nujoma, is permanently watching over the city in statue form on the other side of Christians Church.
National Art Gallery of Namibia -- While I was here, an exhibit showcasing a history of photography in Namibia opened.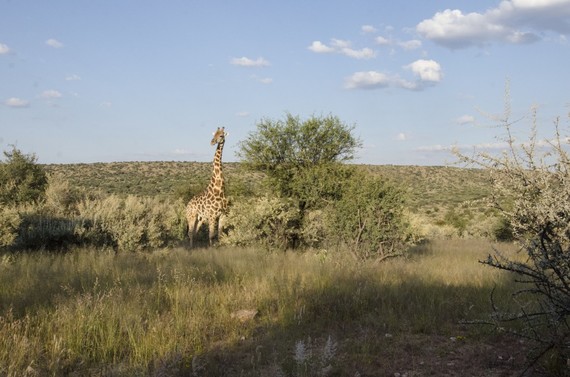 I couldn't resist.. We saw this guy on our way to Goche Ganas, munching on some plants and just chillin' by the side of the road.
As I mentioned, I was kept busy during normal business hours and was unable to explore a lot of the city during the day. This is by no means a complete list, but it should keep you busy for a while if you visit Windhoek.
Popular in the Community