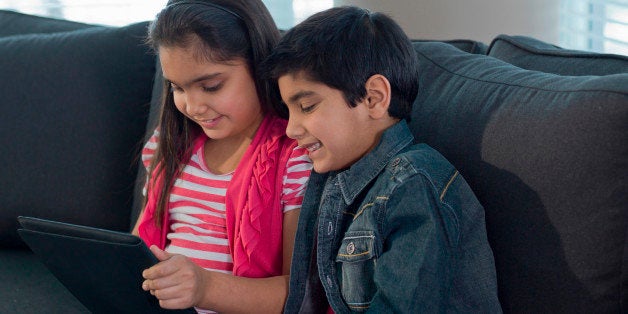 Co-authored by Lakshmi, a Mobicip blogger who is just as passionately opinionated about the juxtaposition of technology, parenting and education.
Back in ancient times, children were given a paltry, but princely-to-their-eyes, amount of "pocket" money, usually small change that their parents couldn't use, which was spent on ice cream and candy. They were often chided for not having the "saving habit," which, given the fact that the pocket money would be "borrowed back" at the end of the month, wasn't really an attractive investment opportunity. Times, as Bob Dylan sang, they are a changin'. Beyond the fact that there is no longer any "small change" in existence, a few numbers embossed on plastic now empowers the child to succumb to momentary expediencies beyond frozen treats, and their parents sometimes to credit card fraud and possibly bankruptcy.
Think I am exaggerating? According to T. RowePrice, six in 10 kids shop online (presumably in the USA); 54% of kids purchase mobile apps and make in-app purchases and 41% use a mobile device to make general purchases. Take a look at the breakup of financial activities of children.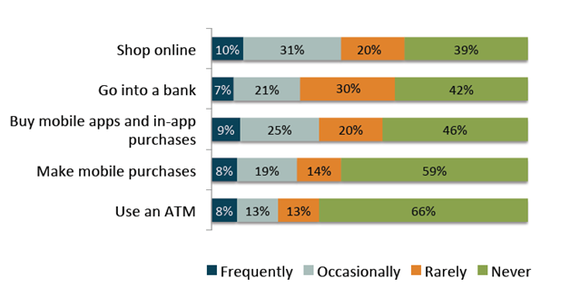 But that isn't the big news. The Guardian reported findings by CPP in early 2010 that children in the UK spent £64 million a year online without their parents' knowledge. A rather disturbing statistic in this report is that one in seven children in the 7-16 age-group bought stuff in stealth.
This raises some common sense questions:
1. How does a child have access to money?
The answer depends on the age of the child. In many families belonging to the "middle class" and above, a child of 11 is often given her own bank account with a debit card, or is added on to an adult's credit card. Although banking and credit card laws restrict the amount and type of credit offered to minors, the often gullible youth remains a coveted target for marketing, which makes it difficult to establish balance and boundaries to spending. While it is indeed prudent to expose the child to money management, unless the parent/guardian invests the time in monitoring and guiding the child in using it, financial mishaps are bound to happen.
Perhaps a safe route to allowing financial independence within bounds to children is to open a bank account with a fixed monthly balance and no overdraft facility, but even this requires careful supervision and a certain amount of micromanagement by the adult to gently nudge the child into responsible spending. While it is certainly helpful to build a credit history for the child when she piggybacks on the adults' card, this definitely requires extra effort in monitoring and guidance. If credit card information has been provided on a site, it is advisable to choose the "one time password" option so that the adult is informed of any activity on the credit card before a payment is made.
2. How/why does a child spend money online without their parents' knowledge?
The Children's Online Privacy Protection Act (COPPA) stipulates that companies selling products online must offer options for online membership/activity to children under 13 after obtaining verifiable consent from a parent or guardian. This is a good scheme because it allows the adult to be fully aware of the sites the child visits and perhaps makes purchases from. However, according to The Hill, a blog by the American Congress, many online companies do not allow children under 13 to register/participate, even with adult consent, and this forces parents or children themselves to fake age information online and provide information about credit cards belonging to the parents. It is now an established fact that more and more children are permanent fixtures on social network sites. Age limit rules are freely disregarded due to the absence of a foolproof way of checking, a fallout of the vicious rules vis-à-vis privacy tug-of-war.
3. What does the child buy online?
The CPP survey found that 51% of the children who admitted to buying stuff online bought computer games; the rest bought books, movies and phone applications in varying percentages. While the stuff purchased appear fairly harmless, the fine print is that nearly a quarter of children bought games, books or movies inappropriate for their age, and equally disturbing is the fact that quite a few children purchased cigarettes (1%), alcohol (1%) and even weapons and solvents (1%). An even earlier survey shows that of 1000 teenage boys questioned, half admitted to trying to buy adult DVDs or violent games online using a credit card -- their own, or their parents'.
Computer games are rapidly giving way to what's now dubbed the "app-trap." Children are addicted to interesting apps that are introduced as free downloads, but once the kid has finished a certain level, a purchase is made necessary. Sometimes, when the credit card information is already entered by the parents into the store, the app can be bought by a mere click of a button or touch of screen that sometimes the child is not even aware of. In a Microsoft study on British children and apps, 28% of participants confessed to in-app purchases made by their wards without their knowledge.
Big companies involved with making smartphones and their software offer various tools to parents to control such undesirable activities by kids. However, the Microsoft survey shows that most adults are clueless about the use of such tools -- a whopping 77% of respondents admitted to needing help from technology companies to manage their children's app activities on their smart phones.
Technology is the modern Janus. Its enormous utility is mirrored by enormous risks. As consumers, it is up to us to teach our children to use, and not abuse, technology. For this, it is but natural that we demand that the companies that make smartphones, tablets, and the software that run on them provide us with tools that comply with the laws designed to protect our children and knowledge/training on how to use these tools.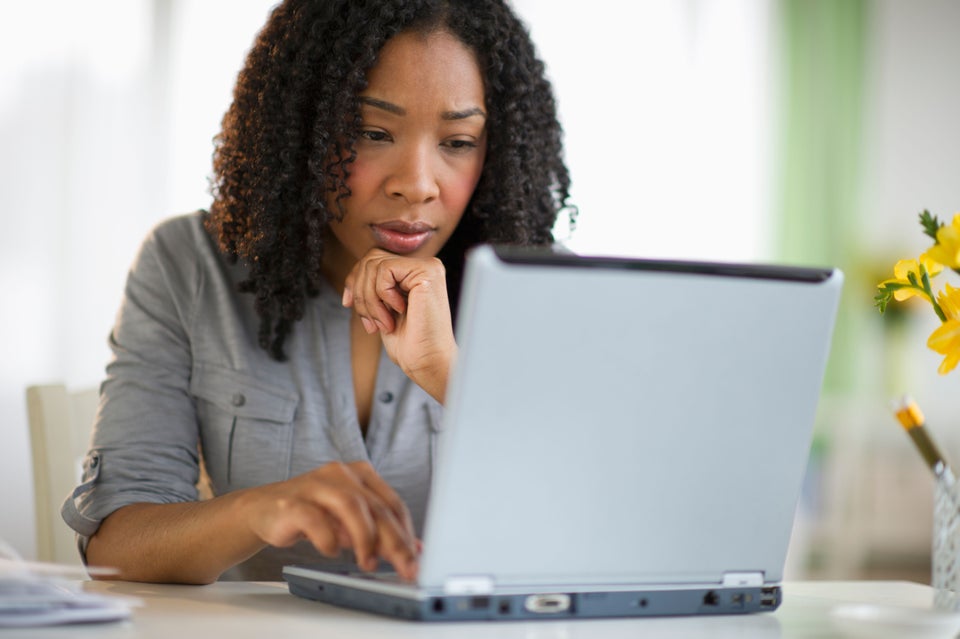 12 Things Every Woman Should Know About Money