We all know about Black Friday and Cyber Monday. Chances are you also know about Giving Tuesday. Since it launched in 2012, this global day of giving has engaged over 10,000 nonprofit organizations worldwide. Not to mention the tens of millions of dollars that have been raised online for charities of all shapes and sizes.
#GivingTuesday was founded by New York's 92nd Street Y in partnership with the United Nations Foundation. While there have been reports of the amount of donations raised during #GivingTuesday none went very deep into the data -- until now.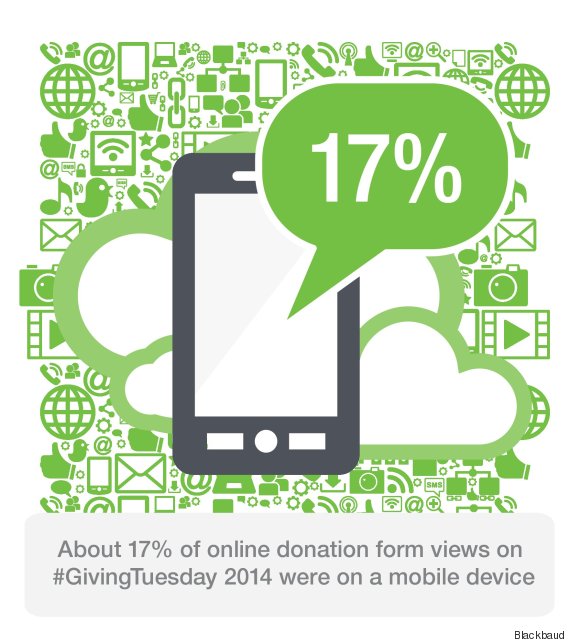 Blackbaud released a #GivingTuesday Trends report and it is the most in-depth analysis of online giving trends since the event first began. The report covers #GivingTuesday data from more than 4,300 nonprofit organizations representing $55.6 million in online fundraising since 2012.
#GivingTuesday has had double-digit year-over-year growth in online donations since 2012.
Large nonprofits have received the most donations on #GivingTuesday but this trend is shifting.
Faith-based nonprofits now receive the largest percentage of #GivingTuesday online donations.
Online average gift amounts exceed100 for most nonprofits on #GivingTuesday.
About 17 percent of online donation form views on #GivingTuesday 2014 were on a mobile device.
We have certainly seen a lot of online giving growth during #GivingTuesday. Double-digit growth rates are impressive, but it's also helpful to know where the giving is going. For the first time, we have directional information about what types of nonprofit organizations have been receiving donations on #GivingTuesday.
Nonprofits in the report were grouped into three size categories and it revealed that large nonprofits have received the majority of online donations on #GivingTuesday. But this trend has been shifting with medium-size nonprofits increasing their share of giving.
The #GivingTuesday Trends report also looked at which sectors receive the most online donations. In 2012, most of the online giving on #GivingTuesday was concentrated among nonprofits in the Medical Research, Human Services, and International Affairs sectors. By 2014, giving had shifted towards Faith-based, Higher Education, and Healthcare organizations. The data suggests that #GivingTuesday represents a good fundraising opportunity for those organizations that choose to focus their efforts.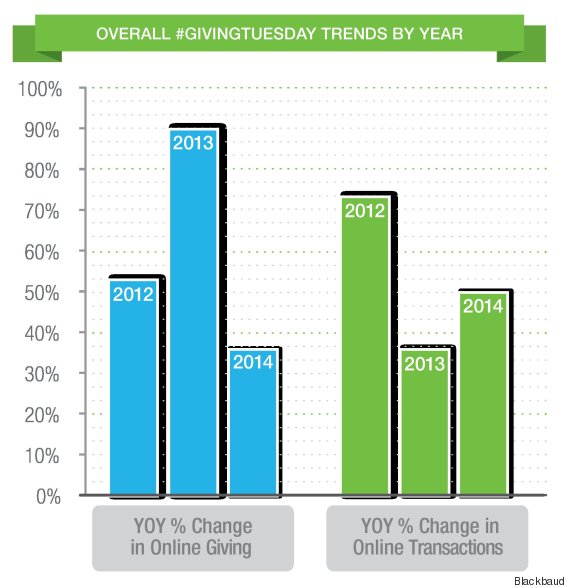 #GivingTuesday online average gift amounts continued to be greater than offline non-major gift one-time donations. This continues a trend of seeing online donations not related to peer-to-peer fundraising at or exceeding the $100 per gift threshold. Online average gift amounts increased nearly every year for small, medium, and large nonprofit organizations during #GivingTuesday.
We also know from the data that #GivingTuesday is another example of the rise of mobile giving. In 2014, nearly 17 percent of online donation form views on #GivingTuesday 2014 were on a mobile device. Sadly, many nonprofits are not using mobile friendly websites or donation forms. Mobile giving will only increase and #GivingTuesday shows it's an important area for nonprofits to focus on.
The #GivingTuesday movement continues to grow and the latest data reveals some good insights. #GivingTuesday 2015 is on December 1 this year. Stay tuned on how giving grows this year.