A rousing struggle is underway in the heart of India against dirty and environmentally destructive coal mining. The villains and victims are those who we all know too well. Big industry backed by state machinery pitted against the lives and livelihoods of thousands of ordinary citizens.
Mahan (translates to 'great') is one of the last patches of dense forests in central India. Located in the Singrauli district where up till 1947, it is said, the forests were used as open air prisons for errant civilians and public officials who couldn't navigate their way out of these dense places. Turn the clock forward to 2014 and what one sees are lands ravaged by coal mining and thermal power plants. Declared in 2010 as a critically polluted area, a moratorium was placed on any new projects or expansion on existing ones. The stay was soon reversed in July 2011 and the situation has only worsened since. Mahan now holds the key to the last unfragmented piece of forests in central India that nestles a very rich biodiversity. This is what is at stake as mining and power giants Essar and Hindalco are investing in coal mining under these forests.
More than 50 villages are dependent on these forests, out of which 14 villages have been completely dependent on the forests for generations. It all began in 2006 when the Mahan forests were gifted by the government to the Mahan coal Ltd, a joint venture of Hindalco and Essar Power. The coal mined from Mahan forest will be used to fire two thermal power plants. The Mahan coal block was granted in-principal (Stage-I) approval by the Ministry of Environment and Forests (MoEF) on October 30, 2012, after substantial pressure from a Group of Ministers (GoM) on coal mining, which reversed a prior rejection of the project. This approval was for diverting forest land for non-forest use and came with 36 conditions which required a range of studies to be completed and the processes under the Forest Rights Act (FRA) to be complied with. On February 12, 2014, the MoEF gave a stage-II clearance, approving 967.65 ha of forest land.
A lot transpired in the 14 months between these 2 clearances. First was the massive coal scam that hit India in early 2012 which sent ripples across the coal industry. With the risk of certain mines that did not receive a green clearance being deallocated, efforts were stepped up to put pressure on the environment ministry for rapid clearances. In the case of Mahan, despite reservation against diversion of pristine forests, the green nod was given as a case of fait accompli, where huge money was already invested in the construction of plants that were to access coal from Mahan. And the latest charade was the appointment of Veerappa Moily, India's petroleum minister as the new environment minister. Ignoring all the laws of the land, Moily has hastily cleared projects worth billions of dollars without a faint consideration for environment or people's grievances.
Amidst this savagery on India's forests, a strong movement has taken shape to protect Mahan. Under the banner of Mahan Sangharsh Samiti or MSS (translates to Mahan struggle group), a peaceful struggle has put up a courageous front against strong forces. Drawing inspiration from the successful Niyamgiri fight against Vedanta's bauxite mining, the MSS has mobilised people against mining in Mahan. Strongly supported by Greenpeace India, various villages have united to protect their livelihoods that are inextricably linked to the forests. Bechan Lal, a MSS activist drew the line when he told me last month that the companies will have to go over their dead bodies before they get to mining Mahan. Such passion and concern are often not heard by those making decisions and granting clearances. The people of Mahan are demanding what is rightfully theirs and what is protected by clearly defined laws around forests in India.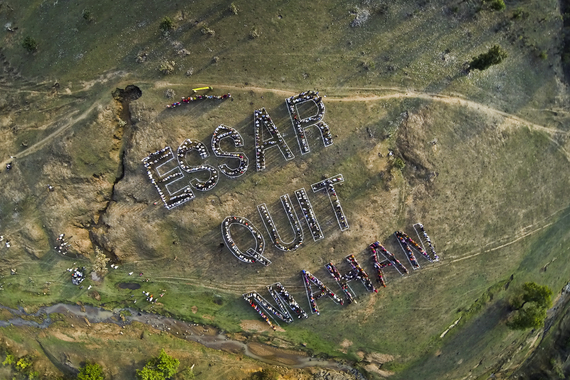 The struggle has only intensified after the recent green clearance was given to the project. Thousands rallied on the streets and vowed to stop mining at any cost. It remains to be seen as to who comes on top but suffice it to say, the people of Mahan are putting up a relentless fight against all odds. The hostility from the company hit a new peak when they filed an 82 million dollar defamation case on the struggle.
Over a million people have already signed this petition that Greenpeace has started, demanding the company Essar to quit Mahan. Add your voice to this growing movement and support MSS and its people in winning this fight!
The story of the Mahan coal block doesn't require a Marxian lens to appreciate, it symbolizes the gross injustices within a country that is fouling and fumbling its way towards a little understood idea of development. These struggles that punctuate that path are needed to question and deliberate the ways we see and create our future together.
REAL LIFE. REAL NEWS. REAL VOICES.
Help us tell more of the stories that matter from voices that too often remain unheard.