I was a child living in a non-diverse community in New England when Bloody Sunday occurred in Selma, Alabama, on March 7, 1965. I lived a world apart yet was deeply moved by the violent images of that day as they were projected into living rooms across America. Days later, President Lyndon B. Johnson presented a bill that celebrated its 50th anniversary last month, the Voting Rights Act of 1965.
These events came back viscerally while I was en route to Marion Military Institute earlier this year and stopped at the Edmund Pettus Bridge, home to this major turning point in the civil rights movement. The images of Bloody Sunday were cemented in my mind through each nightly broadcast. I distinctly recall the newscaster's words: "police" and "brutality," but also "trust" and "respect." Decades later, "trust" and "respect" continue to reverberate in my position as Commandant of the United States Coast Guard.
The Coast Guard is trusted by the public with a broad range of missions, from disaster response to saving lives to interrupting revenue streams that fuel criminal organizations. In a rapidly evolving, geostrategic environment -- one in which the challenges and threats have never been greater -- our workforce must have a broad range of skills, talents and backgrounds.
I have to look no further than Dr. Olivia Hooker to see the impact talent brings to our service. As a child, she watched her town burn and her family terrorized during the Tulsa race riots in 1921. She was just six and witnessed firsthand the darkest side of humankind. For many, this might have signaled an end. For Dr. Hooker, it marked a beginning. During World War II, as the military began to accept women, it did not open its doors to all; African-American women were not invited. Dr. Hooker fought to change that, and fight she did, becoming the first African-American woman to enlist in the U.S. Coast Guard. At the time, she said that "to campaign for civil rights and not use them is futile." In March, as she celebrated her 100th birthday, I dedicated a Coast Guard building in New York in her name. Soon, the training center at our headquarters will also bear her namesake.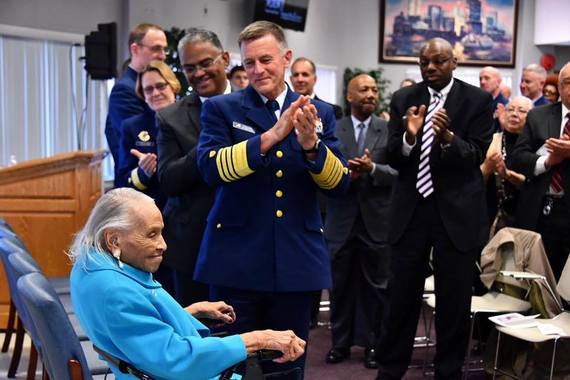 U.S. Coast Guard photo by Petty Officer 2nd Class Patrick Kelley.
I'm looking to follow Dr. Hooker's lead and build a 21st-century workforce that draws upon the richness of all Americans. We must continue our efforts to be a more inclusive organization that attracts a diverse workforce able to apply their knowledge, skills and abilities and decisively act with speed, agility and creativity. This is the workforce for the 21st-century Coast Guard.
Beyond our duty to the public, the Coast Guard's stakeholders are a broad maritime community represented by nations, industries and interests from around the world. A diverse workforce drives affinity with these stakeholders and enables the Coast Guard to better serve them by understanding.
While we have been more successful in bringing diversity into our accession points -- the Coast Guard junior officer and enlisted workforce today is the most diverse in our history -- we must work harder to retain this talented workforce.
To build and retain a diverse workforce, our organization must foster an environment of diverse thought, fairness and dignity. This culture of respect begins with inclusive leadership, and our leaders require the tools, policies and support to guide and mentor our people. Inclusive leadership is a Coast Guard core competency that includes mentoring and instilling in future leaders the need for diversity and inclusion.
I am personally overseeing an update to the Coast Guard's Diversity and Inclusion Strategic Plan. Through the plan, we will implement best-practice recruitment and retention strategies such as outreach strategies, mentoring, inclusive leadership development programs and employee resource groups with access to the highest levels of leadership. In other words, we must promote inclusion and examine all elements of promotion and retention to eliminate barriers to our diverse workforce.
This work must start today.
The day before my stop at the Pettus Bridge, Dr. Frank Smith, the executive director of the African American Civil War Memorial and Museum, shared a presentation with Coast Guard employees in Washington, D.C. He imparted a wealth of memories, including his work as a civil rights activist alongside leaders such as Dr. Martin Luther King Jr. One story in particular remains with me. The day before Dr. King was assassinated, Dr. Smith ran into him at the airport. Dr. Smith shared that he was in the midst of moving and was considering taking some time off as an activist. Dr. King spoke the last words Dr. Smith would ever hear from the reverend: "Don't ever hang up your marching shoes."
Hearing these words, I am reminded that our Duty to People necessitates an unwavering commitment to the citizens we serve and those who serve beside us -- the 88,000 extraordinary men and women who make up our active, reserve, civilian and auxiliary workforce. Our missions demand teamwork, trust and selflessness in a 21st-century workforce.
I am committed to building and retaining the diverse, talented and proficient workforce of tomorrow. This is about sustaining mission excellence. It's about reflecting the population we serve, and it's about finding the best talent who can lead and operate in an uncertain and complex environment against a variety of threats and sophisticated adversaries -- and win.
This post has been updated to note the 50th anniversary of the Voting Rights Act of 1965 was in March.
REAL LIFE. REAL NEWS. REAL VOICES.
Help us tell more of the stories that matter from voices that too often remain unheard.