When the good folks at Tanqueray Gin first invited me to cover a cocktail safari for the HuffPost, I had visions of donning a pith helmet and tramping through the savanna in search of the perfect martini. What wound up transpiring was only slightly less thrilling, and much less dusty. I got to join Tanqueray's global brand ambassador and all-around bon vivant, Angus Winchester, along with a Tanqueray-sponsored contest winner and his wife, for an evening-long trek through some of Manhattan's most celebrated cocktail hotspots.
OK, not just some -- many. Our ambitious agenda included no less than seven watering holes, so even if we only had half a drink at each destination, we'd still be pretty tipsy by evening's end. Such an evening, I quickly deduced, could only have been concocted by Mr. Winchester.
I've been a fan of Angus' ever since I first met him a few years ago. It was at a day-long publicist-sponsored seminar at which he schooled journalists and bloggers on the magical qualities of the classic Tanqueray & tonic cocktail. By the time I arrived, he'd been holding forth on the history of T & T's -- as well as drinking them -- for a good eight hours. But he looked as spiffy as if he'd just showered and dressed, and he spoke in such a witty and erudite fashion that it was hard to believe he'd had anything stronger than a cup of coffee. He's been a beacon of inspiration for me ever since.
I'm not the only one whose mind boggles at the globe-hopping mixological marvel that is Angus Winchester. The esteemed cocktail historian David Wondrich claims he's "cloned himself, so he can appear in three or four places around the world at the same time, and thus increase the revenue stream." Indeed, from following his tweets and Facebook updates, it often appears that he's about twenty blocks from my apartment and several time zones away simultaneously.
But on to the cocktail safari. The joyous occasion was in honor of Mr. Chris Buecheler of Indianapolis, who, with a little ingenuity and a whole lot of old-fashioned moxie, won Tanqueray's "Best T & T" contest, reinventing the old favorite as "The English Bulldog" (go here for the recipe). The grand prize was a trip to New York City for Chris and his wife Charlotte, where they'd be wined (or cocktailed, really), dined, and generally shown the town by Mr. Winchester.
Chris and Charlotte had lived in Manhattan and Brooklyn before moving to Indy, and it was after going to Manhattan's own Flatiron Lounge that he first became infatuated with both consuming and creating cocktails. But the list of bars Angus had drawn up -- he explained that he tried to create a selection of places that had different and unique drinks as well as different vibes and styles -- were mostly unfamiliar to Chris.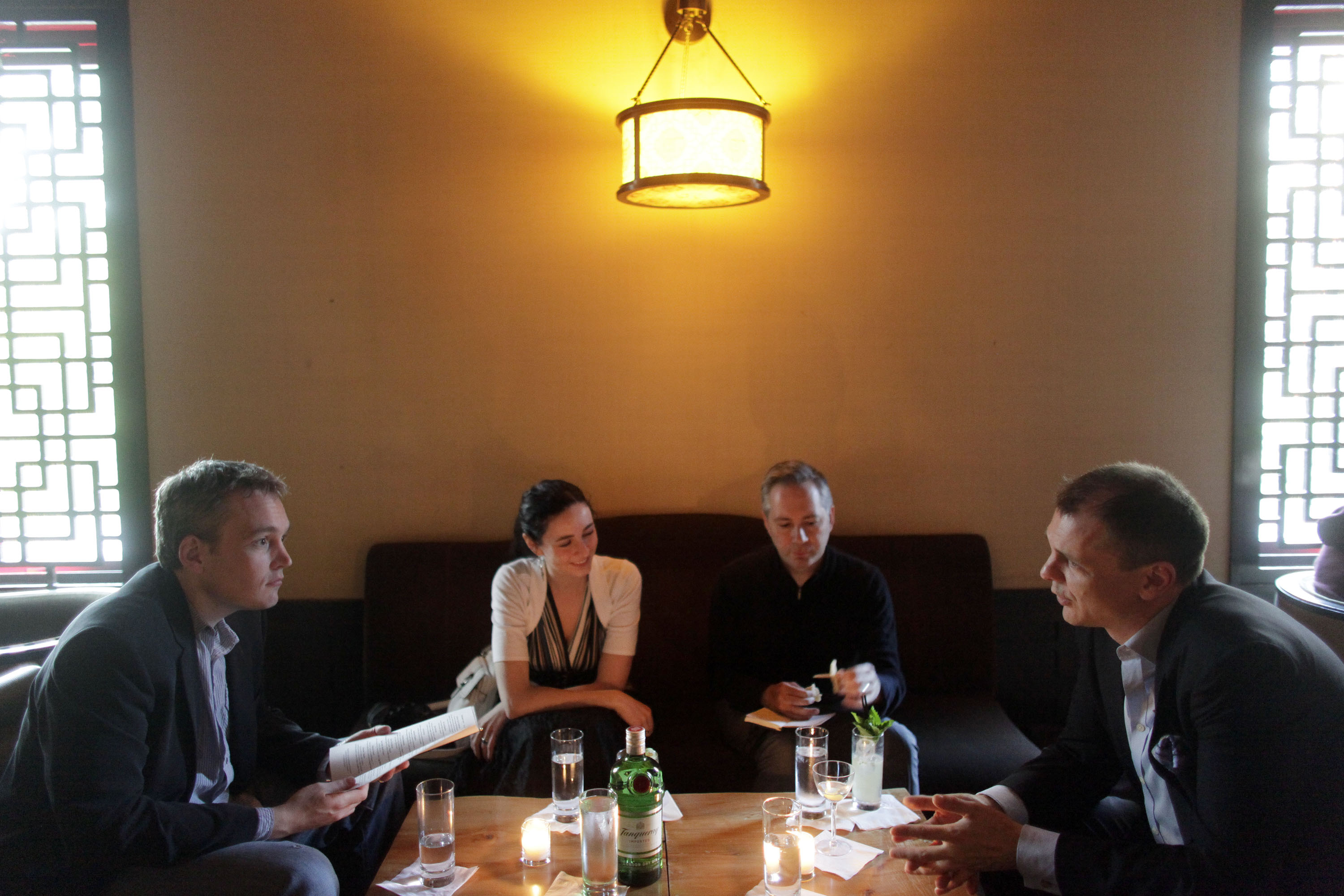 This is what a cocktail safari looks like. L-R: Tanqueray contest winner Chris Buecheler; Chris' wife Charlotte; the author; Tanqueray global ambassador Angus Winchester.
They were supposed to start off the evening at Death & Co., but due to a reservations/seating snafu, they left posthaste and made their way to Audrey Saunders' brilliant house of libations, the Pegu Club, where I met up with them. Audrey is responsible for some classic cocktails, including the Gin-Gin Mule and the audacious-for-its-time Fitty Fitty Martini, employing equal parts gin and vermouth. We enjoyed them both -- with Tanqueray, of course -- along with some other libations. While a Tanqueray publicist hovered and a photographer snapped photos of us and our drinks, Angus expressed relief that Chris seemed like a pleasant drinking companion and not "some sort of savant."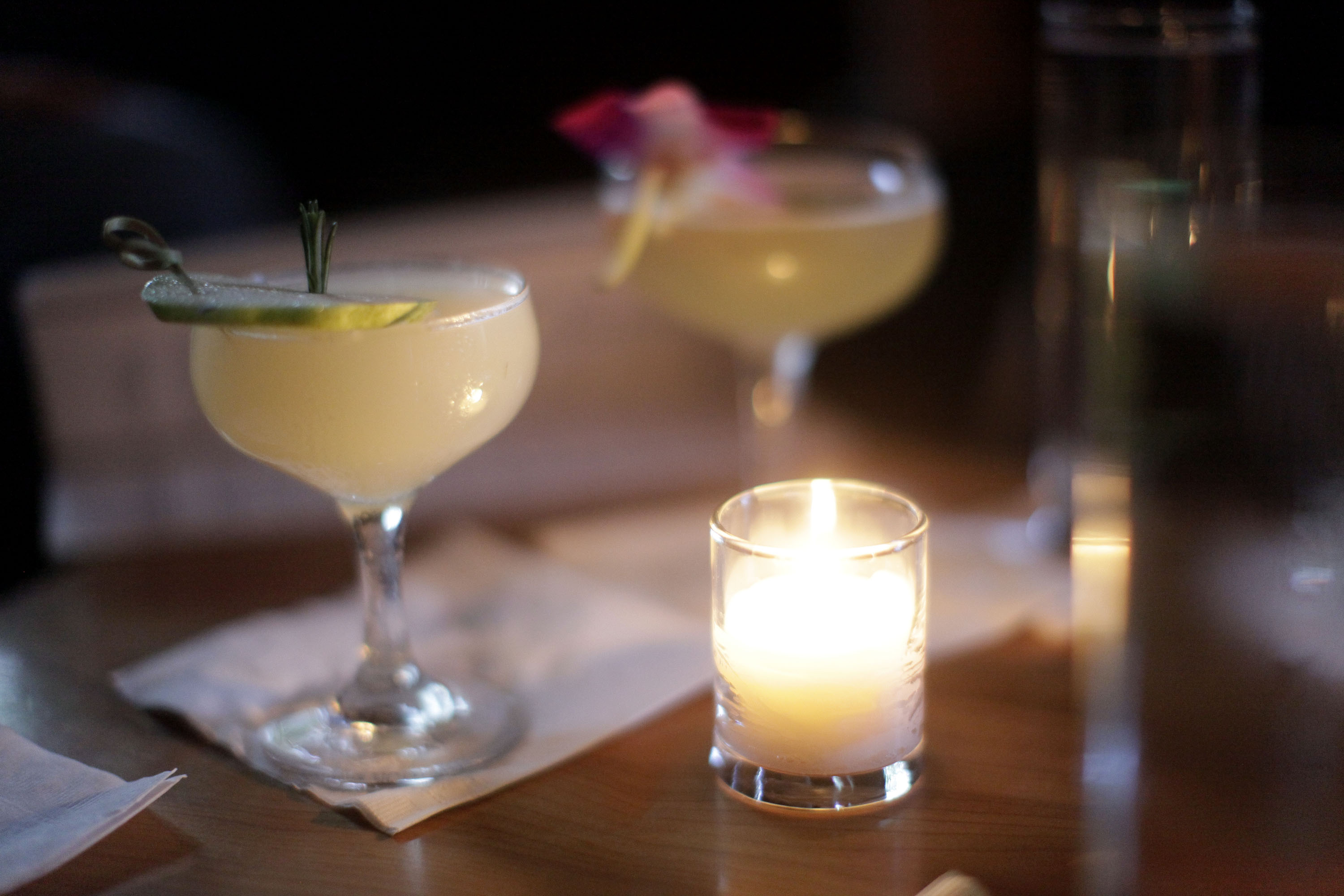 A taste of the Tanqueray Cocktail Safari, at NYC's Pegu Club.
At Angus' advice, I don't think we finished any of our cocktails, delicious though they were. And it was a good thing indeed, because five taverns still beckoned. Next up was drinks and eats at The Dutch, the newish and fabulous SoHo bar/restaurant run by the folks from the also-fabulous Locanda Verde. My cocktail, a pickled ramp Gibson (gin, vermouth, lemon bitters, pickled ramp juice and a pickled ramp garnish in place of a cocktail onion) was spectacular, even if we all commented that the flavor it most reminded us of was ranch dressing. Angus sagely noted that the best cocktails are evocative of flavors we're familiar with and enjoy -- even if they come from a bottle of Hidden Valley dressing.
Oysters, appetizers, main courses and a couple of bottles of wine later, we were already falling hopelessly behind schedule, so we beat our retreat without dessert and hightailed it over to Crif Dogs, on St. Marks Place. Why a hot dog joint after dinner? Because that's how you enter PDT (a/k/a Please Don't Tell), the semi-secret speakeasy-inspired bar owned by Pegu Club alum Jim Meehan. I had a barrel-aged Martinez cocktail. Barrel aging cocktails -- the same way whiskeys are aged -- is the latest fad in cocktail circles nowadays, but don't knock it until you've tried it. Barrel aging really makes a difference in a cocktail, and the difference can generally be defined as added deliciousness.
Mr. Meehan joined us at our table, where we had a spirited conversation about the pros and cons of the "guest bartender" trend in more artisanal establishments. We were mostly con; it can be perceived as insulting to a bar's regular staff, and a guest is unfamiliar with the bar's setup, specialty cocktails, and morés in general.
By this point in the evening, my memories, and my notes, had become more vague and spotty, so I can't remember what Chris and Charlotte drank. I do, however, recall that Angus enjoyed one of PDT's signature drinks, the bacon-infused Old Fashioned, which he called "a seminal cocktail." Now, I may not be the heppest cat around when it comes to cocktail trends, but I do know that I enjoy cocktails before or with my meal, not as my meal. I tried a sip and indeed, the bacon flavor blended well with the bourbon. But I still don't think I want to drink meat.
We only stayed long enough to polish off the one round before traipsing to one of my long-time favorite joints in the city, Little Branch on Leroy St. in the West Village, owned by the legendary Sasha Petraske. The place was jumping, with a small jazz combo shoehorned into the dark, crowded basement bar, struggling to be heard among the crowd of cavorting cocktailians. I hemmed and hawed before simply ordering whatever Angus was drinking. What was it? I have no idea. We'd been imbibing for close to five hours by this time. The clock was nearing 12, and my blood alcohol was well beyond that. I'm a lightweight by nature, and this excursion had stretched me to the limit.
Angus is nothing if not a courteous and attentive host. He quickly hustled me into the Town Car graciously provided by Tanqueray for the night and sent me home, before escorting Chris and Charlotte to their next destination, Milk & Honey, Petraske's more secretive and exclusive counterpart to Little Branch. Where is it? I'm not telling. What's their phone number? They change it regularly, and the one I have is at least several months out of date. But rest assured, if you can figure out how to get in, you won't be disappointed.
When I got home, I tweeted about the safari and added, "They're still at it; I'm home." About half an hour later, Angus tweeted me back. "And put them in a cab too... Now it's just me! Bwahahahahaha!" I couldn't imagine a more appropriate ending to such a delightful evening. However, I have not yet ascertained whether Mr. Winchester actually made it to Painkiller, the year-old tiki bar and final scheduled stop of the night, or whether he too turned in after declaring himself the last man standing. From such ambiguities are myths created and legends born.
Support HuffPost
A No-B.S. Guide To Life
Related
Popular in the Community