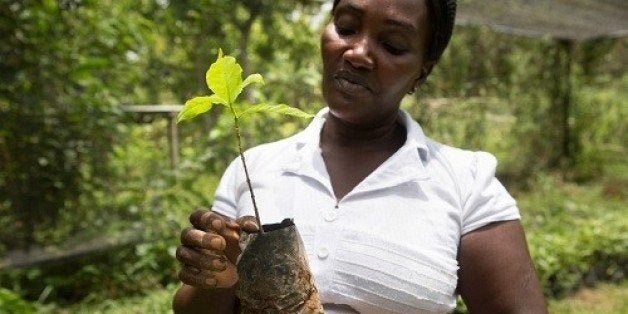 Madame Lionel Philidor has been farming coffee since about 1991, the year she married her husband. Even though they both worked hard to produce good coffee, they didn't make a good income from it. Middlemen with unfair pricing often saw more of the profits from their hard work than they ever did. That's why Lionel decided, in 2005, to join the St. Helene de Carice cooperative. The cooperative provided support and power in numbers against unfair pricing.
Up until the 1980s, coffee was a profitable export for Haiti. But over time, changing climate conditions and other factors made it difficult to grow coffee in certain places. Leaf rust just made things worse. That's a devastating, air-borne crop disease that attacks and kills whole coffee plants -- plants that took three years to produce coffee in the first place.
As a member of the cooperative, which is supported by Lutheran World Relief through its local partner, RECOCARNO (a federation of coffee cooperatives), Lionel learned about all stages of the coffee production process, including seedling nursery management. Through this training, the cooperative empowers its members and beyond as the fruits of this knowledge ripple through the larger community.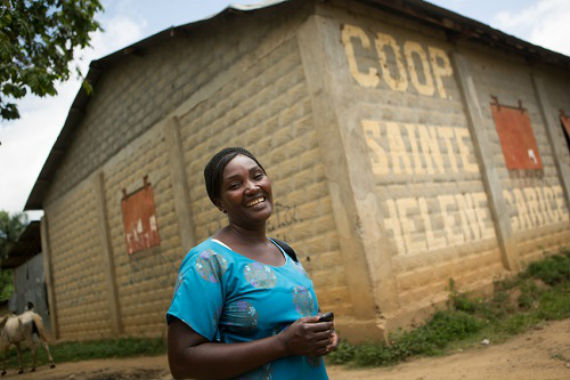 Lionel Philidor, a member of the Sainte Helene coffee cooperative, poses for a photo at the cooperative in Carice, Haiti, June 17, 2015. She learned how to grow the seedlings and begin a plant nursery through the cooperative, in partnership with RECOCARNO, (Réseau des Coopératives Caféières de la Région Nord) the Network of Northern Coffee-Growing Cooperatives, and LWR.
Photo Credit: Allison Shelley for Lutheran World Relief
The cooperative owns and manages its own nursery where farmers can purchase quality coffee seedlings to plant. Lionel took part in a group of members who learned to manage the nursery -- she liked this work very much.
Sometime after that, Lionel learned that the Haitian government was in need of coffee seedlings to distribute to farmers as assistance. Now that she knew how to effectively start healthy coffee seedlings and manage a nursery, she thought, why not go for it and start her own nursery?
Equipped with knowledge and expertise, Lionel began growing coffee seedlings for the Haitian government -- 25,000 seedlings to be exact.
It took the help of many people in her village, and the knowledge Lionel learned in the cooperative, to set up a nursery, start seedlings, ensure they got proper shading and nutrients, watering and maintaining them. It was a big job, but ultimately Lionel with the support of her friends and neighbors did it. She produced 25,000 coffee seedlings that she sold to the government. Of the money she earned, she kept 40 percent of the earnings for herself, and the other 60 percent she shared among the people in her community who helped her. This increase in her income helps lay the foundation for a better future for Lionel, her family and her community.
In recounting that point, Lionel smiles a big, broad smile that said so many things that can't be expressed in any language. It spoke of her pride in what she accomplished, in what her community accomplished, and her desire to help others accomplish it as well.
In spite of her success, challenges remain. Some of her plants have been affected by leaf rust. But the cooperative is working to help by producing seedlings they believe to be disease resistant, and helping her and other farmers to grow alternative crops to diversify their income and ensure a more resilient future.
Lionel plans to help other women in her village and in the cooperative learn nursery management so that they can start their own businesses. Through her own efforts, Lionel bought a house for her family down the mountain so that her children and grandchildren could have better access to education. The coffee cooperative has equipped Lionel with knowledge and expertise, and she is now building the foundation for a better future for herself, her family and her community.
Nikki Massie is a staff writer for Lutheran World Relief, an international humanitarian organization that works to improve the lives of smallholder farmers and people experiencing poverty in Africa, Asia and Latin America, both in times of emergencies and for the long term.
This post is part of a series produced by The Huffington Post and the NGO alliance InterAction in celebration of #GivingTuesday, which will take place this year (2015) on December 2. The idea behind #GivingTuesday is to kick off the holiday-giving season, in the same way that Black Friday and CyberMonday kick off the holiday-shopping season. We'll be featuring posts from InterAction partners every day this week. To see all the posts in the series, visit here; follow the conversation via #GivingTuesday and learn more here. For more information about InterAction, visit here.
Calling all HuffPost superfans!
Sign up for membership to become a founding member and help shape HuffPost's next chapter