Last night, as the temperature dropped to a chilling 25 degrees, I joined hundreds of volunteers canvassing the streets of Washington for D.C.'s annual "Point-in-Time" homeless count. This census of homeless individuals measures how well we are meeting our national goal to end homelessness and helps the administration determine how to allocate resources for homeless support services. But beyond just number gathering, this effort aims to connect those experiencing homelessness with housing, health care, and other resources they need.
Those of us in D.C. were just a handful of the volunteers from communities across the country--many in areas even colder than the Capitol--who go out each January to conduct a census of our homeless neighbors. Volunteers speak to people living on the street and ask a few short questions. We also provide them a list of resources where they could connect to services, including agencies that could support their health and help them get off the streets.
At the Department of Health and Human Services, we see that the relationship between health and housing stability is intertwined. A health crisis can mean someone loses their ability to work, which causes them to lose their housing and eventually end up on the street. Many struggle with serious mental illnesses, substance use disorders, and disabilities or chronic conditions that go unnoticed and untreated. Without housing, they can't focus on their health issues, and without addressing their health issues, they can't get back on their feet.
HHS administers many programs that target specific populations that experience homelessness, including people with mental and/or substance-use disorders, veterans, families and youth, and chronically homeless individuals. Although these programs are making a difference, more is needed to help the approximately 578,000 people who experience homelessness on any given night.
Fortunately, the Affordable Care Act provides coverage for the health and support services that individuals need to help stabilize their lives, meet their health needs, and most importantly regain their dignity.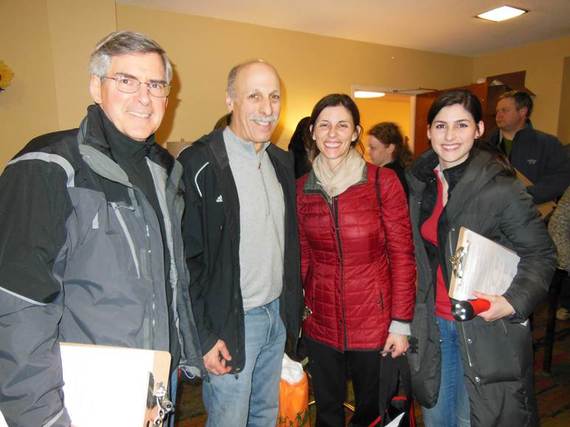 In places where Medicaid coverage has expanded, like here in D.C., more people can access preventive and mental health care, along with other health services. Now, nearly everyone we came across last night should have access to affordable health and mental health care, as well as treatment for substance-use disorders.
Connecting the men and women struggling with homelessness to housing and health resources helps some of our most vulnerable citizens, but it also goes further to strengthen our communities. Ending homelessness is smart fiscal policy. Without access to affordable health care, people who are not stably housed often rely on emergency rooms for their basic health care needs. The cost for that care is passed on to hospitals, insurance consumers, and taxpayers. Those without housing also end up in temporary shelters and are at risk for unnecessary jail time--all at the public expense. Stable, permanent housing with supportive services is proven to lower unnecessary public expenses like avoidable hospitalizations.
Over the last few years, we've seen our commitment to this cause pay off. The number of veterans experiencing homelessness has dropped by 33 percent, and we're on track to reduce the number even more this year. And we've managed to reduce the number of people experiencing chronic homelessness--folks who have been living on the street or in a shelter for more than a year--by 30 percent since 2007. That reduction is no small feat, and the annual "Point-in-Time" census is helping us make great strides--but there is still more work to be done.
The men and women I met have names and stories. They have faced hardships that many of us will never know. No matter the paths that lead to homelessness, they are a part of our community, and they deserve better than frigid nights and sleeping on concrete, struggling to maintain good health.
Despite the cold, I was honored to take part in a night that will help so many others find a warm bed. As federal and local governments, providers, advocates, and volunteers, we must continue to work together to end homelessness. With our resources and resolve, we can and will lift our neighbors out of these dangerous situations. It's good for them; it's good for us; and it's the right thing to do.
Calling all HuffPost superfans!
Sign up for membership to become a founding member and help shape HuffPost's next chapter