Living in Phnom Penh, Cambodia's historic capital, Eric Ortega can afford luxuries he never could at home.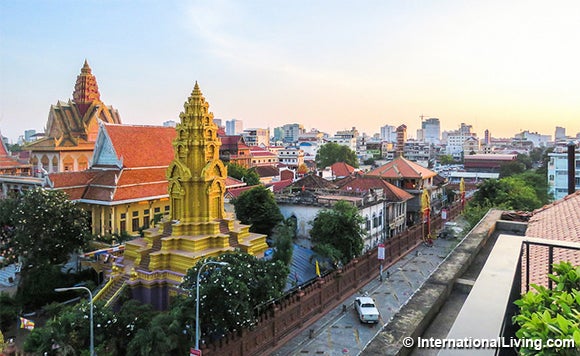 "Every day I follow a relaxed routine, starting with breakfast at one of the coffee shops near my home, where I read the local English newspaper and enjoy coffee with a muffin. Next up, I hit the gym at the Hotel Cambodiana. It is one of the top five hotels in town, with a fully equipped gym, spa, tennis courts, swimming pool, and even a beach area for chilling out. It only cost me $600 to buy a full year's club membership with unlimited access—the same in California would be over $2,000. That's why I go there every single day to work out, play tennis, swim in the pool, or just sit in a lounger and catch the sun."
Golf is another way to have fun without breaking the bank in Cambodia.
"Phnom Penh has five golf courses, with green fees starting from only $15, so if you are an avid golfer, it is terrific," says Eric. "There is a nice mix of expat and local golfers, as well as regular amateur tournaments you can join. I play golf at least twice a week and it's my favorite thing to do here. They have golf courses in the resort town of Siem Reap, as well, so I'm going to visit for a special treat soon."
Eric also makes the most of Phnom Penh's eclectic mix of restaurants, which offer nearly every type of international cuisine.
"It isn't unusual for me to eat out for both lunch and dinner most days. Some weeks I will eat out at a different restaurant for every meal, such is the wide range of places available. I love the Thai food that Tom Yang Gung restaurant specializes in for under $10. And the Blue Pumpkin is an excellent option if you're hungry for freshly baked goods, not to mention their homemade ice cream is super great."
Having retired from the insurance business in his native California, Eric decided he had to make the most of his life in retirement after being stuck behind a desk for nearly 30 years.
"When I was working, my job took over my whole life. I worked late every night and even would bring paperwork back home with me to work on during the weekends," he says. "It was only when I retired that I began to realize how much I had been missing out on.
"Some of my friends had been in the army and were posted to countries like the Philippines and Thailand. Once they retired, they headed straight back overseas on account of the lower living costs. They told me they were living in Asia for a quarter the cost of what I was paying in the States."
After reading up on countries in Asia, he planned to visit Cambodia, Vietnam, and Thailand for a few months each to make his final choice.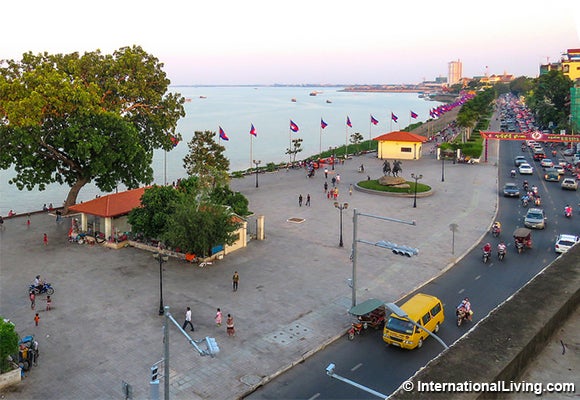 "When I first arrived in Phnom Penh, I stayed in a hotel for a week while I searched for an apartment to rent for a couple of months. A local friend helped me find a comfortably furnished one-bedroom apartment not far from the riverside for $375 a month. Things happen so quickly here that I moved in the same day that I saw the place, which was really convenient."
What started for Eric as a planned tour of several countries quickly turned into a decision to make Phnom Penh his home base for the long term.
"When I arrived in Cambodia I figured I'd stay a few months before moving on, but now I'm settled already. My days are filled with activity and I have a great social life, so I'm not going to move anywhere else right now. It's just too comfortable here.
"Cambodia is where I'll stay for the foreseeable future. It just feels like home, and my cost of living is real nice. Everything is so cheap. My expat life is much more enjoyable than I could have imagined."
This article comes to us courtesy of InternationalLiving.com, the world's leading authority on how to live, work, invest, travel, and retire better overseas.