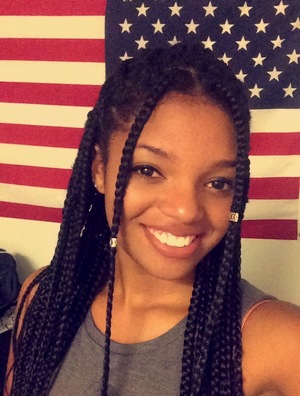 I screamed to my fifth grade class from my seat as if I were the teacher standing in front of the room.
The yelling stopped, and everyone stared at me.
"Listen to Mrs. Deamore," I said. "She's trying to teach."
They followed my command, and Mrs. Deamore returned to the Civil War. Yet within an hour, the rowdy crowd started laughing and talking, stealing the attention yet again.
My classmate, Kayla, turned to me and said, "Can you yell at them again and get them to shut up?"
I did not follow Kayla's request even though I had enjoyed stepping outside of the box of my shyness. My mother often refers to fifth grade as my "lost year," while I will always remember it for that special moment when I found the power of my voice and took charge of the class.
By January, my fifth grade class had pushed two teachers to quit. Then came Mrs. Deamore, who also quit. She wore stylish high heels. She was young, fashionable, but not a match for the rowdy fifth graders. I was considered shy at the time, but my interest in learning compelled me to stand up to the classmates who were bullying yet another teacher.
Looking back, I see my commanding moment as my spark to stop running from the spotlight. In fact, a few months later, I joined my church's choir even though I had never sang in front of others, not even my own parents. During our third practice, the director assigned me a solo. First he asked for volunteers... silence... He announced, "How about Nicole." Flip flop: Everything in me wanted to say no, but somehow I responded "yes."
The night before my performance, I dreamt about singing and falling off the stage. The next morning, I cried the entire way to church. I wasn't kicking and screaming, but still shedding real tears. I was so nervous.
I was shaking before I even started singing, but I took a deep breath and began. As I looked around, I noticed my father smiling at me, which made me laugh and mess up a few words. I finished to loud applause, but I couldn't see anything because I had started crying again.
From there, somehow I found a home on stage and in the art studio. My shyness no longer limited my ability to express myself. As a new artist, I eagerly experimented with different styles. Many of my early drawings were graffiti style with bright colors. I started by making portraits and landscape drawings and eventually continued to take the most rigorous art classes offered at my school. The self-confidence that I gained in fifth grade has grown, helping me develop into an artist both in the studio and onstage. I will never forget the day last year when I raced from the studio to try outs for my school's production of Hairspray. I landed a lead singing role as one of the Dynamites, performing without shedding a tear.
My voice has, once again, found itself commanding over fifth graders in the Sunday school class I teach. A few are rowdy, but nothing like those of Mrs. Deamore's class. Others are as shy as I used to be. I have spent the year encouraging Annia to freely share her opinions with passion. There was a breakthrough one Sunday when she defended her belief in Santa Claus. Jason, always boisterous, challenged her, declaring Santa wasn't real. Annia responded fiercely: "No, he left a letter next to the cookies thanking me, and he signed it Santa..."
I was proud to have created an environment in which Annia did not have to discover her voice by taking over a rowdy class.
Nicole Noel, a graduate of St. Francis Prep, is a freshman at Temple University.
Support HuffPost
The Stakes Have Never Been Higher
Related
Popular in the Community