The Plumfund Story: Saving the Stage
The Actors Conservatory Theatre (ACT) is an established Lewisville treasure whose mission has been to provide a place for all children to experience theater, regardless of the physical or developmental challenges they may face. As a non-profit educational organization, The ACT is committed to fostering the appreciation of the performing arts in children. All shows require very low participation fees since almost all of the work is completed by family volunteers. Four of the five ACT productions each season offer a role for every child who auditions, which means that children like Ava, a young girl with Cerebral Palsy, can sing, act and dance on stage with other children. The fifth show travels to three elementary schools in the Lewisville Independent School District (LISD) so that children may enjoy a live theatre experience. This wonderful program brings theatre to children who would not have the opportunity to experience live theater otherwise.
Last August, the building that the ACT called home was sold to new owners. Suddenly, this small non-profit children's theatre and its committed families were being forced to move, or pay triple the previous rent.
Unable to sustain the rent increase, The ACT faced the challenge of funding an enormous move. Despite finding a new space relatively quickly, there was a lot that had to be done to transform this space into a safe and functioning theatre for families and patrons. The move was not only going to be financially costly, but create a loss for the children who depend on ACT's programs as a source of creativity and community support. This is what led me to start a Plumfund charity fundraiser in support of the ACT.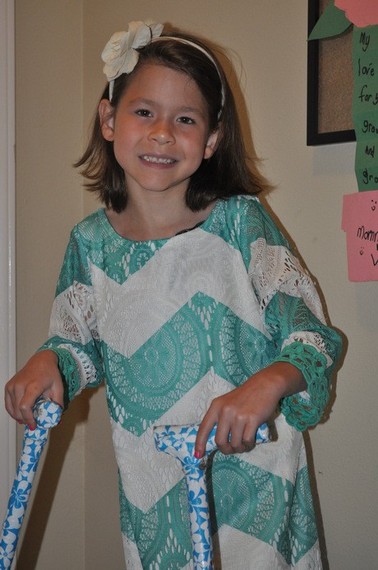 Ava, a young girl with Cerebral Palsy, is an active member with The ACT & shines as a performer in several musical roles
Plumfund in Action: The Show Goes On
The plumfund campaign allowed us to raise awareness amongst our current and former patrons and their circles, resulting in a total of $18,231 raised toward the move!
We moved into our new space in early October, and since then the ACT has performed two main-stage productions in the make-shift space. We are currently working on our third, which is scheduled to open December 11. As the children are rehearsing, our family volunteers are continuously working to make the space a fully functioning theater.
In addition to paying for moving and storage expenses and a sizable security deposit, we have made some renovations, including shoring up and expanding the structurally failing stage, moving walls and creating spaces for set work and costume design, and building set storage racks and costume racks.
There is much work still to be done, but we are hopeful and determined. As we continue to modify the space allocation to maximize use, long-term plans include relocating a support column that stands in the front and center of our viewing audience, enlarging both the greenroom for our large casts and the front of our house for our patrons, and adding a proscenium to the stage, to name a few.
Through it all, our children, families, and production season persevere. We continue to produce our season of shows using our current resources and a lot of creativity. We are encouraged by the progress we have made so far as we strive to create a theatre space that continues to encourage all children to have an experience like Ava's. We know the generous support of many plumfund contributors we will continue to provide all of our ACT children with an opportunity to learn about theatre, to grow in confidence and creativity, and to find a place where they feel welcome and have friends.
This post is part of a series produced by The Huffington Post and Plumfund, in conjunction with Giving Tuesday. In the series, we'll feature inspirational stories of giving and receiving from users and friends of Plumfund, the free crowdfunding site. You'll find one post every weekday in November leading up to Giving Tuesday. To learn more about this campaign or start your own, visit Plumfund.com.
Calling all HuffPost superfans!
Sign up for membership to become a founding member and help shape HuffPost's next chapter