The motto of the GORUCK Challenge is "Under Promise, Over Deliver." While they sell the event as 8-10 hours and 15-20 miles, the Challenge is almost always longer or farther in practice. In this spirit, I'm writing a fourth piece to conclude my three-part series on GORUCK and the GORUCK Challenge.
When I completed the GORUCK Challenge Class 110 in Baltimore this past February, not only did I earn a "GORUCK Tough" patch, but I became a member of the GORUCK Tough (GRT) community. Comprising only of the people who have completed a Challenge, it is a 2,000 person (and growing) Facebook group.
Like most other Facebook groups, the GRT group is a place where people share funny videos, post news stories (usually about GRT members doing amazing things in other athletic endeavors), and talk tough to the Cadre who run each Challenge. None of these things make the community unique. Instead, it is a deep and rich culture of charitable giving which has emerged from the GORUCK Tough community and best speaks to the character of its members.
GORUCK was founded by Jason McCarthy, a former Special Forces operator. Charitable giving is baked into the experience of participating in a Challenge, as GORUCK takes $10 out of every Challenge registration and donates it to the Green Beret Foundation, a group which supports wound Special Forces operators. For larger capstone events, GORUCK requires participants to do their own fundraising drives to support the Green Beret Foundation, with benchmarks of $1500-2000 per participant.
With this grounding in charity, it's not surprising that alumni continue to give as a group. What is surprising is the degree to which the community is always there to support members in need.
Justin Grimm's daughter Charlotte was diagnosed with Acute Lymphoblastic Leukemia in February of 2010, when she was only two years old. Charlotte started on what would be two and a half years of treatment, including chemotherapy cycles and steroid treatments. As Charlotte, Justin and their family were going through the ordeals of Charlotte's treatment, Justin decided to participate in a GORUCK Challenge.
"I signed up for the GRC to physically push myself knowing that mentally I had pushed through far more [with Charlotte's cancer] than the devious mind of Jason could conjure up," Justin says. Justin completed Class 049, where his classmate decided to do the Challenge in honor of Charlotte's fight against cancer. Recognizing that they had done something special, Justin began to engage GORUCK alumni to help raise funds to support the Childrens Cancer Research Fund (CCRF).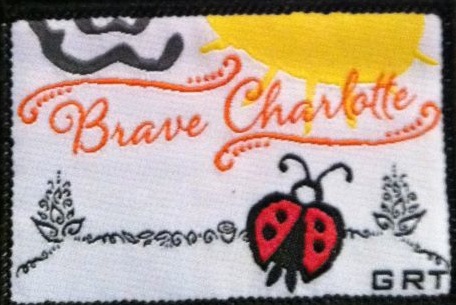 Morale patches are a common item in the GORUCK world and soon Justin had a patch designed to honor his daughter and support the CCRF. Justin describes it, "The Brave Charlotte Patch...represents a ladybug on a stage dancing from the clouds into the sunshine." It both captures Charlotte's indomitable spirit and would serve as a way for the GORUCK Community to support research to help cure leukemia. Donors were recognized with the Brave Charlotte patches and to date the GORUCK Tough community has raised over $10,000 for the CCRF.
In addition to fundraising through patch sales, members of the alumni community began to hold Mini-GORUCK Challenges in support of Brave Charlotte and the CCRF. There have been over fifteen of these events so far with more to come.
The GORUCK Tough community support goes beyond people who are a part of it. In March, Chief Warrant Officer Edward Cantrell, a decorated Green Beret, perished while trying to save his two daughters from their burning home. This tragedy hit the GORUCK Tough family hard - the Special Forces community is close-knit and Cantrell was known by a number of the GORUCK Cadre.
Dan, a Challenge Cadre and Green Beret, was touched by this outpouring. "When CW2 Cantrell passed away a couple months ago, I had people from all over the country in the GRT family emailing me asking for ways to support his family. Crossfit Lakeland Florida dedicated an entire workout and raised money that was donated to the widow of CW2 Cantrell. Patches are in production right now and all funds from the sale of those will go to the widow of CW2 Cantrell. I could go on and on but the GRT family always steps up when somebody is in need."
Cadre Dan sees this as a normal response from the community. "I have never met a more dedicated group of people who are willing to help and support each other. The absolute beauty of it all is that most of the GRT family has never met each other, but when a GRT family member needs help, the outpouring of support is second to none. "
As a relatively new member of the GORUCK Tough community, I've found the willingness of its members to support each other and the causes we believe in to be rewarding in a way I never expected. The culture of giving is something we all strive to bring to our lives beyond the GRT group, but to see it emerge from a backpack company and their unique challenge is remarkable.
GORUCK staff talk about the Challenge as delivering their own kind of "good livin'" - with the implication that intense physical exertion and no small degree of suffering in silence leads us to a more fulfilling way of living our lives. But looking at the community that emerges from these Challenges and it's clear that good livin' doesn't just come from personal, physical accomplishments, but how we build a better world through charitable giving.
Some stories have happy endings and as for Brave Charlotte Grimm, after fighting leukemia for over half her life, she had her final treatment on April 22nd of this year. Her father Justin says, "She is doing better every day. Her energy is coming back and that is a bit of an adjustment too since it's been so long since she hasn't felt like garbage. We are so grateful to all of our friend, family and GRTs for their support, thoughts and prayers."
Calling all HuffPost superfans!
Sign up for membership to become a founding member and help shape HuffPost's next chapter