Design leads our life, and is often intrinsic to our world at home. So, for our first post, we started there, at the point of intersection between how we approach design in our professional work and our love of being surrounded by good design in our lives at home.
In 2003, as a pair of designers looking for more tangible and satisfying work, we stumbled upon and eventually bought a mid-century tile and dinnerware factory in Sausalito, California. Just the year before, we'd bought a home less than a mile away, a terminal fixer upper with an attic for a bedroom and the only bathroom on the main floor, almost as far of a walk as to our new workplace. We didn't plan on it -- meaning it wasn't intentional -- but we were about to embark on redefining both the house and this iconic company, and they became inextricably intertwined.
We used to joke to each other that our house, a simple Victorian cottage build in the 1890s, shouldn't end up looking like the owners had their own dinnerware and tile factory. Eight years later our house has a lot of Heath tile (and plates and bowls and vases) in it. By a lot, we mean almost every room... or at least some on every floor. Even when we think we're done, there's another interesting
installation idea.
Like last spring, when we tiled an outdoor fountain along our walkway, incorporating our new House Numbers (a collaborative design with noted designers House Industries) to distinguish our home from the sweet little cottage we lived in for about six months while tearing apart and remodeling the main house (the first round, 2005). There's also the two bathrooms in whites upstairs and greens downstairs, an entry foyer, a fireplace tiled by Cathy while Robin had the stomach flu; a bright yellow kitchen backsplash with tiles left over from a custom Tod Williams and Billie Tsien project; and an outdoor built-in barbecue and benches tiled by Robin in the rain. This summer we built our 6-year-old a playhouse and thought about tiling those floors, too -- it's no wonder that we still always take a pause to remind ourselves of our old joke and consider how, over the years, approaching design has come to mean something new and more personal than in our previous lives.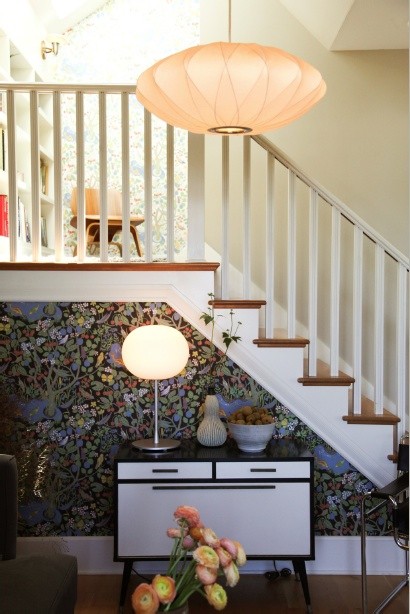 Photo Courtesy of Leslie Williamson
In the end, it works. To us, our home feels loved, it feels thoughtful, it feels honest and, most importantly, it feels like us. The tile and everything else adds to the layers and evolution of what embodies our personal aesthetic. The house has a relationship with the design evolution that goes on at Heath year after year. It's a personal aesthetic that embodies us both as a couple that live together, and as two designers that work together. There's new and old. There's refined and playful. There are our son's toys and our own childhood memorabilia.
In the living room sits an antique deco'ish bar that houses a mouth-blown bright blue heavy glass fishbowl, from Esque studio, the home of Joe, our son's, beta fish: a hand thrown and carved vase by Japanese potter Akio Nukaga who does a show each spring at our LA showroom; Robin's wooden WWII era battleship he made from scrap wood in his New Jersey backyard when he was 10 -- all lit up by a modern Jasper Morrison designed lamp with the backdrop of Josef Frank "paradise" wallpaper, a print that dates back to the 1940s.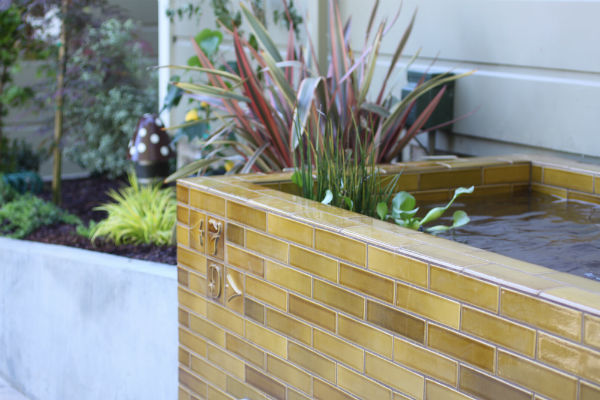 Photo Courtesy of Heath Ceramics
What we've come to realize over these years is that there's an obvious common thread between the objects in our home and the projects we create at work. That being simply that we have an honest passion for them all individually. And maybe that's just it. If you love these objects individually, there's a good chance they will all work together and create that overall style that belongs to you and keeps your design vision evolving. As we pass through the factory each day and consider what's next for our more than 60-year-old company, our house keeps us focused and inspired aesthetically. This will probably never stop... and it probably means the house will never be done, either.
This story of finding our roots and making a house our home is the first in a series of stories we'll post here... behind the scenes stories of our factory and our designs, and stories about the designers and collaborators we work with and admire.
Related