 How two men from divergent backgrounds wound up on the same path.
Gene Simmons has lived most of his professional life behind a mask. Veiled in his signature black-and-white makeup, the celebrated KISS guitarist has full license to embrace his rock 'n' roll persona. On stage, his concerts are an exercise in showmanship and self-indulgence, and like most rock stars, he projects a "look-at-me" quality that pulls generations of fans to their feet.
That painted rock 'n' roll character is not the Gene Simmons we know at ChildFund. Our Gene Simmons is the generous and decidedly low-key sponsor who for years has served as a lifeline to more than two dozen children in Zambia. And until recently, he has done so anonymously.
Gene's wife, Shannon, let the world in on his not-so-little secret as part of their A&E cable program, Gene Simmons Family Jewels. Shannon arranged for the two of them to travel to Africa, but what Gene thought was going to be a safari turned out to be a visit with many of his sponsored children.
Surprised by this news en route, Gene seemed to tense up. The A&E cameras captured his nervous anticipation as their car maneuvered over the dirt roads on the way to the first village. What we didn't know until then was that, as a ChildFund sponsor, Gene had been wearing a different kind of mask. He never had let himself read the regular stream of letters he'd received from his sponsored children, declining perhaps to make a deeper emotional connection with them.
But in a remote village in Zambia, that was about to change.
At the first school he visited, Gene received a welcome befitting, well, a rock star, although such receptions are typical for most all visitors. He was clearly moved by the gifts they had for him, including the gift of song. Before departing, Gene made it a point to make sure the students were healthy, happy and well-fed.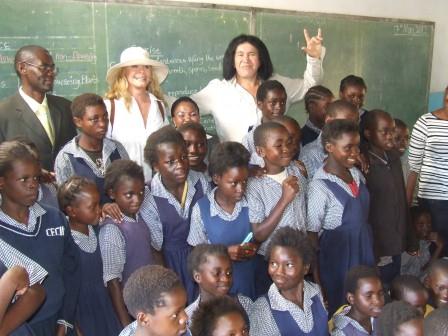 Gene Simmons, and his wife Shannon, meet schoolchildren in Zambia.
At another stop, he met one of his sponsored children, who recently had lost her mother to pneumonia. She feared her mother's sudden passing would likely prevent her from following her dream of becoming a nurse. Returning later, Gene sought her out to assure her that, if she passed her entrance requirements, he would pay for her entire nursing education.
Hesitant for so long to let the children he is helping into his heart, Gene's trip to Africa changed all that. He let himself take off his mask, and when he returned home, having seen the impact of his sponsorships up close, having met the children whose lives he is helping give promise to, he began to make arrangements to dramatically increase his already generous commitment to these children living in a remote part of Zambia. He's currently exploring ways to make a greater impact in Africa.
While Gene was perhaps reluctant to meet his sponsored children, that was far from the case for another of our ChildFund sponsors, David Levis. Given the chance to meet some of the children that he and his wife had sponsored over the past 13 years, the California public school teacher leapt at the chance. He entered ChildFund's "Experience of a Lifetime" promotion on Facebook, and effectively used social media to increase his chances of winning, encouraging his many friends to support his entry.

From the moment he found out he had been selected the winner, David could hardly hold another thought in his head. The prospect of traveling to Uganda where he would meet Sarah, Robinah, Margaret, Dixon and Shafik -- five of the 14 children his family sponsors in Africa and the Americas -- filled him with anticipation. By the time he was ready to leave, he had packed, repacked and packed again suitcases crammed with soccer balls and Frisbees, solar lights and pencils, barely leaving room for a second pair of pants.
Once in Uganda, he was touched by the daily struggles of the villagers, of their collective work ethic, of the energy and labor needed simply to extract water from the ground for the day ahead. He felt right at home in a dimly lit classroom in Uganda's Busia district where he took chalk in hand to draw maps to explain how far he had traveled. The children had so many questions for him: "Do American children drink chocolate milk? Do your students wear uniforms? Do they have cell phones in school?" And later in a village visit, he delighted the mother of a little girl when he let her know that his sister-in-law had agreed to sponsor her daughter. For a week, this sponsor immersed himself in the world of his sponsored children. As it turns out, David Levis did have the "experience of a lifetime."
Although ChildFund does welcome sponsors to visit their children, it's rare for them to get the opportunity to meet their sponsored children in person because of the distance and expense. For those who aren't able to, they can learn about sponsorship through the experiences of individuals such as Gene and David. What emerges from these two fortuitous trips is both the contrast and synergy between them -- two vastly different men making the same kind of difference in the lives of children on the other side of the world. While their paths may have been strikingly different, where they ended up is ultimately the same.
Popular in the Community