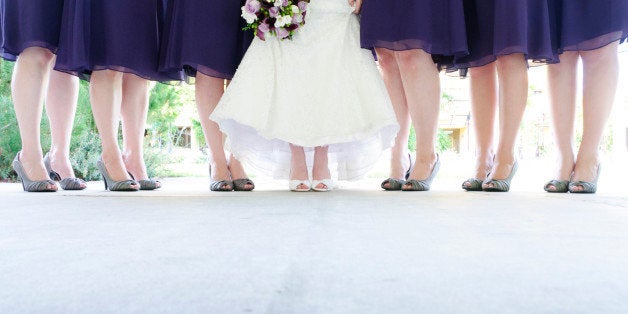 You have willingly racked up an evil amount of hours at the gym, subjected your skin to loads of products and cringed thru numerous attempts to get rid of that unwanted hair. With all of the focus and fuss on perfectly primping for your big day, you may have forgotten that a bride is only as good as her most polished bridesmaid. It is easily assumed that your 'maids are spending just as much time obsessing about their lips and lashes as you are, but before reality steals your sanity like your post wedding bank account, let's touch on tradition vs. your mission and appropriate ways to get your ladies in line.
Tradition: an email or note to ask your favorite friends "Will you be my bridesmaid?"
Mission: Splurge on a small package to send each one of your girls. Include a pretty blush like Charlotte Tilbury Cheek to Chic which compliments all skin tones, a moisturizing hair mask from Karastase, a skin drenching facial mask from Fresh, an eyelash nourishing product like Revitalash (Note: This also helps with brows!) and a lipgloss for the big day that you handpicked yourself. This is great because it gives you control and also alleviates any concern regarding touch ups. Our suggestion for lips? Bite Beauty lip stains and lip wipes. Their products are not only non-drying but they have incredible staying power. We are completely obsessed with these and have every single color!
Expert tip: Choose a "lip palette" and send each bridesmaid a slightly different hue. For example, if you choose pink, send each girl a slightly different shade that works with their skin tone and comfort level. Everyone wins! For major staying power, we love Antonym Waterproof Lipstick Pencil. Great to use as a base under a gloss or by itself.
Tradition: a night out with the girls sounds fun, but an alcohol and fatty food infused bachelorette is a detriment to your skin and well being.
Mission: Grab your girls and head to your local spa. Sip green smoothies while dipping your nails in your favorite nude. We love JINsoon in Nostalgia. This ensures that everyone will have well manicured hands and no electric blue nail polish.
Expert tip: Ask your bridesmaids to wear the color of your choice on their hands but tell them that they get a free pass for their toes. It's all about compromise!
Tradition: Hire your makeup artist to come in for the day and let everyone choose their look.
Mission: To maintain the aesthetic true to you, predetermine a few looks with your makeup artist that your girls can choose from. This approach will allow each girl to choose but also sets a guideline, so all is cohesive at picture time.
Expert tip: If you tend to like one style of makeup (Hollywood Chic, Smokey Eye Sexy or even Natural), you can base variations off of that one look so everyone is a little different but compliments one another. For example, "natural" can mean an emphasis on the
cheeks, or a bronzed glow and a smudge of liner, or large lashes with a pretty lip
hue. A smokey eye look can be soft and subtle using browns or grays or it can
highlight the lashes and lash line without much shadow. The right artist will bring the
creativity to the canvas!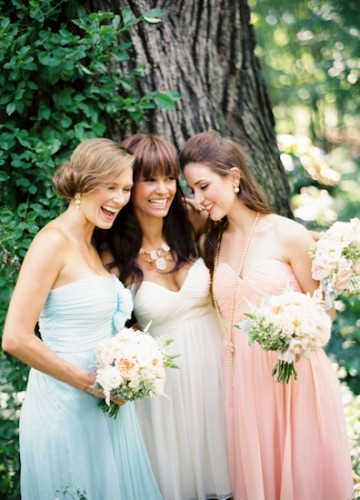 Photo Credit: Trent Bailey Photography