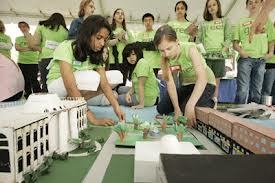 In the wake of this divisive election that featured climate change as a break point issue, it is easy to assume that climate action will come to a screaming halt. How can we create consensus and momentum on this complex environmental puzzle when the country is so polarized? Our salvation comes from one convenient truth: most "climate solutions" are actually exactly what America wants and needs, regardless of climate change.
If you doubt this, think about air quality. One of the biggest co-benefits of shifting away from fossil fuels is cleaner air. China's movement alongside the U.S. toward greater climate action has been driven in part by frustration among the Chinese people with serious air quality issues in cities. Similarly, here at home, some of the former industrial regions that voted most heavily for President-elect Donald Trump also suffer persistent air pollution. The same is true of America's low-income city neighborhoods, often crowded by highways and industrial areas, which came out more heavily for Hillary Clinton. Continuing to develop a cleaner energy system that meets our power needs while generating less air pollution is good for everyone's health—and good for climate change.
Investing in our forests is not a painful solution—far from it. The rural areas that came out heavily for President-elect Trump are disproportionate beneficiaries of a stronger forest economy. As with other industries, our forest sector here at home is facing unprecedented global competition and other challenges. Creating incentives and investment to conserve our forests from development and then take action to make them as healthy and well-managed as possible will spin off lots of forest products, forest jobs, and carbon capture.
A third example is energy efficient and diverse transportation alternatives. Everyone—Republican and Democrat alike—detests sitting in traffic. Further, providing alternatives to car travel creates health and livability benefits with universal appeal, such as more calories burned and less time spent sitting. Investing in a fully integrated transportation system of safe and well-maintained roads, public transit, and walk-bike corridors will better our collective lifestyle, economy, and mood while reducing carbon emissions.
Identifying these natural opportunities for consensus is not to deny that we will have some tough conversations ahead about U.S. climate policy. Coming to agreement on our international responsibilities and our regulatory mechanisms will be difficult. But as we work on these thornier issues, we must continue to build climate momentum by moving on the convenient truths in climate change, those actions that can be easily embraced by all Americans. At this pivotal moment for global climate action, each step forward counts.
Calling all HuffPost superfans!
Sign up for membership to become a founding member and help shape HuffPost's next chapter
This post was published on the now-closed HuffPost Contributor platform. Contributors control their own work and posted freely to our site. If you need to flag this entry as abusive,
send us an email
.