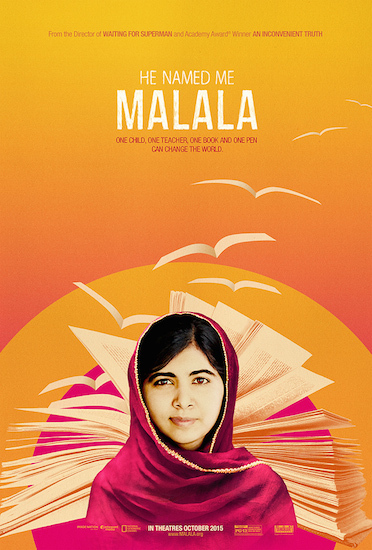 There aren't a lot of positive stories coming out of the Arab world these days. Between ISIS, Syria, the refugee crisis and the contorted dances of modern diplomacy, the Region could look pretty grim to an outsider.
Yet if you move in the right circles, mingle with a select cultural crowd and call cinematic crews your playing grounds, the Middle East is actually ripe with beautiful and heartwarming narratives. And even more so if you live and love cinema as much as I do, you begin to realize that our way back from these dark times could lie in the healing and unifying power of the seventh art.
Nowhere was this more apparent than at a recent screening for He Named Me Malala inside the Emirates Palace in Abu Dhabi, introduced by Image Nation Abu Dhabi CEO Michael Garin. One look around the crowd, gathered there by invitation only, and I could see English boys in black suits mingling with their female counterparts in pretty floral dresses, Emirati men in starched white thawb talking about this, that and sports, women in fashionable black abayas detailed with lace "Instagramming" about their lives, and a variety of expats from Lebanon, Iraq, Syria and Jordan, with plenty of Palestine sprinkled in, all enjoying the global atmosphere.
Because that's the alternate truth of the Middle East, the story not told on the news.
He Named Me Malala, produced by Walter Parkes and Laurie MacDonald under their long-term production partnership with Image Nation Abu Dhabi, is a documentary directed by Davis Guggenheim, featuring the story of Malala Yousafzai -- the fifteen year old girl who was wounded by a Taliban shooter while riding a school bus to class. Along with two other girls, Malala survived, though coming back to normal from the head wound she suffered has hardly been an easy road.
Guggenheim's documentary begins with an animation segment recounting, and reinventing, the legend of the Afghani girl Malalai, Yousafzai's namesake. She is believed to have spurred on her countrymen, thus changing the outcome of a battle against the British army, by saying -- and this is definitely paraphrased -- "It is better to live like a lion for a day, than like a slave for a hundred years." Malalai was also shot, but unlike our modern Nobel Peace Prize winning heroine Malala, she was killed. Haunting, the legacy a name that means both "grief" and "courage" can carry.
After the screening, which predictably received a lengthy standing ovation, producer Walter Parkes admitted that the film was meant to be a narrative, inspired by the book I Am Malala, which Yousafzai wrote with the help of Christina Lamb. In the process of putting the project together, it became clear that this needed to be a documentary instead, and Davis Guggenheim explained it was because of the "connection" they all felt "with this family." In fact, it is through the voices of Malala's two brothers, and both her parents, that her character, resilience and peaceful forgiveness shine across the screen, to create a powerful hold on the audience.
And the choice to show a real life, favorably portrayed Muslim family is what makes the film legendary in my view. I wonder how many people watching it in the Western world realize that they are sitting through a film which "tells the truth," as Guggenheim pointed out, and shows, as he continued saying, "a true Islamic family for a world that has never seen that."
There are many bits and pieces of Malala's story that I only found out about through this film, like the fact that the United Arab Emirates sent the plane that transported her, still in a coma, from Pakistan to the UK. Guggenheim again pointed out, that while a doctor in Pakistan definitely brought Malala back from the brink of death, the UAE, "sent a plane to save my friend's life," which got him a round of applause from the Abu Dhabi crowd.
Then there are the circumstances leading up to Malala's shooting, which are a result not only of her desire to be educated -- as we are constantly told in the Western media -- but also stem from her dad's constant criticism of the Taliban. Perhaps in the West we need to believe that a girl is persecuted in Pakistan for simply being a girl but I find that the truth always lives in deeper shades of grey. While of course Malala's strength and determination had to be a thorn in the side of the local Taliban leader, his motivation for ordering the shooting ran deeper than that. Malala's father Ziauddin Yousafzai had been publicly critical of Mullah Fazlullah, who then ordered a hit on him over the radio.
Malala's mantra is education and she is a wonderful ambassador for a kind of "no child left behind" campaign. She declared, after the screening, "we need to build an army, to fight for the right of every child to go to school," and that's one army even I can feel enthusiastic about.
My own feelings about the whole "Stand #withMalala" movement are mixed, and I'm sure this simple hesitation on my part will make me a villain to most people. But it's a very personal thing, this uncertainty about her figure, and the gung-ho enthusiasm with which the entire world has embraced her tragedy and helped her make it a triumph -- while many others are simply left to fend for themselves. Like say, the girls who were kidnapped by Boko Haram, never to be seen again... While Malala is an undeniable heroine, a strong, proud, beautiful example of what a young girl with courage can achieve even if dire obstacles are thrown in her way, I also find her figure a bit too convenient for Western, deeply patriarchal standards.
Yet I'll take a positive, Muslim female narrative to show the world what I've been shouting about to the four winds for years, any day. So thank you, Malala!
Poster image courtesy of Fox Searchlight Pictures, used with permission.
Popular in the Community