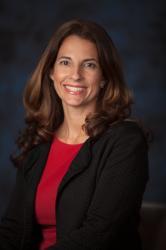 Below, Bonnie St. John interviews Rachel Cooke, Chief Operating Officer of Brandon Hall Group, a premiere thought-leadership organization in talent management. Rachel recently published a new report that provides fresh insights to the reality of gender inequality in senior corporate leadership based on an extensive survey and interviews with seasoned women leaders from around the world.
Rachel's report, Women in Leadership and Gender Parity: Is Change Happening Fast Enough? reveals that women comprise 25% or less of the C-suite positions in 70% of companies. The paper examines the barriers that lead to that disappointing statistic and features over 25 interviews with female leaders who have defied the odds. These interviews offer candid viewpoints on why barriers exist and how they can be overcome. The survey research involved 420 respondents from 26 countries in more than 30 industries. http://go.brandonhall.com/l/8262/2016-11-28/645hk5
Bonnie: Before we dive into the results of your ground-breaking report, tell me why this issue is important to you personally.
Rachel: I grew up with a single working mother, who instilled in me the drive to work hard and to be independent at a very young age. I didn't grow up thinking there were differences between men and women with regard to what we are capable of accomplishing –only that as people we have different preferences in what we aspire to do and be. In high school, I had a great experience working several years for a healthcare organization, Visiting Nurses, which was run by women who were smart, productive and supportive. I didn't notice any issues with gender parity for females until later in my 20's when I started to see that, in most corporations, men typically held the roles in senior management. I began to question why this was the case. I did find it unjust that so many women who are smart, hard-working and just as capable, are not getting the opportunities to advance at the same rate that men do. I think that experience made me biased early on in not wanting to work for a large corporation. I thought that I might not have an adequate chance of advancing even if I worked just as hard, or harder than a man.
At Brandon Hall Group, I am a co-owner and COO. I have had an opportunity to work with many different companies ranging across all industries - with the majority in the Fortune 1000. As a Human Capital Management research firm, we uncover organizational trends and leading practices with people, process, and technology.
Bonnie: You are such a great example of women's leadership. It is crucial that women garner decision-making positions. I suspect that if you were not at the top of your organization, it is unlikely that this study would have been such a high priority.
Rachel: You are so right! The research that we are doing in Women in Leadership is fascinating to me because I feel it is imperative for women and men to understand each other better and work more effectively together to improve the culture and profitability of all organizations.
Bonnie: So tell us about the major findings in your 2016 Women's Leadership Study.
Rachel: It's clear that we still have a long way to go-- only 12% of responding organizations said they see gender parity when it comes to C-suite level executive roles. While it is encouraging that 97% of survey respondents say that the interest in having women advance to top executive positions has remained the same or increased in the past few years, that interest has not always translated to action or change.
Bonnie: What can companies do to work toward closing this gap?
Rachel: Companies need more targeted development opportunities for women leaders if we want to see any significant change in our lifetimes. Our findings showed:
•81% of organizations do not offer a core women-in-leadership program focused on critical skills training.
•76% do not provide a mentoring program aimed exclusively at grooming women leaders. The cause underlying these various issues is a lack of understanding, focus, and coordinated effort. Companies are faced with many competing priorities and continue to struggle with talent issues. Enterprises that focus on diversity, gender equality, and creating equal opportunities are going to see greater benefits. However, without decent effort and intention, these and other issues will continue to limit performance.
Bonnie: What do you think holds women back to become, or aspire to become, leaders in organizations?
Rachel: Our recent survey of over 400 international respondents across more than 30 industries revealed these 7 top barriers: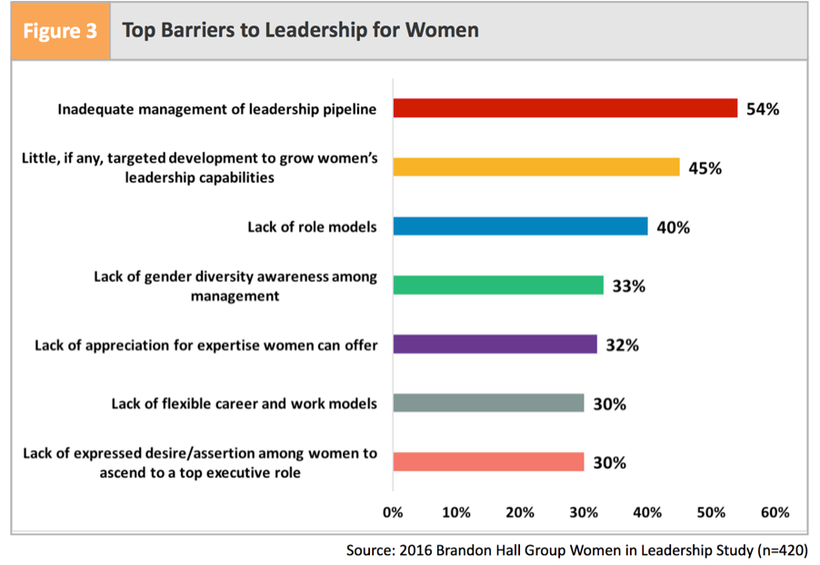 Programs to resolve these barriers would create a culture and atmosphere for women to advance to and excel in leadership positions.
Bonnie: What can women do to move past these barriers?
Rachel: First, we need to continue to educate, bring awareness and create opportunities for mentorship and development for women and men. I mention men because it is important that they are part of this process if we are going to make positive change. There must be more programs targeted for women to improve their leadership skills that don't just focus on work-life balance.
There are still a lot of internalized cultural biases that hold women back, too. In India, for example, young girls are taught to think that certain jobs are for men, and certain jobs are for women, so they grow up lacking the confidence or exposure to breakthrough social norms. This kind of bias exists not only in India but also around the world.
Bonnie: You mentioned the importance of targeted programs for women. Can you tell us more about that?
Rachel: Among the organizations in our study who are providing targeted opportunities, there are a wide range of practices in use.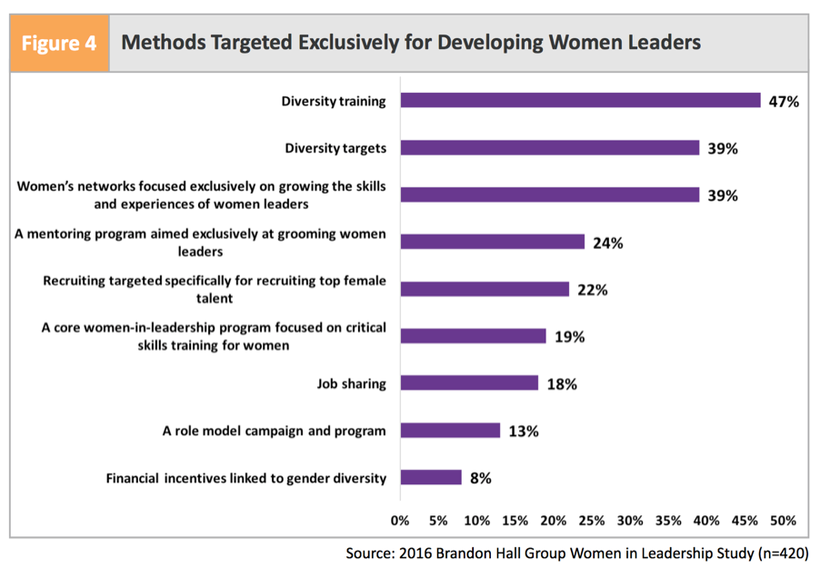 Bonnie: What advice would you offer to women who either are just starting out or are aspiring to advance in their role?
Rachel: It is important to understand the cultural and societal biases and what impact they have on some of the decisions women make in their careers.
I advise that women continue to seek out opportunities to:
1. Be a Role Model – inspire other women
2. Become a Mentor - create change
3. Educate and Challenge Yourself – don't accept the status quo
4. Refine your Brand - make sure your self-story doesn't hold you back
5. Align and Help Shape an Inclusive Culture - whether it is an organization or social community to celebrate women's abilities and achievements
As women, it is our responsibility to drive social change, be role models, and embrace and highlight women's successes. We need to emphasize our capabilities and strengths so we encourage other aspiring women that they can accomplish anything they put their minds to –just as well, if not better, than a man.
REAL LIFE. REAL NEWS. REAL VOICES.
Help us tell more of the stories that matter from voices that too often remain unheard.
This post was published on the now-closed HuffPost Contributor platform. Contributors control their own work and posted freely to our site. If you need to flag this entry as abusive,
send us an email
.