In Charles Mingus's autobiography Beneath The Underdog he introduces the reader to his three selves from the first page.
"In other words, I am three." He goes on to say, "Which one is real?"
"The man who watches and waits, the man who attacks because he is afraid, and the man who wants to trust and love but retreats each time he finds himself betrayed."
I've never met Paul Hudson aka H.R., Human Rights, Hunting Rod, Joseph I singer and frontman of the mighty Bad Brains. As I'm writing to you H.R. is recovering from brain surgery which occurred on February 21, 2017, to alleviate the debilitating headaches that have plagued him over the years.
Man, Bad Brains were a motherfucker. They were a mass of contradictions. They were an all black group in a white punk scene. They were devout dreadlocked Rastas yet one of the greatest punk bands of all time. Bad Brains were one of the most respected American punk band of the late 1970s and 1980s because they truly embodied the spirit of be-yourself-not-giving-a-fuck-what-anyone-thinks-punk-rock.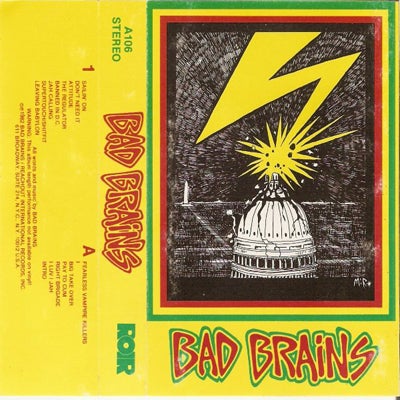 Before punk codified into the conformist uniform of Mohawks and spikes it was about doing whatever you wanted to, and doing it loudly. Bad Brains were the heaviest, fastest and the most technically proficient punk band who happened to play reggae. The binary vacillating between punk and reggae could be likened to painting with complimentary colors, bringing out the best in opposites.
H.R. is one of those mercurial personalities that according to his closest friends can be one of the warmest people you've ever met, or someone who isn't totally there. Finding Joseph I: An Oral History of H.R. from Bad Brains by Howie Abrams, and it's accompanying documentary by director James Lathos, explores the different selves of rock 'n' roll's greatest punk reggae frontman. Below is a discussion between Mr. Abrams and myself that took place over email during March of 2017. I haven't seen the documentary yet.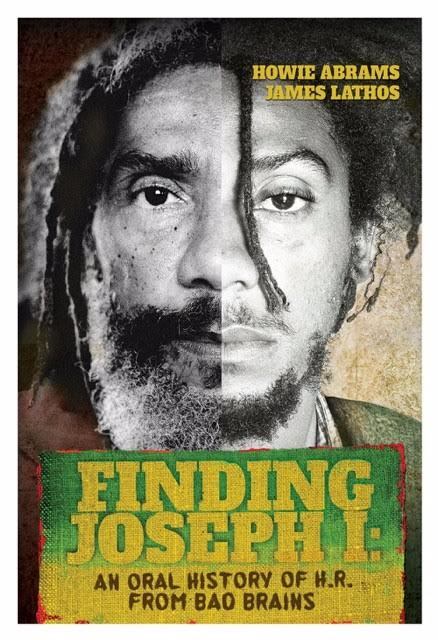 MN: I did a little homework on you Mr. Abrams. I read quite a bit about your life and many different roles throughout the music business. What are you currently up to?
HA: Obviously, the music industry is far from what it once was. It was a great ride for me for 25+ years, but it came time to move on and do something else. But I knew I was too married to music to step away completely. I wrote my first book, The Merciless Book of Metal Lists, on a whim, after nerding-out with a couple of friends about heavy metal. "I love that album, I hate that album cover, these guys sold out after their second release, I wonder how many metal bands used goats on their covers," stuff like that. The book was successful enough that Warped Tour founder Kevin Lyman reached out to me to put together a book for the 20th anniversary of the tour, and I concocted Misfit Summer Camp: 20 Years on the Road with the Vans Warped Tour which was also well-received. I woke up after these were completed, and realized I was in the book business. Right around that time, I reconnected with former Roadrunner Records owner Cees Wessels, who had launched a publishing company in the Netherlands after he jettisoned the music business. We discussed there being a need for a book publisher which operated similarly to the way early eighties indie record labels did, so Lesser Gods was born. He asked me if there was a bucket-list project I'd like to work on, and immediately, I told him, "H.R. from Bad Brains." Bringing book projects in for Lesser Gods is what I spend a good deal of my time on in addition to writing. Currently, I'm putting together a hip hop alphabet book with Brooklyn graffiti legend, Kaves which will be published by Lesser Gods in October.
MN: How did you originally meet H.R.?
HA: I'm basically a Bad Brains superfan, and I'd met H.R. briefly a few times since the mid-to-late-eighties, including at a recording session in Los Angeles with rapper ILL BILL, whose album H.R. appeared on. The first time I sat down with him to have a substantive discussion was when he and filmmaker James Lathos came up to New York to talk about creating this book to complement the Finding Joseph I documentary that James had already begun. Back in 1989, I released the Bad Brains' ROIR cassette; their debut album on CD for the first time ever, so we had a few common talking points which broke the ice. Plus, I have the cover of that album tattooed on my leg, which I was able to show him. He laughed, and told me I was crazy.
MN: Why was an oral history the format you chose for the book?
We decided upon an oral history format because H.R. is generally very reserved and soft-spoken. He doesn't tend to enjoy talking about himself very much, and doesn't always go into great detail about his experiences or history. Everyone who has ever encountered him; be that as a friend, admirer, musician or otherwise, seems to have at least one H.R. story to tell. As James Lathos was already realizing with the documentary about H.R., all of these different voices contributing to the project made the articulation of H.R.'s story much richer and more colorful.
MN: How much time did you spend with H.R.? How much interest did he have in doing a book?
HA: I didn't spend a ton of time with him - we maybe got together with a couple of times for an interview. James had already been working on the film with him for 5 or 6 years by that point, and had interviewed him at least a dozen times. It was James I reached out to at first when Lesser Gods formed to pitch the book idea. He spoke with H.R. about it, and he was keen on doing it, so we got together to discuss it in greater detail. When we met, he had only just been diagnosed with schizophrenia and had begun taking medication for it. You could tell from the interviews, there was a drastic difference in him from when James began working with him and when I did. He seemed to have become much more lucid and focused.
MN: Being a black artist in the primarily white D.C. punk scene may have lead H.R. and Bad Brains to embrace the Rastafarian religion as a means to a black identity. Would you say the spiritual aspect of the Bad Brains was more informed by identity than by actual religious convictions?
HA: I believe their embrace of Rasta combined both of those things. While it may have been largely for identity at first; certainly for H.R., it became a deep devotion to God. Washington, DC at the time the Bad Brains found Rastafarianism was one of the most segregated cities in America; divided between the government "haves," and the average citizen "have nots." Anyone who's oppressed and largely forgotten needs something to help them keep their head on straight. I know seeing Bob Marley when H.R. was younger was transformative, in part because of the political and social overtones of the music, but also because Bob was black like H.R., and seemed to be speaking for people like him and everyone around him. As beautiful as reggae is, it was still rebel music. It was the people's music. H.R. had already been through a lot of difficult experiences in his young life, and was searching for something to give him focus. I think finding Jah provided most of that focus.
MN: As such an admirer of H.R. did you find it difficult to broach some of the homophobic behavior with him? The incident with The Big Boys in Texas is pretty legendary, but the book conjures up other less infamous examples of it.
HA: I dreaded the first time I had to bring all of that up with him, but I knew I had to go there. There were so many stories floating around about certain incidents - plus the song "Don't Blow Bubbles" - and so many of his fans had been terribly turned-off. It was crucial to have him comment on the subject. It was encouraging to hear him say he regretted those incidents, and had found a way to balance his devotion to God with a more live-and-let-live attitude. Most people who follow the bible the way H.R. does never seem to be able to get to that place of acceptance. I'm very happy he has.
MN: I learned from the book that H.R. had a broader ambition with his solo records. What were some problems H.R. had in being a bandleader?
HA: As much as H.R. is a leader in many ways, the stage is his sanctuary; the place where he gets to express himself and let it out. It's where you find him at his absolute best. I don't think keeping up with the organizational aspects of being in a band was something he ever wanted to take on, but when your name is on the marquee so to speak, you have to embrace that along with making the music and delivering the message. There were so many members in-and-out of his solo group(s) over over the years, which is so hard to keep up with. When you go on tour for instance, and you're not even sure who your band is, how can it ever be firing on all cylinders? That said, he's so unique and special, sometimes it just fell into place regardless.
MN: Being a big reader of liner notes as a kid, I was really happy to hear from Ron St. Germain in the book. What were some of the best interviews you did for this and about how many were there?
HA: I'm a liner note nerd too. I've scoured them for as long as I can remember dating back to being a huge KISS fan when I was a kid. I wanted to know who everyone was and what their job was as if my life depended on it. As far as reading through the interviews once they were transcribed - I believe there were upward of 125 interviews conducted - I thought the Bad Brains' manager Anthony Countey gave some great insight. He was with the band since they essentially became the Bad Brains that most people know and revere. Anthony offered up a sincere, warts-and-all account of so much that went on for over thirty years of that band's existence. I also loved what Ian MacKaye had to say. Ian really only knew H.R. up until 1983, but was around him when so many important things happened; not only with Bad Brains, but as punk morphed into hardcore and how H.R. effected that change. Of course Ron St. Germain's commentary was fantastic. Getting the whole "Sacred Love" story about H.R. singing the song over the phone from jail from Ron's perspective was tremendous. Anyone can tell stories from a fan's point-of-view, and everyone seems to have one about H.R., but hearing from the people who were involved in real game-altering events with him were the best.
MN: The 1995 Beastie Boys tour with Bad Brains opening seems to be where things became completely unhinged. Was H.R. being medicated after this point?
HA: H.R. didn't actually seek out the help of a doctor for what he was going through for several more years yet. After the Beastie Boys tour debacle in 1995, and what happened shortly thereafter when Bad Brains toured with the Deftones opening, and H.R. clocked a kid in the head with a mic stand, he was homeless for quite a while in California, which is where he had been living while the band recorded God of Love for Madonna's Maverick Records. Thank God there were so many people out there who took him in and gave him a place to stay for periods of time, and there were many of them. Bad Brains managed to record a couple more albums through 2012 before he sought help. It was the group's tour in support of Into the Future in South America on Lollapalooza when things came to head regarding his mental health. H.R. was in really bad shape by this point. His episodes of psychosis had become more frequent and intense. He had become someone other than his natural self. It was clear to everyone in the Bad Brains camp, his then girlfriend Lori, as well as my co-author James Lathos, who had already been spending a lot of time with H.R. filming his documentary, that substantive action needed to be taken. He couldn't survive much longer the way he was. He soon began to understand and embrace the fact that his symptoms spelled out schizophrenia, and let his guard down as far as accepting outside care.
MN: There's a thread of mental illness throughout the history of rock n roll. I see H.R. in the pantheon with Brian Wilson, Roky Erickson, Alexander Skip Spence and many others who have recorded classic records that the world outside of the creative space was too problematic to function within.
HA: That creative space, whether it be on stage or in the studio, for all intents and purposes is H.R.'s happy place. His passion for music and the freedom it affords him to focus and express himself is like no other outlet. Personally, I've suffered from an anxiety disorder for at least twenty years, and I know music gives me a place to go when I need to shut my mind off from whatever it is that's triggering it, and I'm simply a fan. I can only imagine what it allows such a creative and special individual to do, as far as recording and performing. At the end of the day, whatever H.R.'s experiencing at a given point in time makes him who he is at that moment. It affects creative output in whatever way it manifests itself. Whatever he's feeling and whatever signals are coming through come out in his musical expression, even if sometimes it's very confusing. You have to accept that from truly special and creative individuals, and H.R. deserves the benefit of the doubt in that way, because he's earned it.
MN: Do you find it ironic that both Gary Miller (Dr. Know) and H.R. are both recovering from life threatening medical problems rights as the Bad Brains are being nominated for the 2017 rock n roll hall of fame?
HA: This might be a strange analogy, but there are older people who are ill, but who somehow will themselves to live long enough to see major life events like their child's wedding, or the birth of their grandchildren... Maybe that's what happened with Doc and H.R. in relation to the Rock Hall nomination. It's crazy to think back to the dire shape these two were in only a summer ago, and now they're both doing so much better. One of the greatest experiences I've had over the course of promoting this project happened at the Brooklyn premiere of Finding Joseph I. I was talking to H.R. over by where we were selling books, and Dr. Know walked in the door completely unexpected. No one knew he was coming. I told H.R. to turn around and he saw Doc standing there. They embraced like long-lost brothers, and without a word being uttered, they communicated to one another how fortunate they knew they both were to even be standing there. It was the first time they'd been in the same room for several years. A truly magical moment. With that, while I know they genuinely appreciated the Hall nomination, they seemed to take it in stride as something that ultimately didn't change much for them. I think the fans have been the ones most proud of the acknowledgement.
MN: I think Quickness is an underrated record. What do you think?
HA: I really like Quickness a lot, but it isn't my favorite Bad Brains album by a long shot. The production is tremendous, particularly the guitar tone, and some of the songs are bangers like, "Soul Craft", "Voyage Into Infinity", and "With the Quickness", but the lyrics to "Don't Blow Bubbles" always bothered the shit out of me. It rattled a lot of my friends, gay and straight, who were huge fans. It's probably the only Bad Brains song I ever skipped when it came on. They were still an amazing live band on that Quickness tour though. As far as their albums; give me the ROIR cassette, or I Against I any day! Black Dots is great too, but I didn't hear those versions of the songs until years after they were recorded, and many of them had been re-recorded for other albums by the time I did. It's still amazes me how much "Redbone in the City" apes the Sex Pistols' "God Save the Queen," but damn, what Bad Brains was doing in 1979… I only wish I hadn't been 11-years-old then, and could have seen them play at Max's Kansas City!
REAL LIFE. REAL NEWS. REAL VOICES.
Help us tell more of the stories that matter from voices that too often remain unheard.
This post was published on the now-closed HuffPost Contributor platform. Contributors control their own work and posted freely to our site. If you need to flag this entry as abusive,
send us an email
.