This Friday, December 2 at 7:30, San Francisco Opera Center presents The Future is Now: Adler Fellows Gala Concert. The ten artists from the 2016 opera training program will present arias and scenes from a wide variety of works accompanied by the San Francisco Opera Orchestra led by Resident Conductor Jordi Bernàcer.
I met recently with second-year Adler Fellow, baritone Edward Nelson who will be singing the duet from Pagliacci, "Nedda! Silvio? A quest'ora!" with soprano Toni Marie Palmertree and the aria from Billy Budd, "Look! Through the port comes the moonshine astray" with an assist from bass Anthony Reed.
During his two terms as an Adler Fellow, Edward made a number of impressive appearances with SFOpera, among them the world premiere of Marco Tutino's Two Women (as John Buckley); Carmen (as Moralès); The Magic Flute (as Second Priest, with English libretto by David Gockley); Debussy's La Chute de la Maison Usher (as L'Ami); Don Pasquale (as Malatesta); and Madama Butterfly (as Prince Yamadori). At the June 16 farewell concert for General Director David Gockley, Celebrating David, Edward was the first to sing. Following the Overture from Porgy and Bess and opening remarks, came the huge digital projection of the in-flight plane used in John Adams' Nixon In China and the opening measures of the aria, "News". The sound felt massive, the scene required Edward to be on microphone – the effect was magical. "It was important to have the aria on the program," he said, "because it is so integral to the narrative of David Gockley being one of the great commissioners of new opera."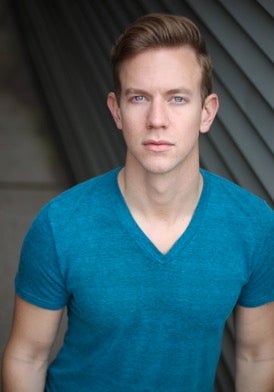 "In one of the speeches at the after-party was a mention that David Gockley had commissioned more operas than any king, any Tsar, the Esterházys or the Prussian Empire. Nixon In China is one of the most successful of those commissions. It was the first opera by John Adams who has since become one of America's most treasured composers.
"When I look back on my time in the Adler program, I will never forget that concert. I saw Renée Fleming, Frederica von Stade, Thomas Hampson and René Pape standing in the wings – artists I've admired for years – and I'm the one opening the concert! I see the video of the plane, I hear the music that precedes my entrance, and then the stage manager saying, 'And–go.' It was one of the most exhilarating moments ever. I've never felt the need to deliver more than in that moment. I understood what that moment required."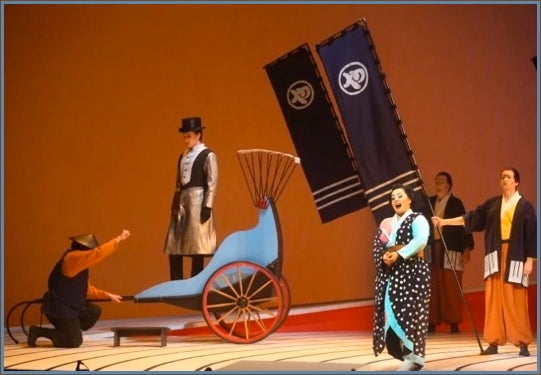 "As a person growing up listening to recordings of Robert Merrill and Leontyne Price – having fallen in love with opera through the classics – there is always going to be a part of me that wants to have a 'legitimate career' – one that has the classics in it. It's not often you wind up doing a Madame Butterfly with someone such as Lianna Haroutounian – who really makes it sound like you're hearing the opera for the first time. It's not tired, not worn out. That's one in a million. How many other Madame Butterflies are going on in the world right now? You're not going to come across sopranos like Lianna very often."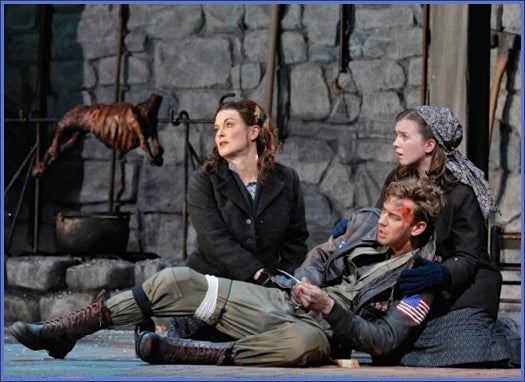 "I think there is tremendous merit to the idea of making your mark on something new and reaching a new audience and perhaps cultivating new fans of opera who are not going to like the classics but only come to hear a new piece by Nico Muhly, John Adams or Jake Heggie because it appeals to our modern sensibilities. The way a living composer is going to construct a narrative has an inherent connectivity to modernism and modern society. So, of course, as someone who wants the art form to move forward, to succeed, and be sustained – I absolutely want to lend my voice to any modern composer who will have me. But I also find a connection to modern music. I feel I have a good ability to make sense of modern music where others are sort-of confounded – that is, being accustomed to very classical forms, melodies and metric structures. I think the contemporary works just fit in my brain a different way – and I am drawn to them."
Edward Nelson is one of the most versatile actors to emerge from the Adler Fellowship Program. He is at home with the most complicated, intellectually complex characters as well as being blest with superb comic timing. His natural charisma and technical artistry made him the perfect companion ("L'Ami") for genius baritone Brian Mulligan in the Company's 2015 presentation of Debussy's fascinating/off-the-wall La Chute de la Maison Usher. In 2017, Edward will take-on the title role in Hamlet by Ambroise Tomas at West Edge Opera in Berkeley.
"I think the stars aligned. The company offered me the part. Outside of the largest and most famous opera houses, not many American companies are going to do this opera. So, to try out Hamlet – with a company that is exciting and young, doing cool things and getting a lot of attention and in a city where I am comfortable – it was a no-brainer. I had to accept. It's a monumental challenge. When you're doing an operatic version of Shakespeare, you are doing an inherently skeletal version of the character. You must find where to add-in all the nuance and complexity and have it make sense with the text – with the amount of material you are given. It's a balancing act. The more complexity there is in the score, the more information is being handed to you. Right now I'm preparing my first Die Schöne Müllerin – where you have the opposite. You really have to come up with something out of seemingly nothing. Some of the songs have five verses, all with the same melody, which you cannot inflect the same way every time. You have to cultivate as much information as possible in how you're going to deliver the text in order to get it across to the audience. When you have a score that is very complex, I find that much of the work has been done for you. The more complexity, the more information."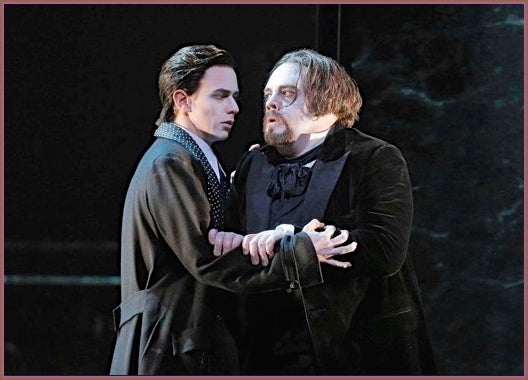 Edward Nelson and the title role in Benjamin Britten's Billy Budd is a project waiting to happen. Ultimately, the Adler Fellows concert is about presenting the individual artists in repertoire that not only suits their vocal fach (vocal category) but points to roles they are ideally and commercially suited for – perhaps right now. Again, his dramatic know-how, intellectual perspicacity, onstage appeal, and sonorous vocal chops will place his name above the title for the role that many strapping young baritones consider the career opportunity of a lifetime.
"Sheri Greenawald [SFOpera Center Director] and Mark Morash [Director of Musical Studies] are so generous with us in accepting what we might want to do. I'm so happy to do this scene – known as 'Billy in the Darbies' – and, for the first time, with orchestra. It's the scene where Billy has been locked up after accidentally killing John Claggart, the Master-at-Arms. It takes place at dawn on the morning he has been sentenced to die. I have been singing it since I was eighteen. I believe his effect on people is not so much about sex – with an overtly homosexual trope. It has more to do with his effect on their psyche – what happens when meeting and interacting with someone who actually is good and pure. Claggart employs 'the novice' to go to Billy when he's in his bunk and convince him to start a mutiny. Afterwards, the novice feels so bad because he realizes Billy would never think of doing that. Claggart, the great villain, has the aria – 'O Beauty, O Handsomeness, Goodness ... I will destroy you.' So he does talk about Billy's physical beauty. But I think it's more to do with pure envy. And pure resentment that the world has not spoiled Billy as it has himself and the others. Billy's not hardened to the sea, he wants to be on the ship. In the first scene, when they've brought him aboard, he says, 'What can I do? Tell me. Anything. I will help you.' Billy's effect on people has more to do with their reactions to someone who is inherently good and, therefore, better than they are. And because the composer is Benjamin Britten, there are definite homosexual undertones. But it has to be bigger than just that in order for the character to make sense.
"The role of Billy Budd requires a tremendous amount of voice as well. That's the other issue we get into when we talk about the modern opera singer. I'm thankful for inherent gifts – like my metabolism. I love staying fit. But of paramount importance is cultivating my voice. Just looking at Britten's score – it is as demanding as any other grand opera as far as the voice is concerned. As you've said, you've got to have all the character attributes. But you must first have the voice. Who wants to sit through a Billy Budd if they can't hear the baritone?"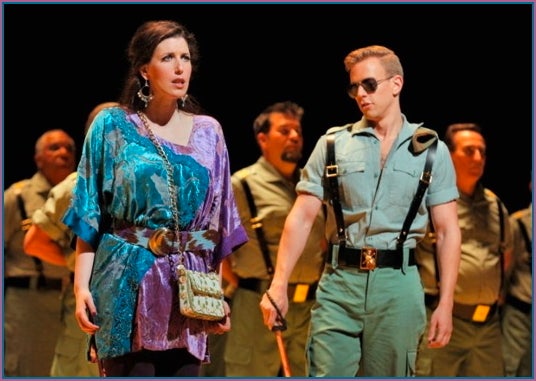 "Whatever I do, I try to keep the voice at the forefront of my mind. Even this past summer when I had to strip down for Carmen. I was working-out five days a week! If there was a day when I had too much muscle soreness to breathe properly, I would skip that workout. Because the most important thing, always, is the singing."