San Francisco Opera's fourth presentation in the 2014/15 season is Handel's hit from 1730, Partenope. Directed by Christopher Alden, the production debuted in 2008 and is a joint effort with the English National Opera and Opera Australia. In 2009, it won the Laurence Olivier Award for Best New Opera Production. Back in Handel's day, the title character was linked to Parthenope, "Queen of Naples" - a girl named for one of the sirens and with suitors on every side. The opera involves a trio of princes from Corinth, Rhodes, and Cumae - and a caller who arrives unexpectedly, a certain "Eurimene" who is - not like the rest of them, anyway. Alden beams the provocative Partenope and her ensemble to Paris of the 1920's. No longer a queen, Partenope is transformed into the queen bee of an avant garde, intimate and artsy salon. Canadian bass-baritone Philippe Sly - praised for his stunning performance as Guglielmo in the Company's 2013 production of Cosi fan tutte - portrays Ormonte, no longer the Queen's guard, but a sharp-eyed partisan in Madame's daily eudaemonia.
"The way Christopher has set the production," says Phil, "it makes complete sense for me to be this other kind of insinuating character. What is available to me is quite ominent. Because the text can be quite vague, we can do what we want with it. It's a great use of Handel and shows how versatile his operas really are. Once there are no more boundaries, there is so much that can be done. Within one aria you could have people either frozen or actively participating with other characters who are not singing. The character who is singing could be repeating the same thing over and over again, but going through an entire transformation while singing it."
"Partenope is actually a precursor to Cosi fan tutte," said Phil, "in the sense that it's a story of multiple lovers and the foils of love. I am kind-of like her best friend, her bro - a sexually repressed individual that, in a way, hasn't come out of the closet. But by the end of the show, he completely breaks out of it. My character is about that breaking-free and accepting what's there. He is a microcosm for what the show is about, but the most minor character when it comes to the actual music."
Philippe Sly's background is all about Early Music, starting with his experience in boys choir. He was always singing from that period, he says, even before entering McGill University and its renowned program in Early Music - the largest of any in the world. The resurgence of 18th Century operas into the repertoire of major opera companies began in the early '80s. Today's market is brimming with young singers trained in the Baroque style and its use of complex and variable vocal ornamentation. Recording markets show it as the best selling genre in classical music. Handel's Partenope, one of his few comedies, emerges at the time when the composer was rebooting his opera company.
"What is so cool for me in this production is that the original conductor [Christian Curnyn], who was supposed to be here for the whole period, canceled at the last moment - the day before we started rehearsing. They spent more than a week trying to find a new conductor. Nobody knows this piece! They eventually came up with a great musician, Julian Wachner, the music director at Trinity Wall Street in New York City. He was my professor at McGill University for four years. So, it's a huge homecoming for me. McGill is a great university. It's pan musical, but it has the largest early music department of any university in the world. It's the only university that puts on a Baroque opera every year and with Baroque instruments - from Monteverdi to all the way past Handel. My major was always early music, that's all I did."
Philippe knows his schedule for the next three years. During that stretch comes another recording. Right now there are three out on Analekta, a Canadian label - two recitals and one of cantatas by Rameau. Philippe has a contract with Analekta. For the vast majority of classical bass-baritones as young as Philippe, recording contracts are very difficult to come by. Track 2 from his album Les Amants Trahis - "Volez, tyrans des airs, Aquilons furieux" - explains it all. His voice is full and vibrant, the sound is enticing and heroic. The energy behind his delivery seems unstoppable. I'm friending Rameau.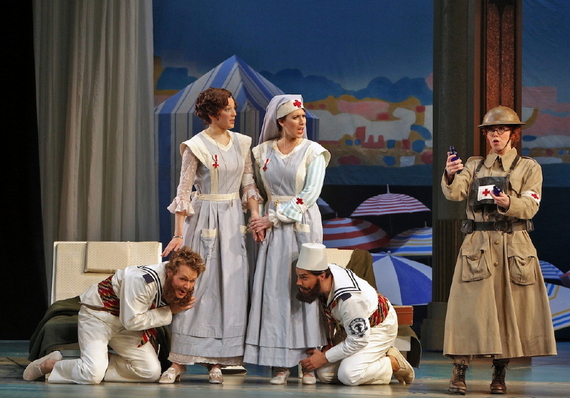 Philippe Sly, Christel Lötzsch, Ellie Dehn, Francesco Demuro, and Susannah Biller. Cosi fan tutte. SFOpera. Photo, Cory Weaver
"Unfortunately, as young singers we're forced to be able to do just about anything and not really focus and specialize and really refine what we do. We just have to do too much. I'm really comfortable knowing that I can do good work if I focus-in on a few things I do well. If it's early music, Mozart, modern music, and some French repertoire - then I'm really happy. I have nothing against The Barber of Seville, but I'm really happy not to do it again. I'd rather sing other repertoire. I'd rather sing new music and try-out repertoire that hasn't been done a lot and sing as much concert repertoire as possible. I don't want to fill my schedule with opera. I'd rather do two or three operas a year maximum - with the rest of the time in recitals, oratorios, and concert music. I could spend the rest of my life just singing Handel and Bach and be blissed out of my mind. Bach will trump anything - I will always take that over anything else."
Calling all HuffPost superfans!
Sign up for membership to become a founding member and help shape HuffPost's next chapter