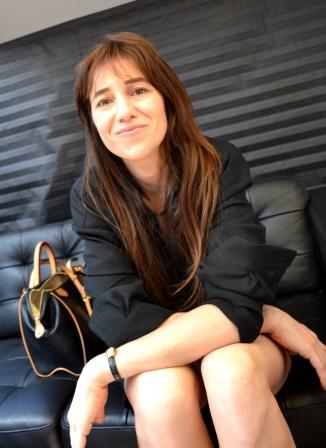 The light in her eyes has the purity of poetry. She is very gentle. She sits down and speaks in a quiet voice.

Charlotte Gainsbourg is quite opposite in person to how she appears in Asia Argento's new dark comedy Misunderstood where she plays a narcissistic, selfish mother who cares more about her sexual exploits and piano-playing than her little girls. Dressed in fabulously vulgar pants outfits, with sparkles to boot, the mother played by Gainsbourg lounges on couches and makes-out with her lovers; a minute later, she is striking her daughter Aria, hissing at her with a mean snarl. During rare moments, she cuddles with all three daughters on her bed, and laughs like a teenager with them. The range of her character in this film is magnificent. Each time this mother is in a scene, she steals the show.

No wonder director Asia Argento wrote this role with Charlotte Gainsbourg in mind. "I had her in mind because she is a lot more than an actress," Asia explained to me later. "She is a soul. Something shines in her eyes that the camera never gets bored of.'

I sat with Charlotte Gainsbourg in the lounge of the Silencio bar o discuss her role in Asia's film, premiered here at Cannes.

Your character has several sides: she is mean and egocentric, yet also tender and charismatic. How did you understand her?

She can be tender, but it is quite rare. She's quite lost herself. This does not excuse her, but she lives through the men she lives with and fancies. That makes her who she is. She only exists through her seduction. She is quite limited, with that egoism and selfishness and narcissism of an actress, even though she is not an actress. She is a pianist and a diva. It is a difficult mixture to be very insecure and think only about herself.

What helped you get into this role?

I think I was led by the costumes, by the eccentricity of the makeup, the wig. Everything was over the top. This over-the-top quality pushed me to take possession of that character. Alcohol also helped. Speaking in Italian also got me into the spirit. The language has the ring of something eccentric. I was very worried that I wouldn't have the rhythm of the language, but Asia reassured me. As for the scenes I particularly enjoyed: I think it was a lot of fun to play the scene where the cops come to arrest her. [she laughs] I liked the dishonesty of my character, the need to come up with a pretext. I also liked arguing with the father.

You have worked with quite different directors: Lars Von Trier, Todd Haynes, James Ivory, Alejandro Gonzalez Inarritu, etc. What characterizes Asia Argento as a director?

Her intensity -- her love. I could see that she loved me. We barely knew each other before, just from one film we did together, Yvan Atal's film, Do Not Disturb, where we played lesbians. But we had a lot in common, being the daughter of a famous artist, being in the music world. It was also lovely to see the fusion between her and the little girl who played Asia. She was moved, watching her act.

In this role, you could risk going into caricature -- a comic spoof of your character -- but you never do. How did you manage that?

Perhaps because I always come from a serious place. I tap into the drama. I can't play in a comical way. I don't know how to be comic. I wish I could take my acting to that level, to a lighter place. To be emotional is easy. I would like to use strength instead of emotion. No, I am not satisfied with my acting. I am never satisfied with my work. In all my films, I always bring things down to drama [she lowers her hands]. Instead, I would like to see lightness in me. I would like to be completely free, uncaring and insouciant, so as to develop my dexterity as an actress. [she smiles] It is a good thing never to be satisfied.

And what do you think about the theme of this movie?

I think you are haunted by your childhood. But it makes you stronger.
Calling all HuffPost superfans!
Sign up for membership to become a founding member and help shape HuffPost's next chapter