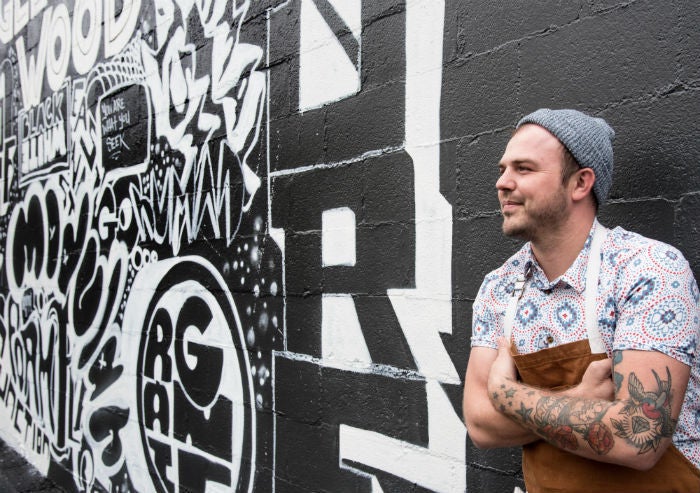 As the Culinary Director for the Holler & Dash brand, Chef Brandon Frohne could be considered a biscuit connoisseur. It is his creativity and expertise that has helped form the biscuit-based menu for the Southern-based restaurants that are slowly gathering a cult following.
He comes to the job with a solid background, both personal and professional, and in a recent phone interview, I talked to Brandon about the road to biscuit domination.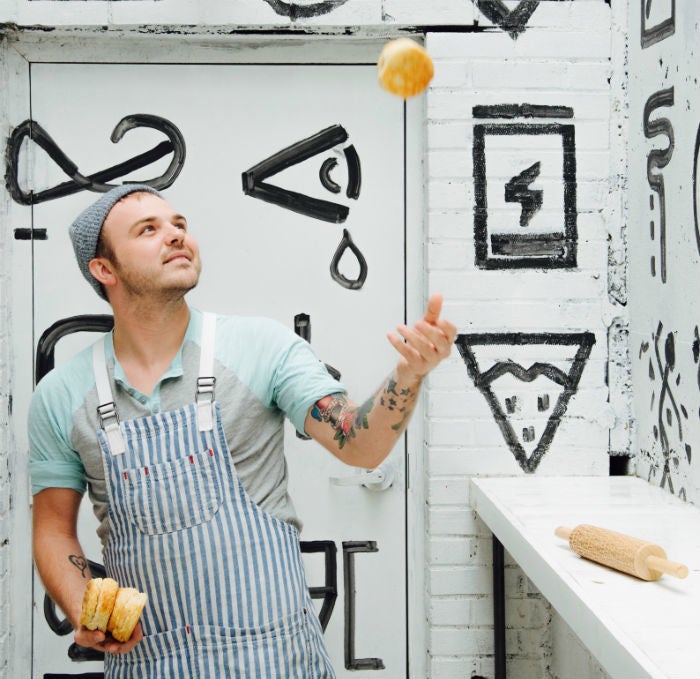 Hi Brandon! Thanks for taking the time to talk! To start with, could you give me a short introduction of where you come from and a brief history of your journey to get to where you are with Holler & Dash?
Brandon: Hello! My name is Brandon, and while I currently live in Nashville, I'm originally from Tampa Bay, Florida. The journey from there to Holler & Dash is me refining my craft over the last 12 years. I've been on Food Network and I've cooked at the James Beard House twice. I also worked at various restaurants like Mason's at the Loews Vanderbilt Hotel here in Nashville.
To me, biscuits are a symbol of love. It is not only a super important part of Southern food culture, and Southern pantries, but it represents as a food made with love. And that led me on the journey to Holler & Dash, and sharing the biscuit gospel, as we like to say. We just want people to eat good biscuits, plain and simple! *laughs*
Did your family had a lot to do with your interest in being a chef?
Brandon: I was actually born into a family of restaurateurs. Ever since I was 13, biscuits were always a part of my life. I always tell the story that the first time I tried making biscuits, I was terrible at it, and they just didn't turn out right. And I kinda made a little oath to myself that no matter where I go in my career I was going to perfect the art of making biscuits. So I always had biscuits in my back pocket, no matter what city I worked, no matter what kitchen I was in.
Is that why you decided to do a biscuit menu concept for Holler & Dash?
Brandon: Holler & Dash had the concept down at the point I joined them, actually. There was one gentlemen, we call him "King Biscuit," and he was the guy that was going to drive this thing and further develop it and bring it to market. He was the original person I met with, and I'm a very passionate and charismatic person, and just hearing him talk about the concept and the brand...his passion was just super infectious. I was just like, "I'm in man. Let's do this!"
We've been on a journey so far for a little over a year, and we're still developing the menu as we go. Still trying to get a feel for what our guests like and dislike, and we make tweaks along the way.
It's funny, when we first opened up our first location in Alabama, none of us had ever done the fast casual biscuit concept before, so we just got in there and did it day in and day out, so we could teach it to future locations.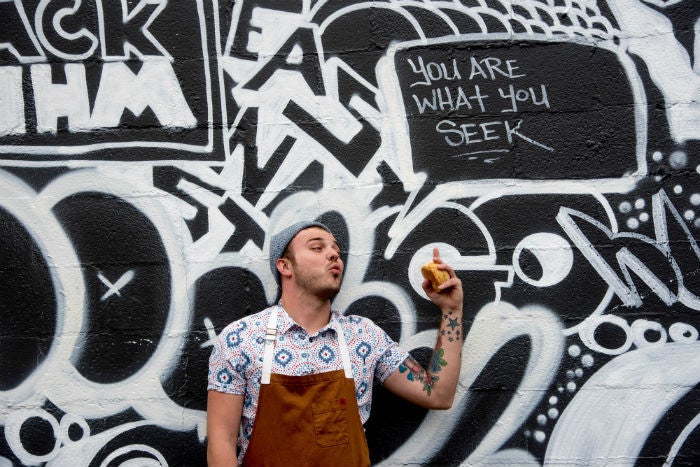 For the biscuits, you could've used pre-made mixes to save time in the kitchens, but you decided to do everything from scratch every day. Was this important to you for this concept?
Brandon: It is! It is fresh biscuits, handmade every single day using only simple ingredients! Our biscuit has a certain characteristic - we call it the anatomy of our biscuit - we like to say our biscuit is a fork-and-knife biscuit. It's a really big biscuit, and it's built to where it can hold ingredients without breaking apart or getting soggy.
It's got that perfect combination of a soft interior, the butteriness, the slight outer crunch to it, and lots of layers.
Are you still working on additions to the menu...maybe seasonal offerings or permanent menu items?
Brandon: Yeah, absolutely. My role for Holler & Dash is taking a bird's-eye view of each of our restaurants and further developing the food and beverage concept of it. That's my life - I go around and I do a lot of research and development.
We have some stuff that we have been testing in our kitchen here in Nashville, and the plan is for some of it to get out to market at some point this year.
But I'll give you an idea of something we've launched recently at our Homewood, Alabama restaurant. They celebrated their one-year anniversary recently, and we wanted to do something that really signifies the food culture of Homewood and the Birmingham area and the South.
So we ended up creating a biscuit for a limited time called the Goo Goo Q. It was this idea of a barbeque biscuit sandwich with smoked chicken thighs, and an awesome buttermilk fennel slaw.
Then we made this really delicious sauce, which was made with Goo Goo Clusters. I don't know if you've ever had it, but it's made here in Nashville, and it's one of the oldest Southern confections. It's made with peanuts, caramel, and marshmallow. And we used it to make this barbeque-mole type of sauce. It really tied the dish together and we had really, really great feedback in that market with it.
We love doing things like that! We love to keep our food fun. Any restaurant we open in an area, we really try to ingrain ourselves within that community, from the people to community initiatives to our menu items.
That is one thing I noticed about the dishes I tried here at the Celebration location: you tend to use unusual ingredient combinations. Like on the Kickback Chicken, you combine goat cheese and sweet pepper jelly to top a fried chicken breast.
Or the Pork Rambler, where you mix blackberry jam and butter together, top it with a fried breaded pork cutlet, and fried onion strings. It doesn't seem all that would work together, but it's like the perfect flavor combo. It's sweet and salty; creamy and crunchy. It made my tastebuds so happy!
Brandon: Yeah, we pride ourselves on that. We like to load our biscuits with layers of flavor. In the chef-world, we call that "Flavor Profiling." Like the Pork Rambler...you have this really savory pork, and then we've got the slight sweetness from the blackberry jam with the creamy butter that just marries so well with that. And then you get the crunch and the acidity from the onion strings. It's a well-balanced dish.
The Holler & Dash menu also has several vegetarian options, like the Garden Goat...
Brandon: Oh yeah - that's one of my favorites! It features fried goat cheese, marinated kale, lemon Dijon vinaigrette, and housemade tomato jam.
We tried to balance the menu so that there were vegetarian options besides salad. We can even do all our biscuit sandwiches without the biscuit, served on a bed of kale, for those watching their carbs.
The cool thing about our menu is we have these Southern heirloom-type dishes and recipes, but we put a modern spin on them.
Another thing I noticed about the Holler & Dash menu is you serve craft beers, wine, and mimosas for those who want a bit of a boozy brunch or whatever.
Brandon: Here's the thing I love about brunch is you can day drink and totally not be judged. *laughs* So, yeah, we offer options for those who'd like some beer or wine or mimosa with their breakfast or brunch. We want you to enjoy your meal in the way you want, right down to the beverages.
Since you cook so much at work, at home, what is your favorite dish to cook for yourself?
Brandon: One of my all-time favorite dishes is Shakshuka. It's a Tunisian spicy tomato broth, and it's got all these vegetables and spices in it. Then you crack eggs right into it and bake it in the oven. I usually eat it with a crusty baguette to soak up all the broth.
It's a beautiful, comforting one-pot meal. I love one-pot meals, because I'm always on the go and I've got kiddos, so I'm always thinking of things that are quick to make, and easy to clean up.
But one of my all-time favorite foods is grilled octopus. Whenever I go to a different town, I always try to find restaurants with grilled octopus and I eat at every one of them. *laughs*
To wrap things up, I'd like you to tell my readers why they should give Holler & Dash a try.
Brandon: We hold this brand near and dear to our hearts, and we feature flavors of the modern South. For us, the biscuit is such a symbol of southern cooking, it is the perfect vessel to serve up our unique flavor combinations.
We also source our ingredients from local and regional artisans, and in every restaurant we have a partner board listing who we are working with, including brands like ike Nashville Jams and Doux South. For instance, in our Celebration store, we work with Lineage coffee out of Winter Park to keep it local.
We think we have something different yet familiar, with a variety of taste combinations that should appeal to everybody who comes through our doors. So come by and give us a taste!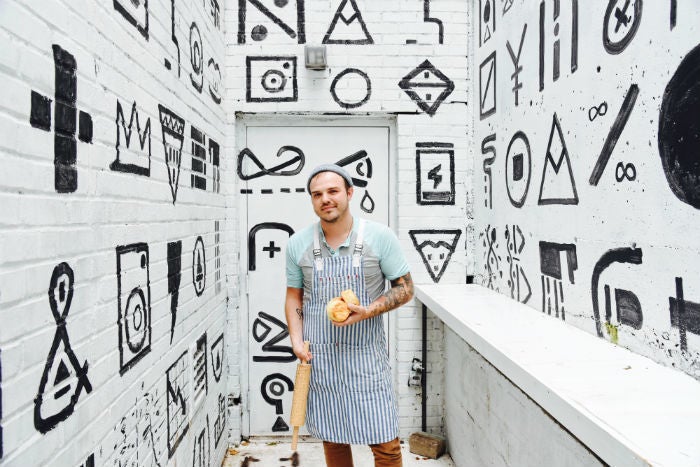 Thanks Brandon! There are currently four Holler & Dash locations to enjoy his culinary creations:
Homewood (Birmingham), AL
Tuscaloosa, AL
Celebration (Orlando), FL
Nashville, TN
More locations are in the works throughout the Southeast region of the U.S.
Related
Popular in the Community