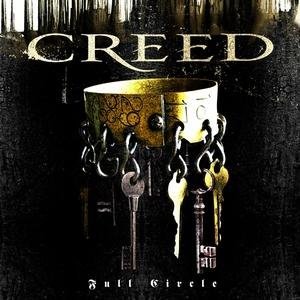 A Conversation With Creed's Mark Tremonti
Mike Ragogna: What's up with Creed's latest tour?
Mark Tremonti: It runs through September. We're trying to get a single out at the same time that we're recording right now, and hopefully, we'll finish it up in the next few weeks. That's about it going on in Creed world.
MR: You have a new single?
MT: I spent about a month before the tour putting ideas together to try to get a single on the radio, just to get some attention on the tour. But with Scott (Stapp) having a new baby, and us all being apart, it was hard to really get it recorded. So, we had to wait until we were doing rehearsals for the tour to get it started, and all we have to do now is finish up the vocals and get it out there, hopefully this month.
MR: I guess it's like herding cats when everyone has families and private lives.
MT: Yeah, absolutely, it's tough. We all have kids now and live in different cities. So, when we get together, it's all about work.
MR: Even though it was released last year, your album Full Circle is still going strong, and this tour is, more or less, a continuation of the reunion. What was it like getting back together with the other guys?
MT: First, we got together just to put a tour together and see if we could all get along out there. Things went well, nobody brought up the past, and after a few meetings, we decided that it would be best to put out a record to accompany the tour. The only problem was we only had three months to write and record an album, so it was quite a fire drill. But it got done in time, and I think the record came out during that tour, and came out the way we wanted it.
MR: Mark, over the years, beyond Creed, you also fit in some side projects. There's Alter Bridge, and you worked with Larry the Cable Guy.
MT: Yeah, years ago. We had become friends a long time ago, before his career really started to take off. We joked about getting together and doing a song, and he called me up one day to say he actually wanted to do it. So, he sang me his idea, and I went to record my guitar lines that day, and the record went gold. It might be platinum by now.
MR: Were you a fan of his humor?
MT: You know, I was a fan of his before anything really happened. He was just doing radio commercials for a truck shop in Orlando, and they were the funniest things on the air.
MR: Creed has had quite a few monster singles such as "Higher," "With Arms Wide Open," "My Sacrifice," "One Last Breath," and then you had two number one albums in Human Clay and Weathered. How does any band stay humble after that?
MT: I always kind of keep my head down, and stay focused on writing. I just try to keep to myself and not really keep track of the business side of things too much because it can distract you a little bit, you know? So, I always just kind of kept my head down and kept on going.
MR: In addition to Creed's hits, you've had many songs in movies and various stray projects. One of my favorites is "I'm Eighteen" from The Faculty that features a pre-Frodo Elijah Wood.
MT: Yeah, that was fun. It's always a good challenge to get in there. Usually, we don't have these songs practiced, we just have a choice of songs that we can cover, and we try to learn it that day. It's always a fun process. We did the same thing with "Riders on the Storm" for The Doors. So, it's a challenge, but it's a good time.
MR: Let's talk some more about the side projects. Can you catch us up on Alter Bridge?
MT: Yeah, we just mastered our third record about two or three weeks ago, and we plan on releasing it before we go on tour in Europe starting Oct. 16. We'll be touring through September, and then Myles (Kennedy) is out with Slash in January and February. So, we won't hit the States until next March with Alter Bridge. But like I said, we'll be in Europe from October through December.
MR: Are there any acts that you're taking on the road on this new tour, that you're sort of sponsoring or mentoring on the road?
MT: No. You know, all the bands that are out with us are pretty well-developed bands. I think Theft, the first band, is being helped by MTV. I don't know if they're managed or sponsored by them, but MTV has really taken them under their wing, and they're a great band. Red and Skillet are also out with us, and they're two really developed acts. When you see what their show looks like, it's like they've been at it for years. They're two great bands, and there's no mentoring any of these guys; they're all very professional.
MR: Where can people go to find information on your tour?
MT: There's www.creed.com/, and we're also giving away a motorcycle. You can go there and register for free to win this motorcycle.
MR: What advice do you have for new artists?
MT: I would just say keep focused on the music because at the end of the day, that's where all the power to succeed lies -- in a good song. I think good representation and good music are important. Find a good manager, and work hard on songs.
Tracks:
1. Overcome
2. Bread of Shame
3. A Thousand Faces
4. Suddenly
5. Rain
6. Away In Silence
7. Fear
8. On My Sleeve
9. Full Circle
10. Time
11. Good Fight
12. The Song You Sing
(transcribed by Ryan Gaffney)
Eef Barzelay of Clem Snide Reveals His Inner Cartoon on Freetime with Fuzzy's Premiere Episode
Oh what a strange trip these toons are on... enjoy Part 1 of a hilarious and surreal little rendezvous in an Indiana wheat field with Eef Barzelay, singer, songwriter and leader of the indie rock band Clem Snide. Eef rolls with the punches as delivered by self-proclaimed cartoon rockstar Fuzzy Logic, lead singer of the Fuzzy Stones. If you're into Spinal Tap, Timothy Leary, Richard Feynman, Mitch Hedberg or multiverse theory, or if you are just obsessed with Clem Snide and the inner-workings of Eef Barzelay's psyche, you'll LOVE Freetime With Fuzzy's premiere episode. And if you've got more free time than any one person deserves, you can check out the enlightening conclusion (Part 2) including Eef's acapella rendition of one of his most extraordinary songs "I Love the Unknown" at www.FreetimeWithFuzzy.com.
ROBERT PLANT COMPLETES VIDEO FOR FIRST SINGLE, "ANGEL DANCE"
#1 MOST ADDED AT TRIPLE A RADIO TWO WEEKS IN A ROW
HIGHEST AMOUNT OF LISTENS IN ROLLINGSTONE.COM HISTORY
Rounder Records is pleased to announce that the first video from Robert Plant's new album Band of Joy has been completed. The video is for the first single, "Angel Dance," a Los Lobos cover that Rolling Stone magazine called "sweet, elegant NPR folk that still swings like Satan's barn door." It was shot in Chicago, was directed by Vincent Haycock and features Los Lobos' David Hidalgo and Louie Perez.

You can view the video in its entirety as well as an illuminating interview with Plant on the making of Band of Joy HERE:

The anticipation for Band of Joy continues to grow as "Angel Dance" was #1 most added at Triple A radio two weeks in a row, and has received the most amount of listens in RollingStone.com history, garnering three times the amount of visits than the #2 artist. The song premiered exclusively on the site on July 27.

Plant just finished three weeks of touring the United States with the Band of Joy band (Buddy Miller, Patty Griffin, Darrell Scott, Byron House and Marco Giovino) and the response was rapturous. "The new unit plays Americana music and does so with intelligence and inventiveness," hailed the Wall Street Journal. "It was tough to find anything but joy," said the Dallas Morning News, calling the new record a "logical progression" and noting, "it's plain Plant is enjoying the ride," while calling the band "mighty."

Band of Joy is Plant's first album since 2007's six time Grammy® Award winning Raising Sand (Rounder). It was recorded in Nashville and will be released on September 14.

The album is a timeless plunge into authentic Americana, and was co-produced by Plant and Nashville legend and guitarist Buddy Miller. It features intriguing new interpretations of songs from a wide range of sources. Opening with a throbbing rendition of Los Lobos' "Angel Dance," Band of Joy encompasses the glittering drone-rock of Low's "Silver Rider" and "Monkey," the Fifties-style country-gospel harmonies which transform The Kelly Brothers' Sixties soul classic "Falling In Love Again," the desolate banjo-driven interpretation of "Satan, Your Kingdom Must Come Down," the transplanted English/Appalachian folk ballad "Cindy I'll Marry You Some Day," the jangling blues imagery of "Central Two-O-Nine," along with other astonishing interpretations.

Plant's most eclectic work so far, in a career that has constantly embraced the unexpected, it's an album that takes in continents of influence and oceans of emotional depth. Plant seems to have an unquenchable thirst for music that moves him - whether it is to be found in Northern Africa or deepest Appalachia - Band of Joy takes us to all these places and more.
THE BLACK CROWES KEEP ROLLING OUT '20 YEARS OF TALL TALES' WEBISODES THROUGHOUT AUGUST
As THE BLACK CROWES' "Say Goodnight To The Bad Guys" tour gets set to start Friday, Aug. 13 -- their last before the group takes an extended hiatus-the band has put together a web series of interviews with frontman CHRIS ROBINSON chronicling the multi-million selling band's storied career. The "20 Years of Tall Tales" webseries -- available at www.blackcrowes.com and via YouTube throughout August -- is a candid look inside the band's history. In a recent webisode, CHRIS talks about the bacchanalian party the band threw upon the completion of the amorica album, replete with bizarre costumes, psychedelic mushrooms and cameras rolling.
The webisodes debuted Tuesday, August 3, the street date for CROWEOLOGY (Silver Arrow/Megaforce Records), their first-ever double album of all-acoustic material with new arrangements of their best-loved songs and deep cuts. In a four-star review, David Fricke of Rolling Stone proclaimed, "... the album is much better than a greatest hits affair, it's a reason to go on (8/19/10)."

The web series has received attention from Ad Age. In a story headlined "Black Crowes Interview Series Shows How to Market Music," the magazine described the series as a "a daily series of interview clips that, taken together, forge an oral history of the band." The piece also noted: "What's surprising is that so few performers have attempted to sidle up to their fans in a similar manner. Granted, there aren't too many acts that can pull something like this off, whether owing to deficiencies in backstory or charisma, but I'm amazed by how few are trying (8/5/10)."

New webisodes are appearing over the next month, but check out these that have appeared so far...with more to come.

20 YEARS OF TALL TALES Video Links

#1: Aerosmith Tour (1990)
http://www.youtube.com/watch?v=sqeT95G9Ijs.

#2: Fashion (1990)
http://www.youtube.com/watch?v=pHS_MTt1Uy0.

#3: Getting Thrown Off A National Tour (1991)
http://www.youtube.com/watch?v=9CiTp_Zoe8A.

#4: Convenience Store Incident (1990)
http://www.youtube.com/watch?v=7cnUgFXT0dA.

#5: High Times Cover (1992)
http://www.youtube.com/watch?v=xVCJcLXKKT8.

#6: Moving From SYMM to SHAMC (1992)
http://www.youtube.com/watch?v=SRuWeGqu57U.

#7: Pink Pop Festival (1993)
http://www.youtube.com/watch?v=uyW95DSCtMY.

#8: Million Dollar TALL Album (1993)
http://www.youtube.com/watch?v=gjMp2VuqRSE.http://www.youtube.com/watch?v=gjMp2VuqRSE

# 9: Mushroom Costume Party (1994)
http://www.youtube.com/watch?v=sbHCRqZw3yc.


Popular in the Community