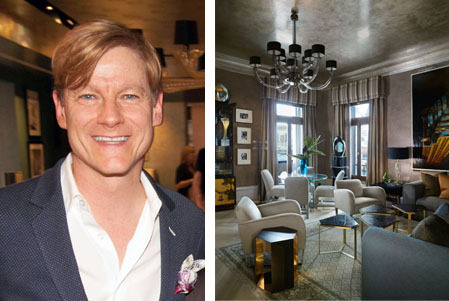 Chuck Chewning is one of the most celebrated names in the architectural and design world. Among his recent projects is the renovation of the Gritti Palace in Venice. He is also the creative director of the storied furniture and home furnishings company Donghia. Below I talk to Chuck Chewning about alternative careers, Savannah and having good genes.
When I wake up... I open the curtains and make up my bed so the room is beautiful first thing before I dress.
Before I go to bed... I always read a historical biography of someone who had an impressionable life.
A well-dressed man... does not have to rely on labels. Someone who is self-assured and knows who he is.
Women should always... underestimate men.
Men should never... underestimate women.
The best thing that's been said about me... I'm a generous friend.
The biggest misconception about me... one of my favorite things: that people think I'm younger than I really am -- thanks to my good genes!
If I weren't doing what I'm doing today... I would be an architectural historian or concert pianist.
My legacy... is to be remembered for always giving and sharing all the wonderful things of my life with others.
A great idea... Savannah College of Art & Design the groundbreaking university of creative careers!
Botox is... not for me but nice to know it's there if I ever decide to take that route!
My mother... has always been one of my biggest supporters and at 83 she is still one of the most stylish ladies in Atlanta.
The soundtrack of my life... I began playing the piano when I was 5 and for me it would be performing Bach, Chopin, Gershwin or Sondheim.
The future... can be an illusion or a reality -- it is your destiny to navigate.
Happiness... the courtyard of my historic house in Savannah on a beautiful evening with those I love.
There's a time and place for... everything. And if not, then make it so!
There is too much... Kardashians.
In the end... nothing is really important except grounded family and dear friends.
All photos with permission from Chuck Chewning.
Follow me on Twitter and Instagram: @bluecarreon